Casterton EverGraze Supporting Site (Tim & Richard Currie)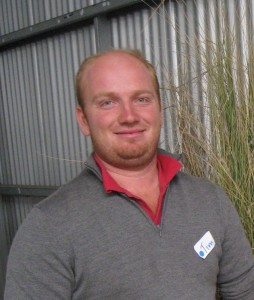 Curries – Sheltering their lamb income.
Fast facts
Site Location: 'Lyndoch Park', Casterton, South West Victoria
Host producers: Tim and Richard Currie
Producer group: Casterton BESTWOOL/BESTLAMB Group
Site Coordinator: Andrew Speirs, Mike Stevens and Associates
Duration: 2007-2012

Site Focus
Demonstrating the set-up, management and impact of grass hedgerows for improving lamb survival.
The farm
Rainfall: 660mm
Enterprises: Self-replacing Multi Meat composite flock
Key Points
Grass hedgerows planted for shelter significantly increased flock marking percentages at Hamilton Proof Site
The Currie's successfully established the shelter hedgerows at their farm in Casterton
It's important to establish a productive perennial between the hedgerows to provide adequate quality feed for the duration of lambing
Although there weren't significant increases in lamb survival from the Curries' hedgerows in the monitoring year, this can be explained by mild lambing conditions and large amounts of dry feed which provided protection in the control paddocks.
The challenge
Tim and Richard Currie manage "Lyndoch Park" north of Casterton in South West Victoria. They run a self-replacing Multi Meat flock where lamb survival and marking percentages are important profit drivers. The Multi Meat composite ewes contain the Booroola gene and are capable of achieving scanning percentages of 200%. The challenge is to maximise the survival of the many twins and triplets.
Modelling work conducted at Hamilton EverGraze Proof Site illustrated that in each month between June and September, there are 10-13 high chill days where the combination of wind, rain and temperature cause heat loss exposure to new born lambs, risking lamb mortality. The Currie's lamb in mid-June to allow them to meet target finishing weights, but this falls within the high chill risk period, and also presents challenges for meeting feed demand. The Currie's were therefore looking to reduce the impact of bad weather during lambing while also maximising feed on offer and quality.
The opportunity
Grass hedges at the Hamilton Proof Site provided lambing nurseries to reduce wind speed, increasing lamb survival at the average birth weight by 30%. The hedges were sown in a north-south direction to protect against the dominant westerly winds. Perennial ryegrass sown in the bays between the hedges, and fertilised for maximum production, ensured adequate feed on offer and quality for the duration of the lambing period. Seeing the results at Hamilton, the Currie's decided to try the hedges at farm scale.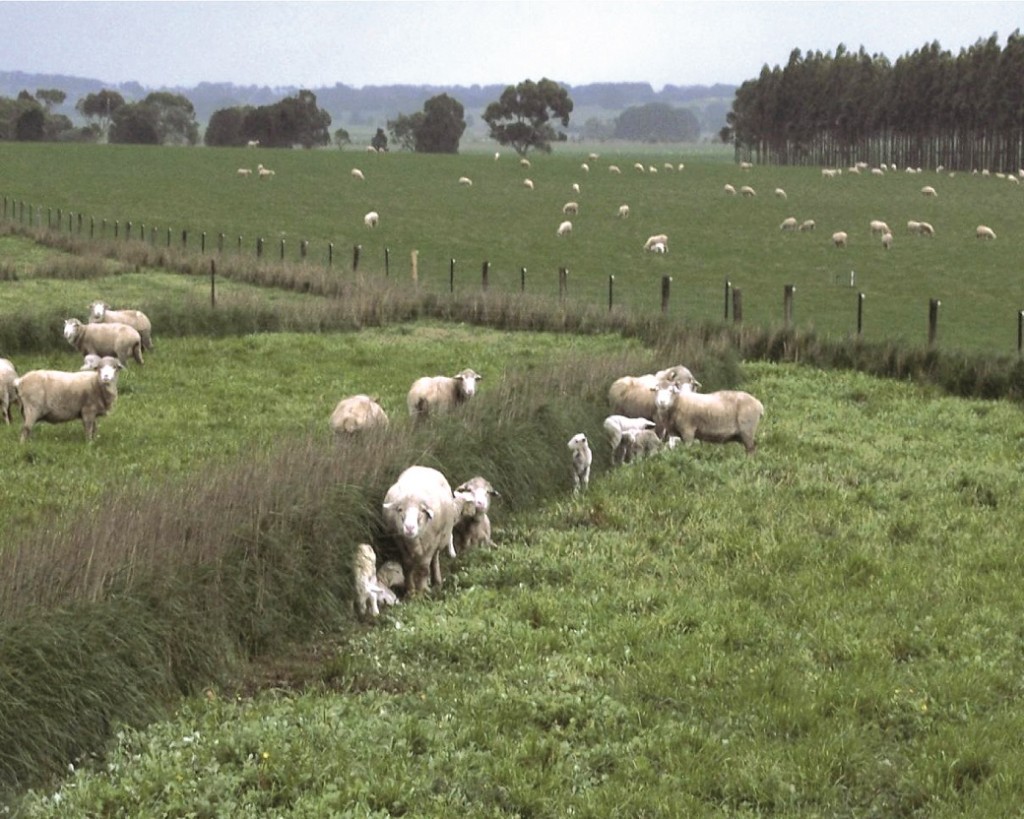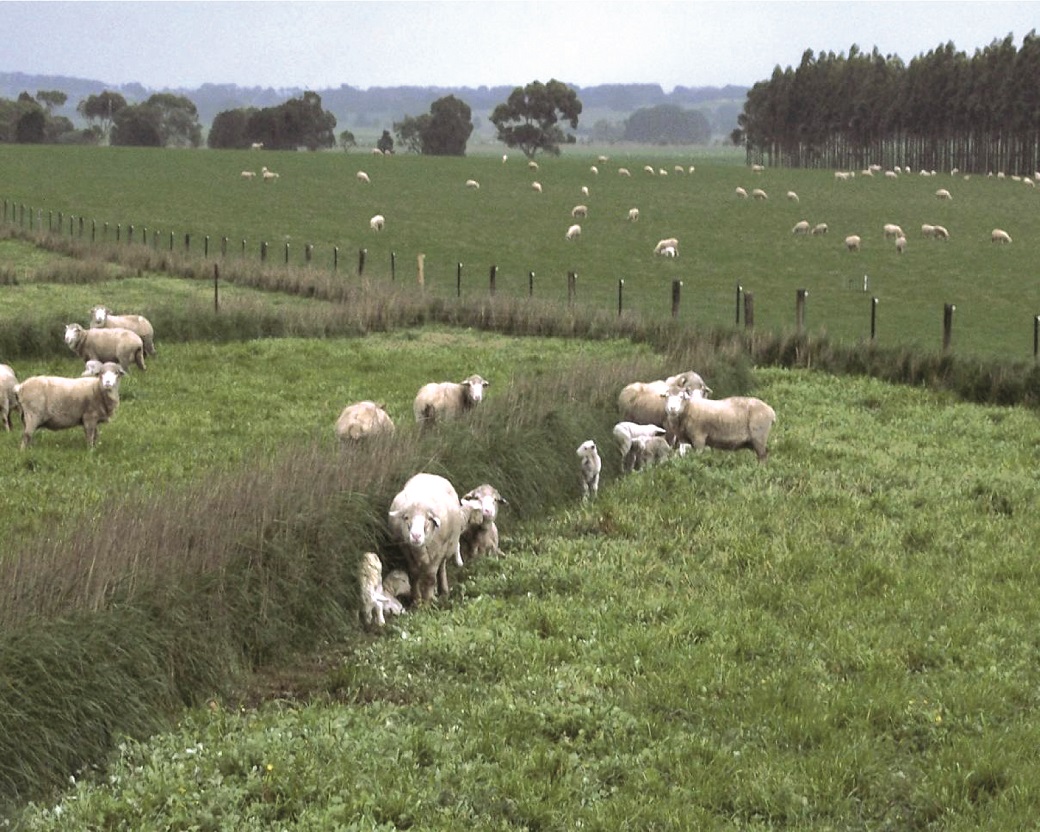 Treatments
Tim and Richard established 110ha of autumn and spring sown *tall wheat grass hedges as part of the pasture renovation program in 2010.
Phalaris and sub-clover was sown in Autumn in 10m, 20m and 30m bays with 1.5m strips being left for hedges between the bays. The drill was blocked to 1.5m and tall wheat grass hedges were sown into the strips at 10kg/ha.
The autumn sown hedges were set up along the contour of the slopes to prevent runoff and erosion. This meant they didn't specifically block the westerly winds.
Spring sown hedges were sown on a flat paddock allowing the hedges to be established running north to south. The pasture in the bays consisted of lucerne, phalaris and chicory.
Ewes were scanned and those carrying twins were put into the phalaris and sub clover paddock with hedges stocked at 5.2 ewes/ha (roughly 22 DSE/ha). The ewes preferentially grazed the phalaris and sub clover pasture and left the hedges alone, only picking at seed heads
The remaining twin bearing mobs were run at 18-25 DSE/ha on the most sheltered paddocks.
*While tall wheatgrass is highly suitable as a hedgerow grass species, a weed risk assessment undertaken by the Future Farm Industries CRC has identified tall wheatgrass as having a high environmental weed risk for Victoria through its capacity to invade and impact on wetlands. For this reason, the CRC does not recommend the planting of tall wheatgrass in Victoria.
Agriculture Victoria considers that because tall wheatgrass is already widely distributed and has production and animal welfare benefits, its continued planting is appropriate provided that the following practices to reduce the risk to native vegetation are adopted: To minimise the risk of tall wheatgrass spreading into areas where it is unwanted, hedgerows should be grazed in January and February to remove immature seed. Areas surrounding tall wheatgrass should be sown to competitive species such as perennial ryegrass and phalaris to reduce the chance of spread outside the sown area. Hedge areas should be located well away from waterways or natural wetlands not only to reduce the chance of spread, but because these areas are often too wet for lambing and can harbour foxes.
Results
Impact
Marking percentages in the hedgerows were 159% compared to 157% in twin bearing mobs in unsheltered paddocks. This is not significant, perhaps for the following reasons;
Lambing conditions were mild in June/July 2011.
Hedges were only one year old and not fully developed.
There was a considerable amount of dry feed in the control paddock which would have given protection as well.
 Spring sown tall wheat grass hedges sown in 2010 with lucerne and phalaris in the bays (photo taken Nov 2011).
Considerations for developing hedges
Sheep tend to leave the hedges alone as long as the feed between the rows is high quality and there is an alternative source of roughage.
Autumn sown hedges need at least the first spring to go to head. Spring sown hedges need two years before providing good shelter from wind.
The hedges need to be sown at least 1.5 metres wide, otherwise they seem to be out-competed by the sub clover and phalaris. Nitrogen should be applied in spring when the hedges are actively growing.
For further information on establishing grass hedgerows, see the EverGraze Action – Perennial grass hedges provide shelter at lambing. For results at Hamilton using hedgerows, Wagga Wagga using shrubs, and Bairnsdale using shrubs, see the key message 'Shelter increases lamb survival'.
Is the cost worth it for you?
The value of hedges in different scenarios will depend on your location (influencing the chill risk), your current lambing and survival rate, and the cost of your selected shelter. The EverGraze shelter cost calculator has been developed to determine the cost and potential benefit for individual situations and can be downloaded here.
Acknowledgements
Thanks are extended to Tim and Richard Currie for hosting this Supporting Site. This site was set up by the Currie's with support from Agriculture Victoria  and the Casterton BESTWOOL/BESTLAMB group. Measurements were conducted with support from Caring for Our Country, Agriculture Victoria, Central Highlands Agribusiness Forum and Future Farm Industries CRC through the national EverGraze Project.