Improve production from native pastures
What is a native pasture?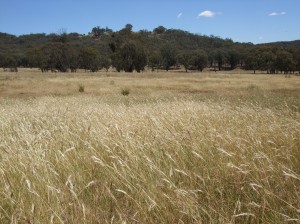 A native pasture is any pasture where native grasses are the dominant perennial species.
As such, this covers a wide array of compositions that are usually associated with the term "native". Obviously, it can be applied to situations where native grasses are the dominant species but also where they are sub-dominant or even infrequent, as long as they are the main perennial species
Native perennial grasses can also increase stock performance. Many are summer active and respond to out of season rainfall, providing quality green fodder in summer on low fertility, acidic soils.
While a large proportion of the high rainfall zone of Australia is "native pasture", farming practices such as tree clearing, introduced species, grazing techniques, fertiliser and herbicides have resulted in much of the area being invaded by annual grasses and weeds with only a small proportion of natives remaining in many paddocks.
Encouraging native perennial grasses in existing pastures will have the benefits of:
Improved ground cover and soil stability
Weed competition with high persistence
Low input grazing systems
Increased water use to reduce groundwater recharge
Improved soil structure and organic matter
Reduced soil acidification rate
Species diversity
The EverGraze Action – Management of native pastures in Victoria provides current best management practices for increasing the health of native pastures and making the best use of them.
Native grass identification
A wide range of native perennial grasses occur in our pastures. There over 1,000 different species that can be classified as native grasses. Some of them have traits that are beneficial to grazing and others do not. Therefore, it is important to understand what species are present in your pasture.
Native pastures usually have several species of native grass present so farmers need to learn to identify both the desirable and undesirable plants. As well as identifying what species are present it is important to understand their condition and productivity level. Different pasture species have different management requirements and purposes in the farming system.
Some examples of differences that need to considered are:
Warm season growing perennial grass (eg. red grass, kangaroo grass)
Cool season growing perennial grass (eg. wallaby grass)
Annual legume species, what proportion of sub clover is present in your native pastures
Annual pasture species, value of these (eg. annual ryegrass versus sweet vernal grass)
Pasture condition, composition and relative seasonal productivity should be considered when planning feed budgets.
In many native pastures, the productivity of the system is driven by the annual components. These annual species are, in many cases, more responsive to fertiliser applications than are the native perennial grasses. Therefore it is important understand the species that are present in the pasture. A native pasture that has a high component of annual ryegrass will be more responsive to fertiliser than one that is dominated by sweet vernal grass.
If recognised and properly managed, native grasses can be very productive. These grasses have persisted well on most farms due to their persistence in acid and low fertility soils, a greater tolerance to a wide range of soil texture types, and drought and frost tolerance.
Spring to summer are the easiest times of year to identify pasture species, when seed heads are present. The EverGraze Identifying native perennial grasses poster can also help.
| | |
| --- | --- |
| Austrostipa densiflora – a less palatable native grass | Microlaena stipoides – a palatable, desirable native grass |
Methods to improve productivity
Addition of fertiliser
Factors effecting return from fertiliser on native pastures
Increasing soil fertility to optimum levels is often the greatest opportunity to increase production potential through improvements in pasture composition and dry matter production.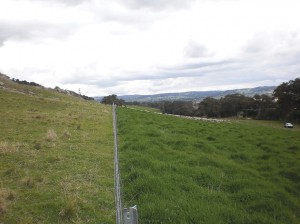 However, returns from investments in fertiliser are dependent on:
Soil type and water holding capacity
Existing soil fertility levels
Existing pasture composition
Ability to utilise the extra feed grown with a high value enterprise – are stocking rates high enough?
Ability to manage competition from the annual component to achieve persistence of the native grasses
The existing soil fertility and pasture composition will determine the likely response to fertiliser applications. The greatest response will come from improved (sown) pastures with a legume base (such as sub clover), and which are below optimum soil phosphorus, potassium and/or sulphur. These should be addressed before worrying about fertilising native pastures.
In native pastures, increased production from phosphorus fertiliser is usually reliant on the existing soil fertility levels and the presence of sub clover and nitrogen-loving annual grasses such as barley grass and annual ryegrass. Sub clover will increase with increased phosphorus, and the resulting nitrogen fixation feeds both annual and perennial grasses. As well as increasing dry matter production, the higher sub clover and annual grass composition will increase feed quality and resulting animal production. It is important to note however that the increased production from annual grasses, clovers and broadleaf weeds needs to be managed to ensure the persistence of the native perennial component.
Significant cost savings from smarter applications at Orange
At the Orange Proof Site, the relatively high phosphorus, low dry matter production and low legume content of the Low and Medium production zones (Figure 1) meant that the response rates from phosphorus applications on these areas was likely to be low. On the other hand, in the High production zone where phosphorus levels were below optimum and sub clover and annual ryegrass were available, the response from fertiliser applications were likely to be higher. Identifying these differences meant that during the experiment, fertiliser was only applied to 20% of the area, significantly saving on fertiliser costs.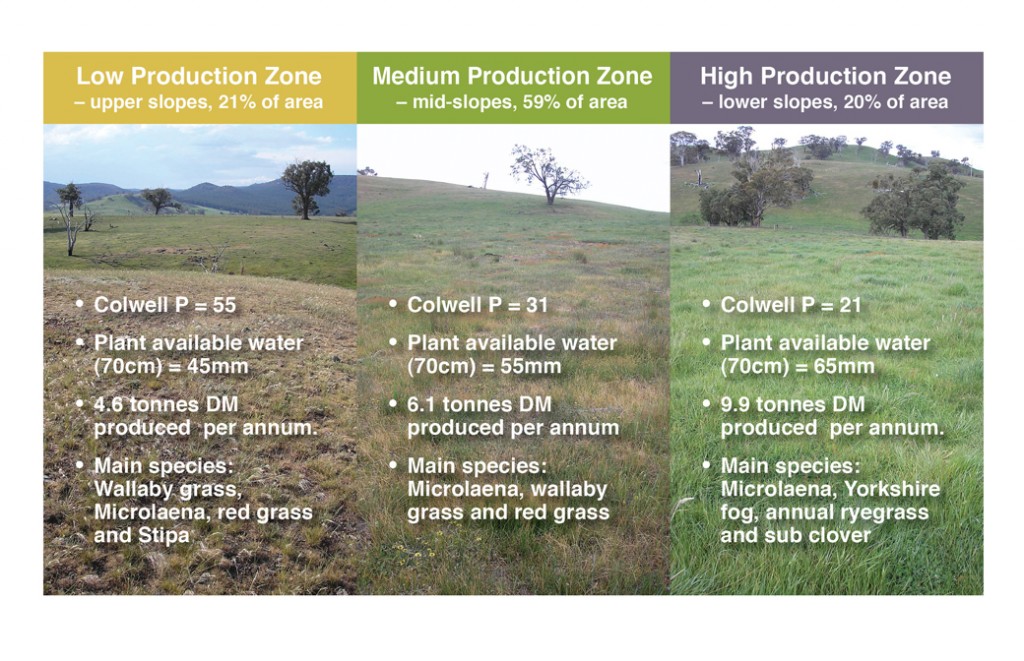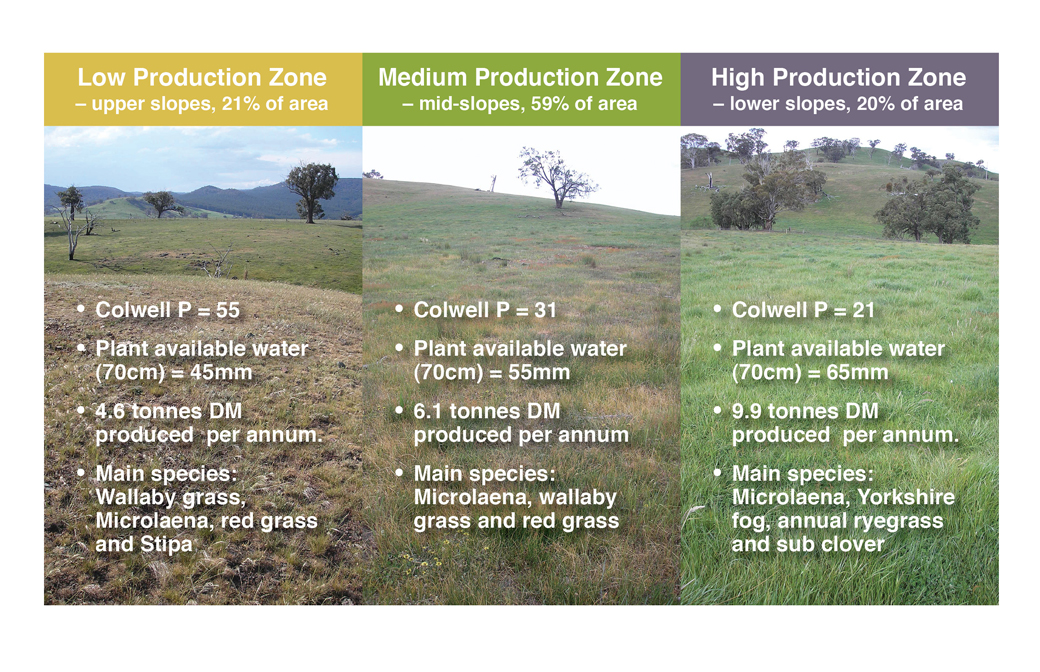 Getting the phosphorus application rate right
Phosphorus fertiliser application rates include a maintenance component (to replace what is lost to production and fixation), and a capital component (to increase phosphorus levels). The right rate will depend on a range of factors including soil type, slope, grazing regime, rainfall and stocking rate. The following resources can assist decisions for your farm:
Investing in lime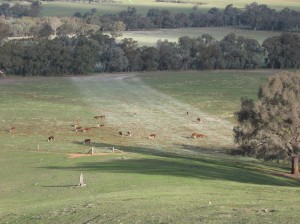 Another consideration is whether to invest in lime. In soils that are very acid, lime can be important for preparing soils for establishing new pastures (especially phalaris or lucerne) and can increase production in some pastures by making nutrients more available. Importantly, native pastures are inherently tolerant of high levels of soil acidity and therefore may not give an economic response to lime. This was demonstrated at the Murmungee Supporting Site where in a lime strip placed across the site, silver grass increased dramatically while Microlaena and other species remained unchanged.
Consider which livestock will maximise returns
Decisions relating to enterprise choice and livestock systems are complex and need to account for not only the most profitable system, but also existing investments in livestock, available resources, management expertise and other associated business management changes that may be required (eg. changes to marketing), as well as your interest and passion. These factors and a process for making enterprise and livestock systems decisions is provided in the EverGraze Exchange – Livestock Systems. Below are some of the considerations based on research outcomes for setting up livestock systems, which achieve higher profits from native pastures.
EverGraze reproductive sheep systems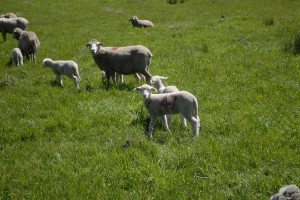 Traditionally, livestock producers with a mix of native and improved pastures in this region have run high value reproductive stock on the improved pastures and lower value dry stock on native country.
However, EverGraze research with Merino ewes joined to terminal sires found:
At Chiltern, fertilised Microlaena-based native pastures with a low legume component and low base fertility, achieved good conception and weaning percentages and acceptable lamb growth rates to reach store weights by December from July-born lambs. However, the quality of these pastures was not high enough to finish lambs to light trade weights after weaning, even in years with high spring rainfall.
At Orange, fertilised Microlaena-based native pastures with a high quality annual grass (annual ryegrass) and sub clover component and high base fertility achieved good weaning percentages and good lamb growth rates for September-born lambs to reliably reach store weights and for a portion of lambs to reach light trade weights when seasonal conditions allowed.
At Holbrook, a single flock of ewes grazed across a fertilised native pasture on hill country and a phalaris sub clover pasture on flatter country, achieved high weaning percentages and acceptable lamb growth rates for July-born lambs to reach store weights by December. Under most price scenarios for lamb and wool, this system was significantly more profitable than running separate flocks of ewes and lambs on phalaris and wethers on hill country.
Utilising lower quality native pastures for cattle at Spring Valley
Ian Locke runs beef cattle and prime lambs on his property 'Spring Valley' near Holbrook. The farm is undulating with about 80% sown to productive perennials (mostly phalaris and sub clover). Native pastures make up 15% of the property, including the steep and often rocky hill country.
Previously, fertilised native pastures were set stocked with wethers for twelve months of the year, resulting in low ground cover, high levels of Patterson's curse and poor production. In the new system, the wethers were removed and replaced by spring calving cows through winter until the last month before calving. This strategy improved the fitness of the cows and relieved the pressure from phalaris during the winter feed gap. Sheep grazed the native pastures for a short period in October to reduce the annual weed biomass. The native pastures were then rested for the summer to allow them to seed and regenerate. The result was improved ground cover and perennial native grass composition, reduced weed burden and increased overall productivity. The stocking rates achieved on native pastures in the former wether system compared to the new strategic grazing system are presented in Figure 2. In this system, Ian discontinued fertiliser application to the native pastures which were on lighter soils than the Holbrook Proof Site and therefore less likely to respond. Removing fertiliser inputs also helped to keep weeds under control.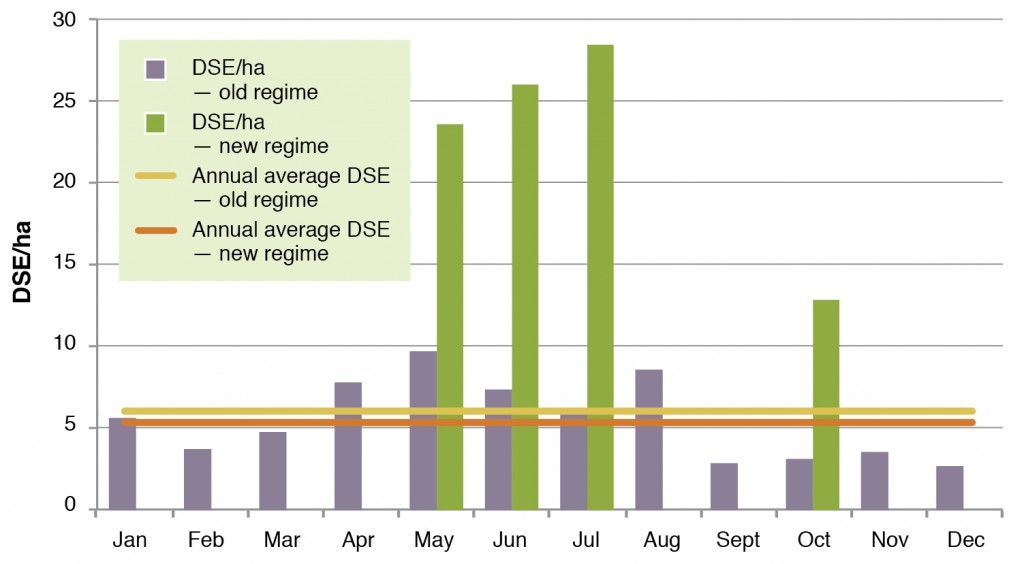 Intensify the grazing system for increased utilisation
Another consideration for increasing the efficiency of production systems on native pastures is to increase pasture utilisation by increasing the intensity (number of paddocks) of the grazing system.
Production benefits from intensifying the system
The Orange EverGraze Proof Site compared a 1-Paddock system to 4-Paddock and 20-Paddock rotational grazing systems and found that:
Increasing the grazing intensity improved pasture utilisation and therefore allowed stocking rates to increase on average 8% in the 4-Paddock and 13% in the 20-Paddock system.
A higher allowance for selective grazing in the 1-Paddock system resulted in higher lamb weaning weights (on average 12% higher than the 20-Paddock system and 4% higher than the 4-Paddock system).
Overall lamb production per hectare was 20% higher in the 20-Paddock system and 5% higher in the 4-Paddock system compared to the 1-Paddock system.
Average Gross Margins for the 20-Paddock system were $404/ha compared to $340/ha for the 4-Paddock system and $333 for the 1-Paddock system. Modelled over 40 years, average Gross Margins of the 20-Paddock system were $254/ha compared to $197/ha for the 1-Paddock system.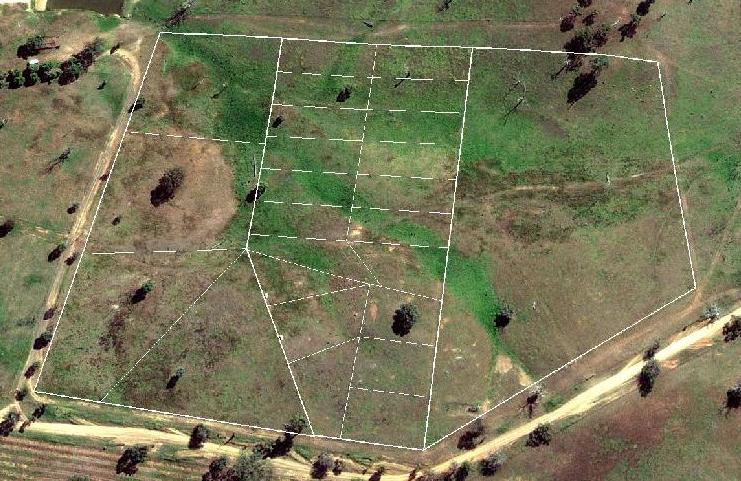 Return on investment from a more intensive system
Intensifying the grazing system may be as simple as mobbing up animals and rotating around existing paddocks. However, where intensifying the system requires investments in fencing and water infrastructure, production benefits need to be high enough to justify the costs. Using the results from the Orange EverGraze Proof Site experiment, a modelling study demonstrated that returns from implementing a 20-paddock rotational grazing system depended on the degree of infrastructure investment required (Table 1).
Table 1. The relationship between initial paddock number and internal rate of return when moving to a 20-paddock rotational grazing system for a typical 100ha farm on native pastures at Orange (Badgery et al. 2013).
| | |
| --- | --- |
| Investment required | Internal rate of return |
| 20 paddocks continuously grazed to 20-paddock rotation | 23.9 |
| 14 paddocks continuously grazed to 20-paddock rotation | 13.1 |
| 10 paddocks continuously grazed to 20-paddock rotation | 9.6 |
| 4 paddocks continuously grazed to 20-paddock rotation | 3.9 |
| 4 paddocks continuously grazed to 20-paddock rotation with a central watering point | 6.4 |
It should be noted that on a real farm, the benefits from fencing to land class are likely to be significantly greater than what can be achieved on experiment scale due to a much higher degree of variation in slope, aspect and pasture species composition, as was demonstrated in the Supporting Site and case study examples above.
Further information on grazing strategies can be found in the EverGraze Exchange – Nuts and Bolts of Grazing Management.