East Gippsland – Climate
The climate in East Gippsland is temperate, with patterns of precipitation and temperature influenced by geography, topography, altitude and proximity to the coast.
Rainfall
Figure 1 shows the mean average rainfall distribution across the region. The Great Dividing Range is the dominant landform feature in the north of the region, and has a significant influence on weather patterns. Dry 'rain shadow' valleys contrast with adjacent mountains that are characterised by wet montane forests and, at higher elevations, sub-alpine woodlands and alpine herb fields.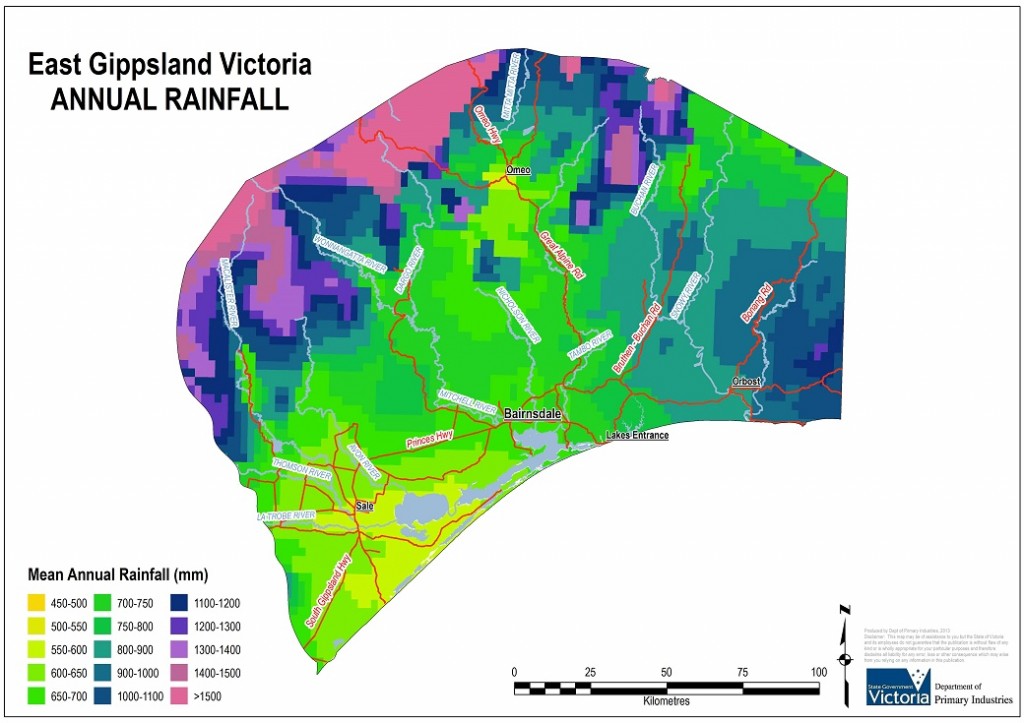 Rain shadows caused by the ranges occur in the Mitchell and Tambo River valleys and on the plains. Rain shadow effects are evident when comparing average annual rainfall of 659 mm at Tabberabbera in the Mitchell River valley with Bullumwaal in the bordering high country, which receives an average of 1,080 mm per annum. Mean annual rainfall at Bairnsdale is 716 mm and at Cann River is 1,008 mm (Bureau of Meteorology (BoM)).
Precipitation mainly falls as rain, except at high altitudes, where areas over 1500 m elevation remain snow-covered throughout winter. Figure 2 shows the monthly means for the main centers in the region. Maximum rainfall occurs in winter and spring. High-intensity rains at any time of the year can cause floods in the lower reaches of most major rivers in the region. On the coastal plains, rainfall is fairly evenly distributed throughout the year.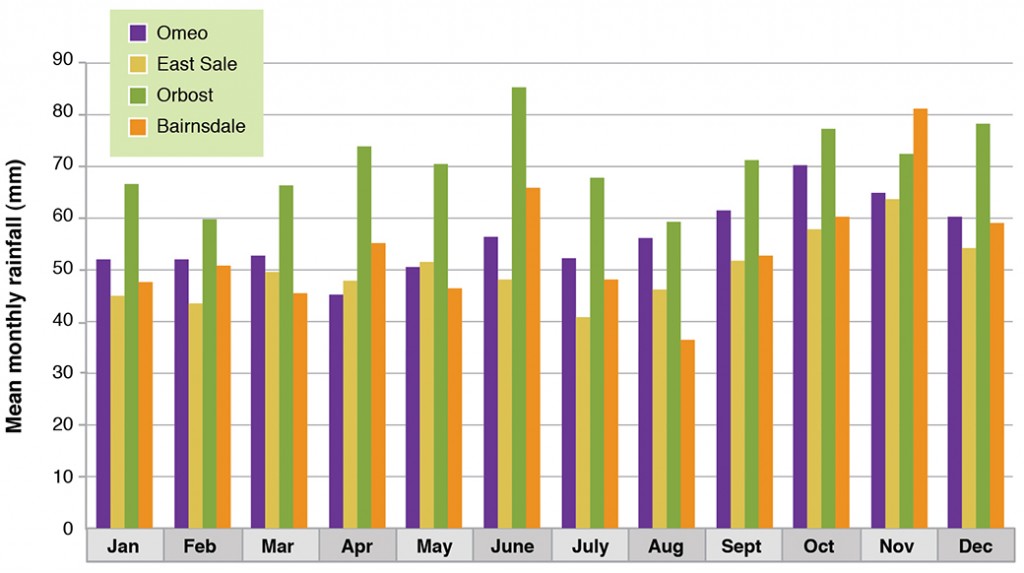 Graphs of rainfall trends are available for Bairnsdale, East Sale and Omeo.
Temperature
Temperature varies according to proximity to the coast and altitude. The plains and coastal areas are subject to mild temperatures. Bairnsdale has average highs of 20.6°C throughout the year, with annual average lows of 9.1°C. In January, Bairnsdale averages maximums of 25.8°C and lows of 15°C. During July, Bairnsdale averages a maximum of 13.7°C and a low of 3.8°C (BoM).
Temperatures at Cann River are similar to Bairnsdale, typically a little warmer during the day and cooler than Bairnsdale at night. Average high temperatures of 20.5°C are experienced throughout the year, with annual average lows of 7.8°C. In January, Cann River averages a maximum of 25.9°C and a low of 12.4°C.
During July, Cann River has an average maximum temperature of 14.3°C and a low minimum temperature of 2.1°C (BoM).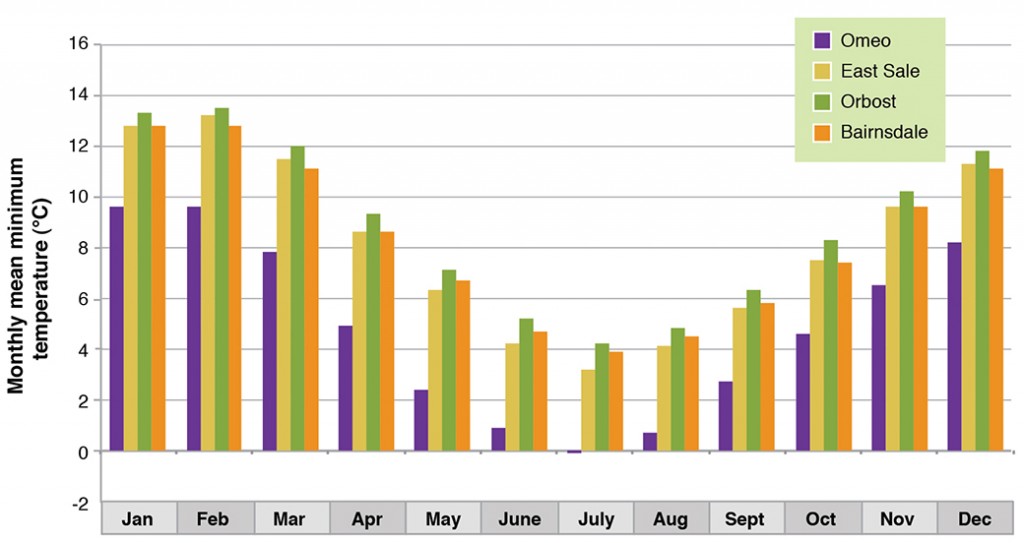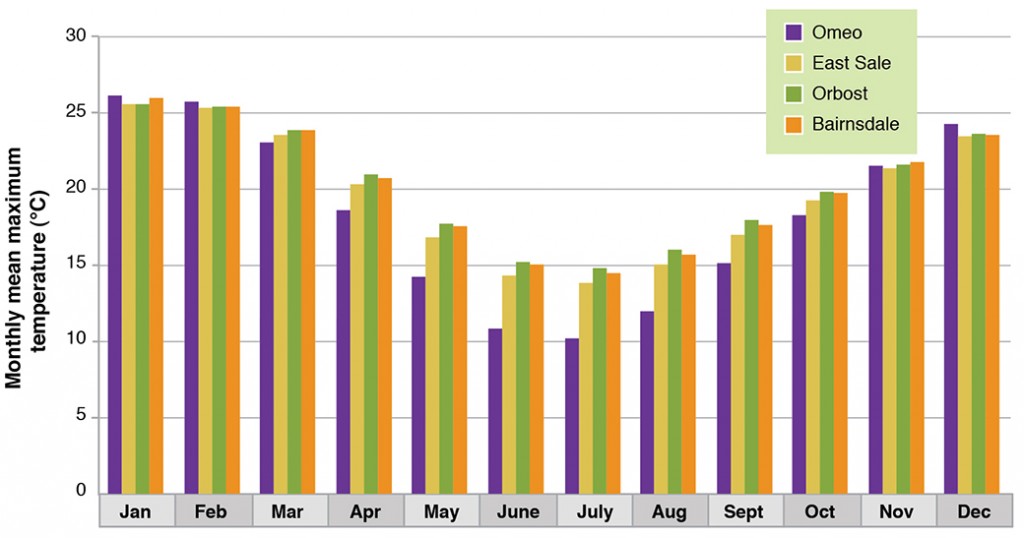 Mild winters are experienced on the plains and in coastal areas. Higher winter temperatures compared with other parts of the region are a result of winds becoming warmer when descending from the mountains (ie. the Fohn effect) (LCC, 1982).
Temperature has a profound effect on growing seasons in the high country. Its impact on soil temperature is dramatic as the growing season is restricted to the period between October and May – if soil moisture is available.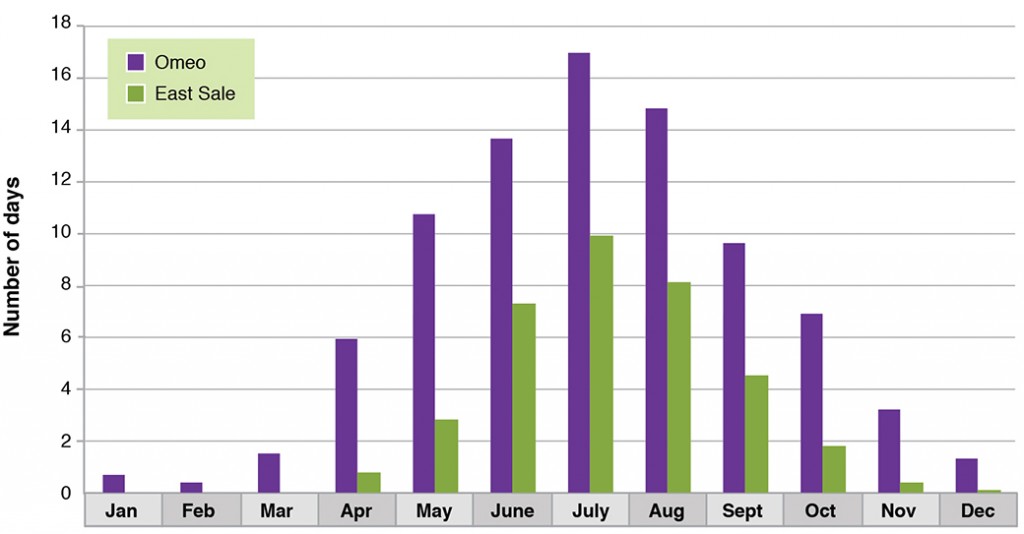 Graphs of temperature trends are available for East Sale.
West Gippsland
In West Gippsland (Figure 6), the major influence on climate is the easterly movement of high and low pressures systems and southerly movement of low-pressure systems off the east coast of southern Australia. The region has a Mediterranean climate with maximum temperatures and minimum rainfall in summer. This is tempered in coastal areas and the east of the region by frequent coastal depressions, creating milder temperatures and a more evenly distributed annual rainfall. Droughts are often experienced from mid-October to late April.
The climate varies with elevation, topography and distance from the coast. Lowlands tend to be warmer and drier, changing to cooler, wetter highlands. The Gippsland Plains are topographically uniform and show little variation in climatic conditions compared with mountain areas.
The average annual rainfall at Sale is markedly less than Orbost or Bairnsdale. This can be attributed to the rainshadow effect of the Strezlecki Range to the west that impacts on weather systems moving from the south west. This can be seen comparing the average rainfall at Sale (598 mm/yr) and Morwell (738 mm/yr) even though it is 60km further west.