East Gippsland – Soils
The variability in geology and landforms in East Gippsland is evident by the fact that seven of the fourteen Australian soil classification orders can be found in the region (Figure 1, Figure 2).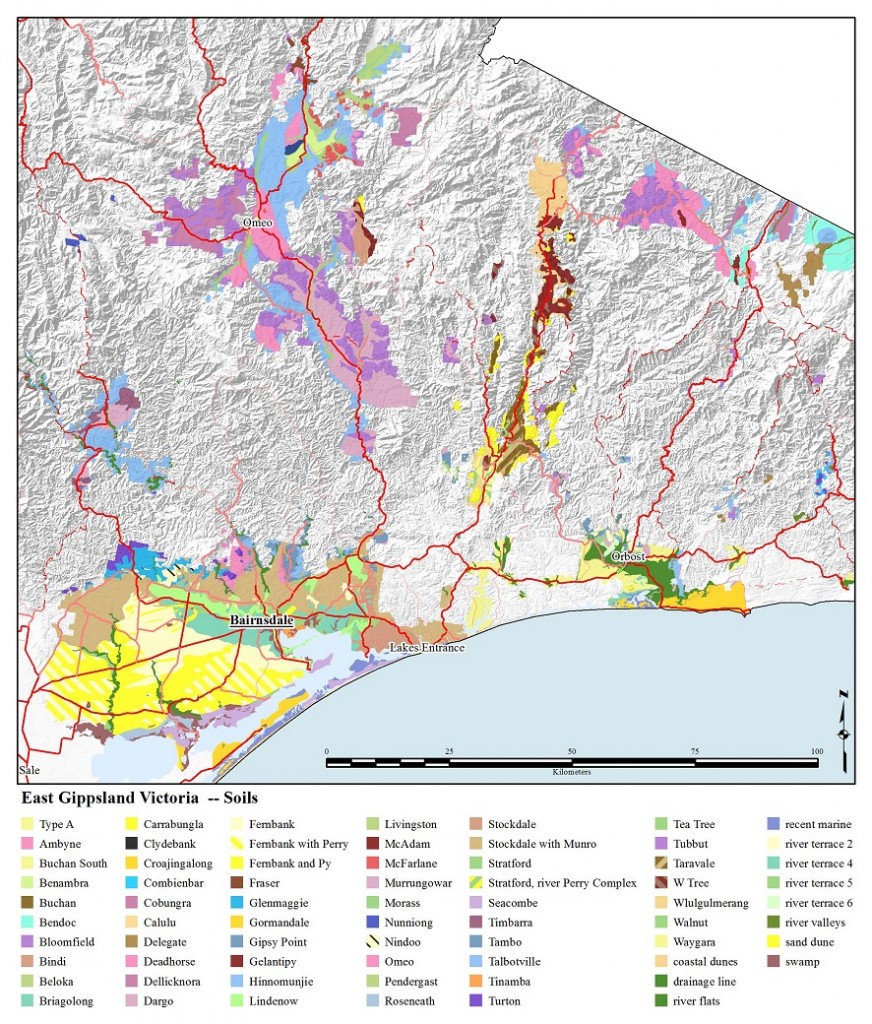 Soils on the coastal plains around Bairnsdale largely originate from material deposited by streams and from dune forming processes. Most soils contain alluvial sediments and are texture contrast soils (soils with a loamy or sandy loam surface overlying a heavy clay subsoil). Textures vary from loamy sands to sandy loams and tend to be moderately to strongly acidic.
Soils in the ranges are generally of granitic origins and have sandy loam to sandy clay loam textures. The foothills of the ranges include podosol type soils with a 'coffee rock' layer at depth on the profile.
With the variety of soils in the region, pasture growth is highly variable and the soil type and rainfall determines pasture species and long term survival. The light soils of the ranges and plains lend towards annual species as well as some more poor quality perennials with a large amount of the country being covered with native or unimproved pastures. A number of pasture weeds invade the light soils region including African Lovegrass (Erigrostis curvula), Rats Tail Fescue (Sporobulus africanis), Yorkshire fog grass (Holcus lanatus) and Capeweed (Arctotheca celundula) to name a few key species. The more fertile soils of the alluvial valleys are able to sustain more productive perennial and annual species, such as lucerne, ryegrass, white clover, fescues, cocksfoots and phalaris.
Soil issues for the region are provided under Environmental Issues