Holbrook Farm Systems Experiment
The rationale behind the Holbrook experiment
Where graziers have maximised the opportunity to improve pastures on arable parts of their land, there is the opportunity to increase profitability by increasing productivity of native pastures on non-arable hill country. Native pastures in north-east Victoria and southern NSW are traditionally grazed by dry stock, such as wethers.  Production from these areas can be increased by increasing pasture growth and quality of native pastures with fertiliser, making the pastures suitable for higher value breeding stock.  However, the increased fertiliser inputs and stocking rates often come at the cost of the important native perennial species in those pastures. One way of reducing these risks is to apply grazing management that will allow grazing pressure to be used to control competition from fertiliser-responsive (nitrophilous) annual species.  The challenge is to develop a grazing system that allows appropriate grazing management to be applied while understanding how that will affect the rest of the system. In other words – if the stock have to be grazed on the native pasture at a relatively high grazing pressure, what will become of those pastures that are consequently under grazed; and will performance of the breeding stock be compromised?
For site results at Holbrook, see Integration of native and improved pasture systems increases profit; and Composition and production from native pastures in response to fertiliser and rotational grazing.  The experiment is described below.
Holbrook grazing systems
Two grazing systems were evaluated at Holbrook from 2008-2011 and are represented in Figure 1. The traditional approach (Separate treatment) of placing higher value breeding stock on improved pastures (phalaris, cocksfoot, sub clover) with lower value dry stock (wethers) on native country was compared against a single breeding flock that grazed across both pasture types (Integrated). In a third treatment (run from 2009-2011), the Integrated system was run with no fertiliser inputs on native pastures.  Merino ewes (CentrePlus) joined to terminal sires were used in both systems with Merino wethers grazing the native pastures in the Separate treatment.
It was expected that in the Integrated system, utilising the native pastures with reproductive stock would be more profitable than including wethers in the system; nutritional needs of the stock could be met throughout the growing season; and high spring stocking rates and mob sizes could be utilised to manage spring production from annual species in native pastures at higher fertility.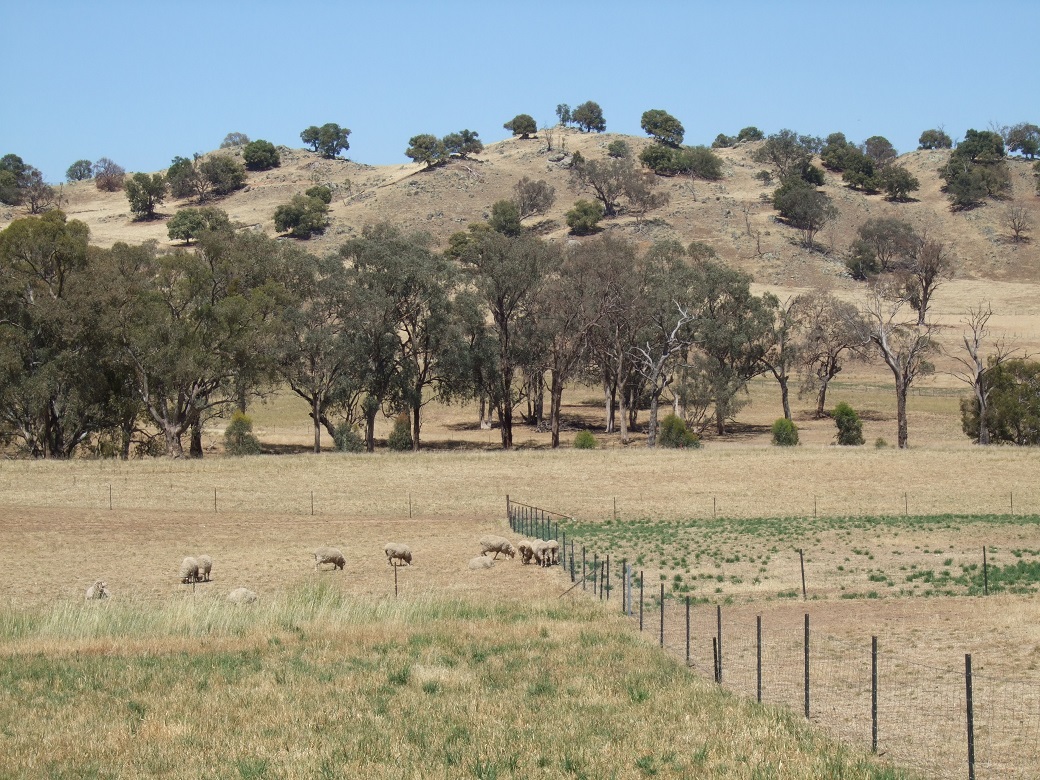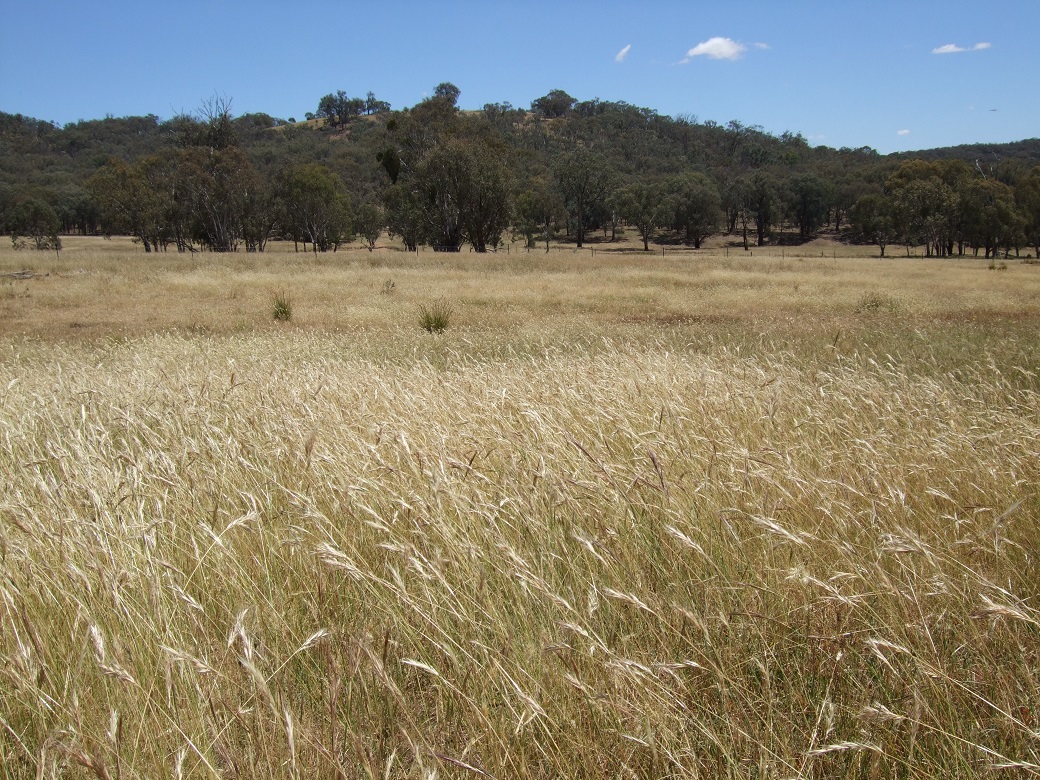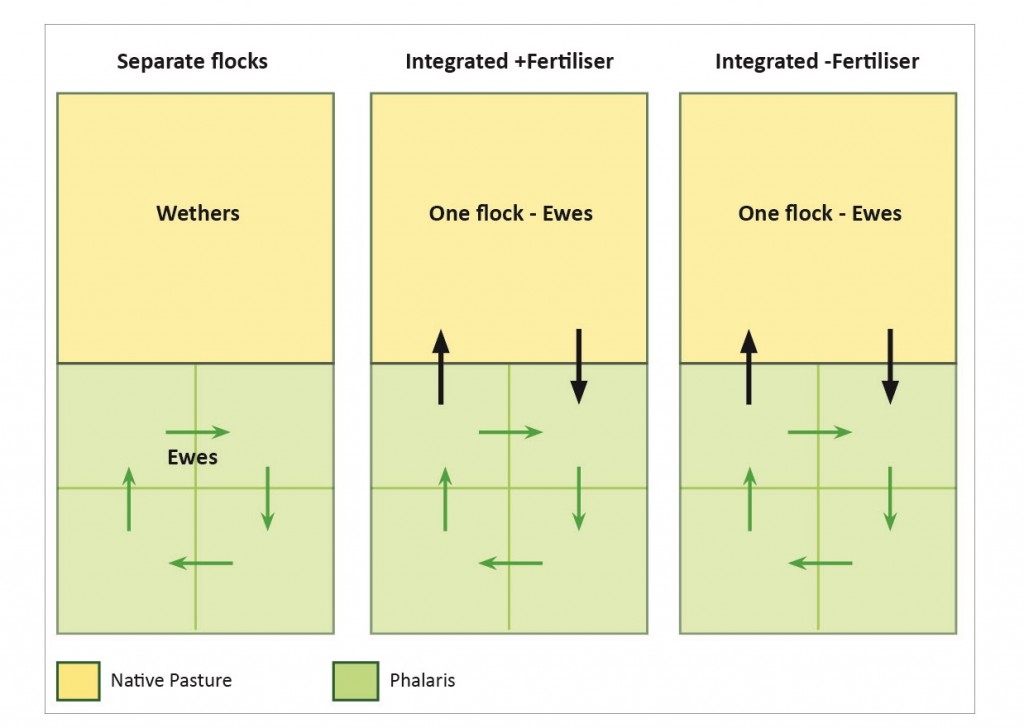 Management
Phalaris pastures were subdivided into four cells and grazed on a two week on, six week off basis. In the Separate system this management was applied throughout the experiment. In addition, wethers were set stocked on the native pasture at rates from 3-5 DSE/ha throughout the experiment.
In the Integrated systems, ewes and lambs were moved after marking onto the native plots (usually mid-October) to increase grazing pressure on the early maturing annual species. Thereafter, they returned to the phalaris and grazed similarly to the Separate treatment, allowing later flowering native grasses to grow and set seed.
In 2008 and 2009, lambs were sold after weaning.  Ewes remained on the phalaris until a late summer-early autumn grazing of the native plots took place to utilise any green feed.
In 2010, the lambs were weaned onto the phalaris pasture in late December and ewes left on the native pasture until early February. Otherwise the only other time the native pasture was grazed was for a short spell in mid-winter as dictated by feed availability and quality. Figure 2 shows the stock movements for the various treatments.