Euroa MLA Producer Demonstration Site
Persistent Productive Perennial Pastures for Euroa
Fast Facts
Site Locations: Euroa and Longwood, Northeast Victoria
Host producers: John Kelly (Euroa) and Andrew Walta (Longwood)
Producer group: Euroa BESTWOOL-BESTLAMB Group
Site Coordinators: Kate Sargeant (2009-2011), Alison Desmond (2011-2013)
Duration: 2009-2013 (activities continuing)
Site focus: Two sites compared production, persistence, stocking rates and economic return from different perennial options including summer active and summer dormant cocksfoots, phalaris, summer dormant tall fescue and grazing brome. Grazing crops and chicory were evaluated for their place in the system.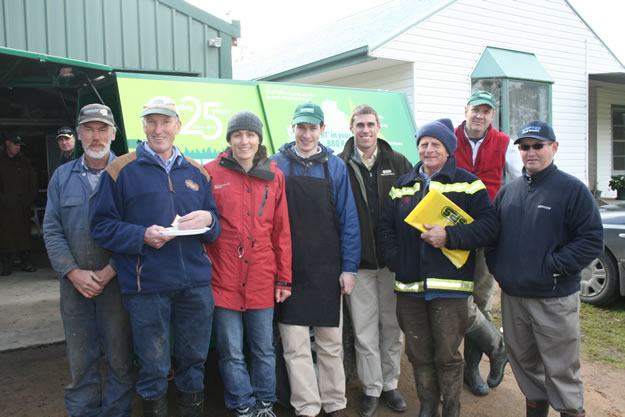 The Farms
Climate:
Hot and dry in summer, and the growing season runs from the autumn break through to mid October. The long-term average annual rainfall is 650mm at Euroa and 670mm at Longwood.
Enterprises:
Euroa – Trading cattle, prime lambs and cropping
Longwood – Spring calving cows (targeting feedlot entry weights 480kg), cropping
Site description:
Soils are clay-loam, naturally acidic and high in aluminium and were both limed prior to the demonstration. The sites had adequate soil fertility for establishing pastures (see section 5.1 for soil test results), although the Euroa site had particularly high phosphorus and sulphur levels.  The Longwood site in comparison had moderate soil fertility and was located on a flood-plain with poor drainage.  The Euroa site had good drainage however a number of light, sandy patches existed across the site where old river-beds were previously located.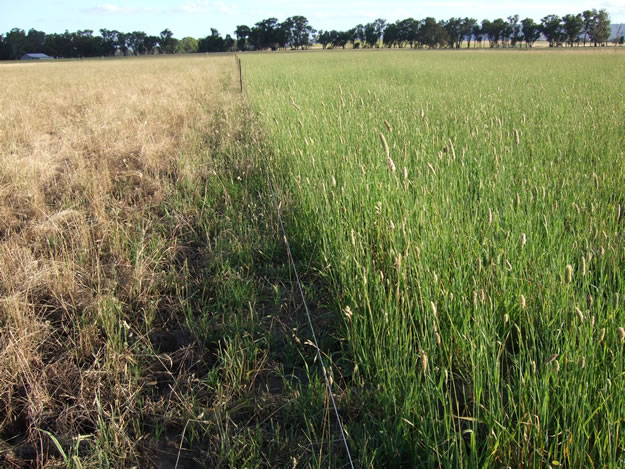 Summary of the demonstration
From 2002-2008, livestock producers in this region had experienced several years of well below average rainfall, which led to poor establishment and persistence of perennial pastures, significant decline in pasture legumes, dominance of annual weed species and poor ground cover levels.
In response to these issues, two demonstration sites (Longwood and Euroa) were set up in 2009 to gain a greater understanding of the place, purpose and management requirements of perennial species and a variety of options for their local environment. Two members of the Euroa Grazing Group, John Kelly (Euroa) and Andrew Walta (Longwood) were chosen to host the demonstrations. Both properties are located on the flat plains, north of the Hume Highway.  The Euroa site was run from June 2009 – December 2012.  The Longwood site was run from June 2009 to December 2011.
The sites were based on the EverGraze principles: The right combination of perennials put in the right part of the landscape for the right purpose and with the right management improves profit, risk and natural resource management simultaneously. In applying these principles, key considerations in selecting and evaluating combinations of pasture species for the project included:
ability to persist and maintain ground cover in the soils of the local area, and through highly variable seasonal conditions;
the cost of establishing perennials can be justified with increased profits and improved natural resource management;
achievement of high carrying capacity and feed quality to maximise the beef produced per hectare;
contribution to filling the autumn and early winter feed gap, minimising supplementary feed costs, particularly through the establishment phase; and
ability to utilise the good seasons and respond to out of season rainfall when it occurs.
The project demonstrated the value of perennials for increasing productivity through improvements to stocking rates, beef production and feed quality. A mixture of perennials across the farm with different summer and winter activity and maturity levels allowed for a flexible system that can cater for different livestock classes, managing variable seasons and reducing supplementary feeding requirements. The role of fast establishing annual grazing crops was important to not only control weeds in preparation for sowing, but also to fill the winter feed gap while perennials are establishing on other areas of the farm.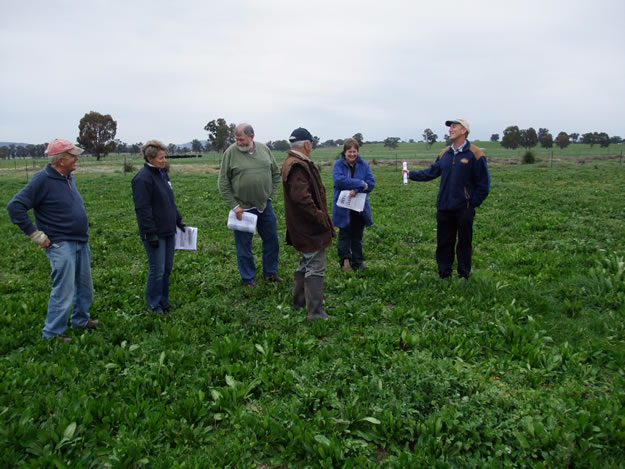 The place, purpose and management of perennial grass comparisons
Establishment and ongoing weed and fertiliser management
Management of the plots
Measurements
2009 – Low but timely rainfall in the establishment year
2010 – Wet spring and summer
2011 – Good moisture in the growing season
2012 – Excellent autumn break, but a harsh winter
Phosphorus responses
Test strips showed no response
Waterlogging had no impact on nutrient levels
Nitrogen deficiency – a cause for low cattle performance?
Seasonal conditions effected sulphur levels
More stable nutrient levels in 2012
Winter cleaning worked in strong stands
Overcoming challenges at Longwood – pugging, waterlogging and under-grazing
Ongoing benefits from good establishment at Euroa
Higher energy and protein in perennials compared to unimproved pastures
Perennial pastures increased carrying capacity
Fescue and phalaris helped to fill the autumn/winter feed gap and produced the most beef
Low stocking rates on the brome
Ryecorn – a fast-establishing two-year clean-up option
Quality summer/autumn feed from Chicory
Regular monitoring of cattle weights important for measuring performance
More production from green feed in summer
Average pasture establishment cost $440 with an estimated return of six years
Acknowledgements
Thanks to the site hosts Andrew and Caroline Walta and John and Mary Kelly for hosting the sites, managing the cattle movements, recording weights, rainfall, grazing data and above all their commitment and passion to this project. Thanks also to the members of the Euroa Grazing Group – the project would not have been such a success without the drive and enthusiasm of the group.
This project was funded by Meat and Livestock Australia (MLA) and the Agriculture Victoria as part of the MLA Producer Demonstration Site initiative.  Significant linkages were made to the BESTWOOL-BESTLAMB and EverGraze projects to boost capacity for development and extension for the project.  Smyth Seeds and Stephens Pasture Seeds provided seed for the trial sites.