Warrak Caring For Our Country EverGraze Supporting Site (Mark and Ange McKew)
Managing hill country- challenges and benefits.
Fast Facts
Site Location: Warrak, South West Victoria (Upper)
Host producers: Mark and Ange McKew
Producer group: Perennial Pasture Systems producer group
Site Coordinator: Julie Andrew, Agriculture Victoria
Duration: 2007-2011
| | |
| --- | --- |
| Site Coordinator Julie Andrew and site host Mark McKew identify native perennial grasses at the Warrak Supporting Site | Warrak Supporting Site is located on undulating-steep hill country |
Site focus
Testing rotational grazing systems to increase the density of native perennial grasses and improve productivity of hill country.
The Farm
Rainfall: 600 mm
Enterprises: Fine wool Merino ewes and wethers, prime lambs and cattle.
Farm area: 600 ha
Soils on the farm: Shallow loams
Key points
Optimised deferred grazing can reduce the seed set of annual species and encourage perennial species in steep hill pastures.
Rotational grazing is more labour intensive than set stocking, but can improve stock management and feed allocation.
The challenge is to have enough stock and big enough mob sizes to effectively use the feed, and the extra investment in water and fencing infrastructure.
The Site
The site consists of cleared steeper sedimentary hills with grassed gullies. Soils are shallow clay-loams with low water-holding capacity, and become shallower as the country rises, with rocky outcrops on spurs.
There is a diversity of native species on southerly aspects including about 40–50% native grasses — mainly weeping grass (Microleana stipoides), common wheat grasses (Elymus spp.), wallaby grasses (Austrodanthonia spp.) and spear grasses (Austrostipa spp.) The other 50% is annuals, mostly silver grass (Vulpia spp.) with some onion grass (Romulea rosea) and Yorkshire fog (Holcus lanatus). The northern aspects have more onion and wallaby grasses.
Traditionally, Mark and Ange set stocked large paddocks, mainly due to limited watering points. This led to under-utilisation of the valleys and slopes and overgrazing of the hill tops. Continuous grazing pressure reduced the perennial pastures, allowing unwanted species, such as capeweed, silver grass and onion grass to invade.
With help from site co-ordinator Julie Andrew, the McKews established the Supporting Site during 2007. The aim was to increase the density of perennial native species and improve the productivity and utilisation of pastures in their marginal, steep hill landscapes. The McKews also hoped to maintain ground cover at above 80% and increase production. The management was based on practices tested at the Ararat Sustainable Grazing for Steep Hills project and the Chiltern EverGraze Proof Site. At the Ararat site, optimised deferred and rotational grazing, at critical times of the year, increased the amount of native perennial grasses in hill country.
Treatments
Paddock subdivision
The McKews chose a site across two paddocks, to compare a system of rotational grazing with specific periods of destocking, or deferred grazing, with set stocking. They fenced a 100 ha paddock into six smaller paddocks, based on land classes and hill aspects to allow rotational grazing. A poly pipe, holding tank and solar pump system was set up to deliver stock water and two active erosion gullies were fenced out and rehabilitated.
One of the six smaller paddocks was the 'innovation paddock', where the McKews applied optimised deferred grazing together with the rotational grazing practices. Merino wethers, which are well suited to the hill country, grazed this paddock and the McKews monitored changes in pasture composition, recorded ground cover, feed availability and the number of grazing days.
An adjoining 70 ha, which contained wallaby grasses, Microlaena, fog grass, introduced annual grasses and onion grass, was the 'control paddock'. This was set stocked with autumn-lambing Merino ewes and cattle at about 2.6 – 4 DSE/ha.
Optimised deferred grazing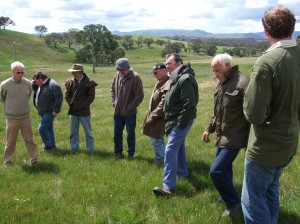 From December 2007, wethers were rotated through the innovation paddock. But in early spring 2008, grazing pressure was increased when annual grass weeds set seed. The McKews de-stocked the paddock as the perennials started to set seed during late spring to mid-January.
This crash grazing, with stocking rates as high as 28 DSE/ha, allowed weeds such as silver grass to be targeted. There was still sufficient ground cover when the sheep were removed, four weeks later.
Stock returned to the paddock for a week during late summer to provide some soil-seed contact. This promoted the germination of the newly-dropped native grass seed.
Following the initial optimised deferred grazing during spring 2008, the McKews rotationally grazed the paddock after the autumn break during 2009, with sheep in each paddock for about a 7–10 days and then out for 5–6 weeks.
Measurements
The standard EverGraze Supporting Site Quickchecks protocol was implemented. Measurements were as follows:
Pasture condition – availability (kg/ha), composition, ground cover, perennial species persistence (basal cover)
Grazing days (DSE/ha) were recorded using the calculator within the EverGraze Feedbase Planning and Budgeting Tools.
Expenses – capital and variable costs
Results and discussion
Persistence
The native perennials persisted well in all six paddocks in the rotation for the duration of the demonstration. Two years of monitoring showed a marked increase in perennial coverage and more feed compared with the control paddock, as shown in Figure 1.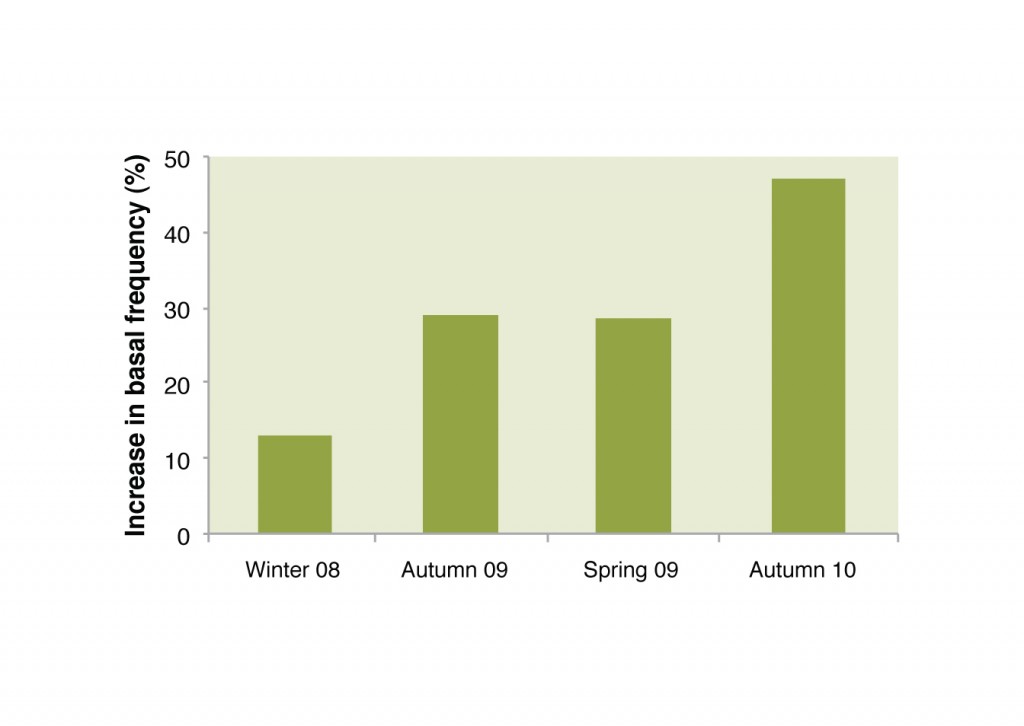 Between June 2008 and 2010 the control paddock had a higher stocking rate than the innovation paddock (see Figure 2), but there was between 50% and 120% more feed in the innovation paddock, showing the potential to increase grazing pressure (Figure 3).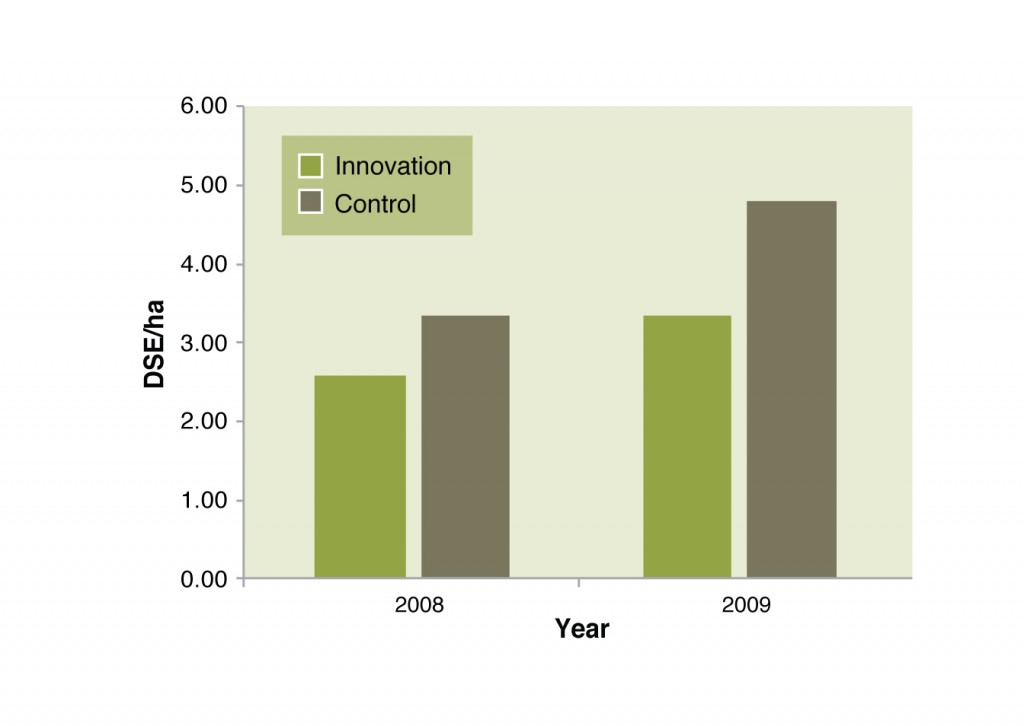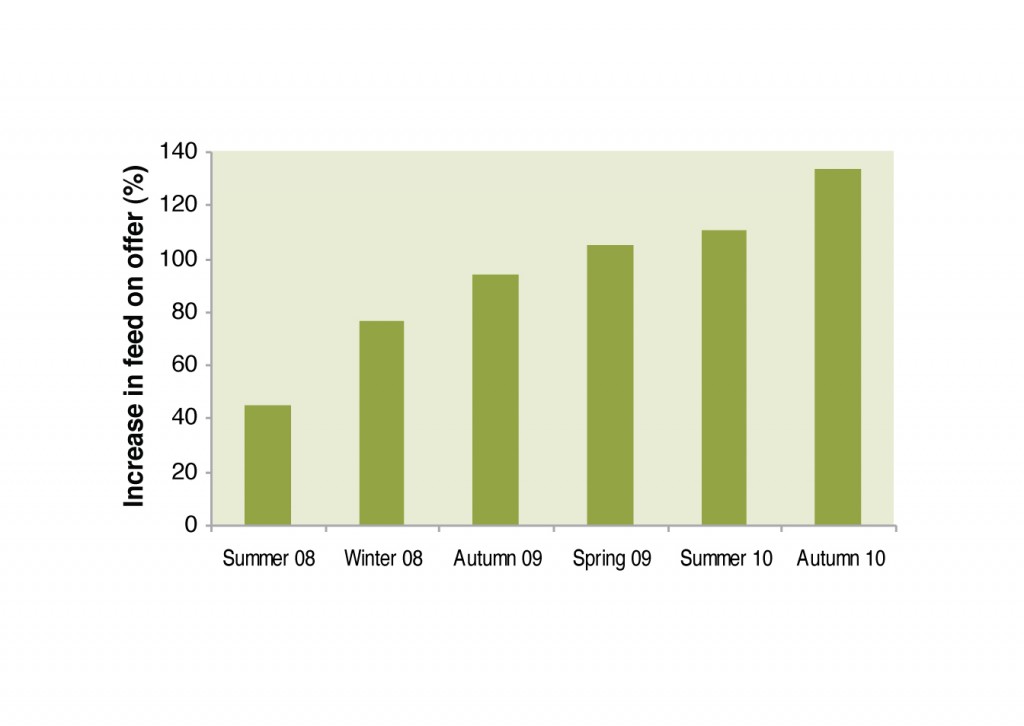 After a review of stocking rates and feed-on-offer (FOO) in the innovation paddock, greater grazing pressure was planned for spring 2010. However the wet conditions made managing spring feed difficult and the McKews couldn't maintain high enough stocking rates and the rotation could not be maintained. It was estimated that as a result of implementing the rotation, the stocking rate could be increased from 2.4 DSE/ha to 5 DSE/ha.
Crunching the numbers
A cash flow analysis has been used to estimate the time it would take for production increases to 'payback' the initial investment in pasture improvements.
The cash flow calculations use the extra income and variable costs associated with the enterprise, the capital and maintenance costs associated with improving the pasture, purchase of extra stock and interest costs to allow for both the borrowing of capital and the opportunity cost of investing.
Using the costs and stocking rate changes outlined previously, the payback period for the Innovation paddock at the Warrak Supporting Site is estimated to be 11 years, using a Gross Margin of $26/DSE. If a Gross Margin of $20/DSE for a less profitable enterprise is used, the payback period is pushed out to 13 years.
However, if the stocking rate is increased and stock performance also increases (as observed at the site) from $20 to $26/DSE due to the improvement, the payback period is reduced to nine years. This is similar to some estimates of payback periods for establishing new pastures. Return on capital (as IRR) ranged from 9% to 16% for the three options. Whilst payback periods may be long, improvements in stock performance leading to better per head and per hectare returns, this investment option can be worthwhile
See the full case study for further details.
Science behind the story
Optimised deferred grazing
Research in the Ararat Hills Sustainable Grazing Systems project showed optimised deferred grazing was an effective method to increase the proportion of perennials while suppressing annual grasses in a native pasture. After three years of deferred grazing, the tiller density of perennial grasses (predominantly native grasses) increased by up to 88% and annual grass tiller density decreased by up to 58%. At the Warrak Supporting Site, Mark and Ange were able to increase the native grass component of their steep hill pastures by more than 50% with the same grazing approach.
The timing of both grazing and rest is critical and depends on the growth stage of the annual grasses in the pasture. Ideally, grazing starts after annual grass stems elongate, but before seed heads emerge during September to early October. Heavy grazing is undertaken (grazed down to approximately 1000 kg DM/ha) to ensure the growing points of these plants are effectively removed. Stock are then removed and the pasture is not grazed until late summer and early autumn (February–March) the following year. Once there is sufficient native perennials in the pasture, the paddock can be rotationally grazed throughout the summer/autumn period provided minimum herbage mass (800 kg/ha) and ground cover (70% for flat country or 90% for steep hills) are maintained.
To be successful this grazing strategy requires a reasonably high (>20%) level of desirable species and sufficient stock to graze the pasture quickly, at the right time, so annual grass growing points can be largely removed. Subdividing large paddocks is also important to achieve appropriate grazing pressures.
Note, recent research at the Orange, Chiltern and Holbrook EverGraze Proof Sites, together with the Murmungee EverGraze Supporting Site results indicate that in years with high spring and summer rainfall, native grasses (particularly Microlaena) can significantly increase density regardless of grazing during the summer period, providing ground cover and herbage mass benchmarks are in place.
Onion grass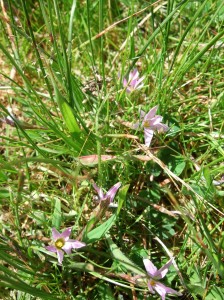 Onion grass is a perennial herb, which produces abundant seed and corms that germinate during autumn and grow during winter, flowering from August to November. The underground corms can survive through hot, dry summers. Results from the Long Term Phosphate Experiment at Hamilton show that onion grass thrives in lower fertility, low stocking rate pastures. It does not respond to phosphorus fertiliser and can therefore be crowded out by more responsive species such as clover and annual or perennial grasses when fertiliser is applied. It has very low palatability and so will thrive at low stocking rates where other species can be selectively grazed.
Onion grass was a significant problem at the Warrak Supporting Site which had low soil fertility. In low-fertility native pastures, onion grass can be a challenge but chemical control is an option. To control the onion grass, the 'innovation paddock' was sprayed with a recommended rate of a metsulfuron-methyl herbicide during June 2010. Spraying needs to be done when new corms start developing, around 6-8 weeks after the onion grass has emerged.
There was noticeably less onion grass during autumn–winter 2001, without any noticeable effects on the native grasses.
The control paddock, which started with a higher level of onion grass than the innovation paddock, also had lower levels of onion grass recorded. This may be due to the wet conditions allowing the perennial and annual grasses to better compete with the onion grass.
The greater frequency of low levels of onion grass during 2011 in the innovation paddock showed that spraying was effective in reducing onion grass levels (see Table 1).
Table 1. Impact of spraying on onion grass in control vs innovation paddocks at Warrak.
Paddock
28 April 2010
(before spray)
17 September 2010
(10 weeks after spray)
6 April 2011
(year after spray)
Frequency scores(low, medium, high)
Low
Med
High
Low
Med
High
Low
Med
High
Control paddock
9
2
7
4
3
1
Innovation paddock
1
4
4
2
3
4
9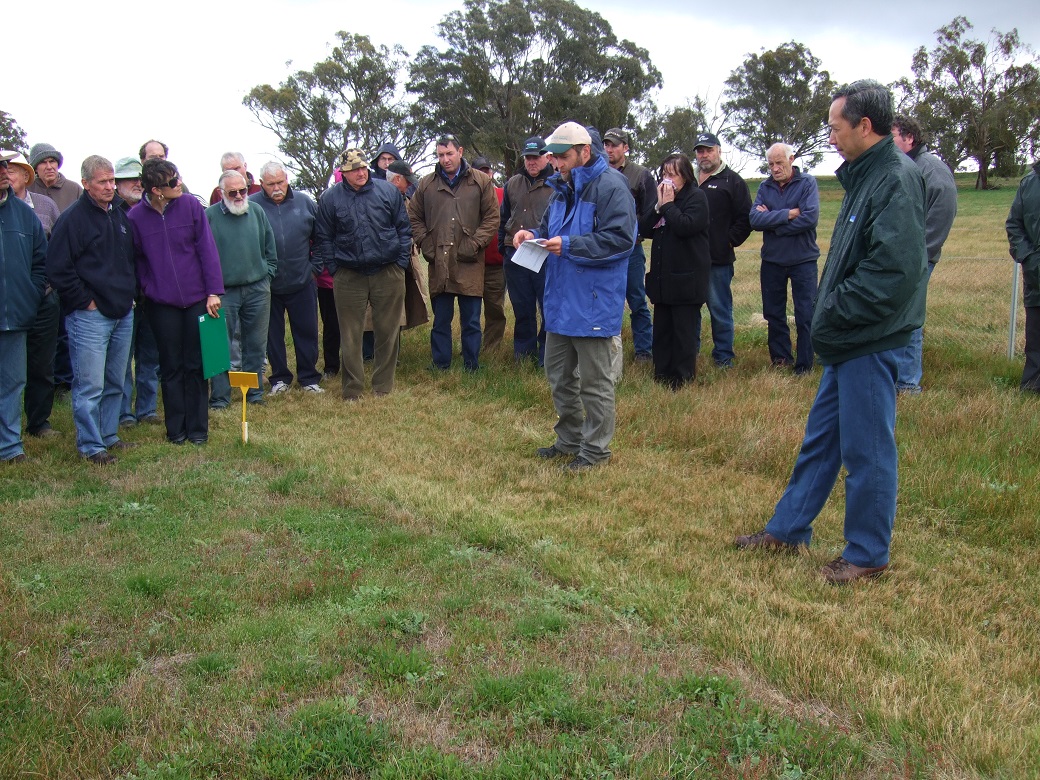 Acknowledgements
Thanks are extended to Mark and Ange McKew for hosting the site. This site was supported by Caring for Our Country, Wimmera Catchment Management Authority, Australian Wool Innovation, Central Highlands Agribusiness Forum, Agriculture Victoria and Future Farm Industries CRC through the National EverGraze Project.