North East Victoria, South West Slopes NSW, South West Victoria (Upper) – Pastures
Variability – a key feature of regional pastures
The South West Slopes of NSW, North East Victoria and the Upper South West region of Victoria exhibit a high degree of variability in climate, soils, altitude and aspect. All of these factors place limitations on pasture species adaptability and performance. The pastures present in this region are as a consequence equally diverse. Most producers will have several different pasture types across the property contributing to the feedbase. Each pasture type will contribute differently to the available feed across a farm, often requiring differing management strategies for production and persistence.
This presents some management challenges for producers but also creates some opportunities. For example, properties with steep hills will often have very different pastures and feed production potential depending upon the aspect. North facing paddocks tend to be warmer in winter, which will maximise winter growth rate, but they dry off earlier in summer compared to south facing paddocks, which have slower winter growth, but provide green feed for longer in summer. Where possible, producers may be able improve the productivity from both areas by fencing to aspect and modifying grazing management.
| | |
| --- | --- |
| Holbrook EverGraze Proof Site where phalaris was sown on arable land and managed in combination with native pastures on hill country. | Northern and southern aspects in late spring. Fencing to divide the aspects significantly increases utilisation and protects the northern slopes from erosion. |
A key skill for producers is to understand the factors that influence what pasture species will grow in a particular paddock, or part of a paddock, and what factors will drive pasture production (see the Pastures for Place and Purpose EverGraze Exchange for further details). The most critical factors in determining what pasture species can be grown are rainfall, soil depth, soil pH and waterlogging. Other factors such as soil fertility and grazing management will also strongly influence production and persistence. Depending upon the level of variability across a property, producers will need to manage a patchwork system of different pasture types and match their livestock system to this. Generalised pasture growth information for this region can help producers get a better understanding of pasture growth for each pasture type but they will need to be modified based on local data and experience. A common feature of pasture growth curves for this region, with the exception of lucerne, is the low growth rates in winter due to low temperature and the absence of growth over summer when temperatures are high and soil moisture is low. These two periods present the major challenges to animal production systems in the region as there are limited options to grow additional quality feed at these times.
Perennial pasture use
The relatively high rainfall over most of the region enables a range of perennial pasture species to be grown. These perennial species offer producers a number of production and environmental advantages. In general, they provide green feed earlier than annual pastures after the autumn break and can continue to provide green feed for longer at the end of the season when annual species have set seed and died off. Perennial species are deeper rooted and are able to more effectively utilise rainfall and as a consequence can significantly reduce the deep drainage losses which contribute to both salinity and soil acidification. Perennial pastures provide more permanent ground cover and greater pasture competition leading to less weeds, reduced weed control costs, reduced erosion and reduced nutrient runoff into streams.
Perennial pastures are usually characterised by the dominant perennial species. Key temperate perennial grasses for this region are perennial ryegrass, tall fescue (summer active and summer dormant), phalaris and cocksfoot. These four grasses occupy different spaces in the landscape as determined by their individual needs. A quick reference guide for comparing the place and purpose attributes of these and other species for the region is provided here with a summary of the information provided below.
Perennial ryegrass
Perennial ryegrass has the greatest production potential of the temperate grasses but it is limited to cooler areas that receive more than 700mm rainfall with deep, well drained, fertile soils in the valley floors that can retain soil moisture longer. Perennial ryegrass has a very limited dormancy capacity to enable it to survive the dry hot summers and it frequently fails to persist when taken outside these areas. Perennial ryegrass varieties that flower earlier offer some advantages in persistence due to a slightly improved ability to survive dry summers and ability to set seed for regeneration, however, this is usually not sufficient to extend its area of adaptation significantly.
Tall fescue
Tall fescue has a high tolerance of waterlogging and aluminium associated with acid soils which make it suitable for wet valley floors and the mid slopes where acid soils may be present. Traditionally, only summer active varieties of tall fescue were available which extended the area of adaptation compared to perennial ryegrass to slightly drier areas around 650mm of rainfall. In recent years more summer dormant varieties (Mediterranean types) have become available. These are claimed to extend the area of adaptation to as low a 450mm rainfall. These fescue varieties show significant promise but there is limited evidence to show their long term persistence as yet. Excess spring growth can be of lower quality and palatability so grazing management of tall fescue need to allow for this. Sowing tall fescue in a mix with other grasses which mature later can also make spring management more difficult. See the Tallangatta Valley and Euroa demonstration sites and the Wagga Wagga EverGraze Proof Site for examples of how tall fescue has performed in the region.
| | |
| --- | --- |
| Tall fescue sown in a mix with cocksfoot was difficult to manage in spring at Tallangatta Valley Supporting Site when the tall fescue ran to seed much earlier than the cocksfoot. | Persistence and production of tall fescue at the Euroa demonstration site was comparable to phalaris. |
Phalaris
Phalaris is the dominant temperate perennial grass for a large portion of the region and can be found on the slopes and ridges as well as valley floors. It has good waterlogging tolerance and the deep root system, combined with a strong dormancy capacity, make it survive dry summers well (Figure 1). However, tolerance to aluminium is low which can restrict its ability to establish and persist in highly acidic soils. This becomes more critical as you approach the lower rainfall limit of 600mm or very shallow soils that limit the root zone. Liming acid soils to establish phalaris pastures is often advised and there are new varieties that have improved acid soil tolerance. Traditional semi-winter dormant varieties such as Australian have lower crowns and are better able to withstand heavy grazing compared to winter active varieties but there is a trade-off with winter feed production.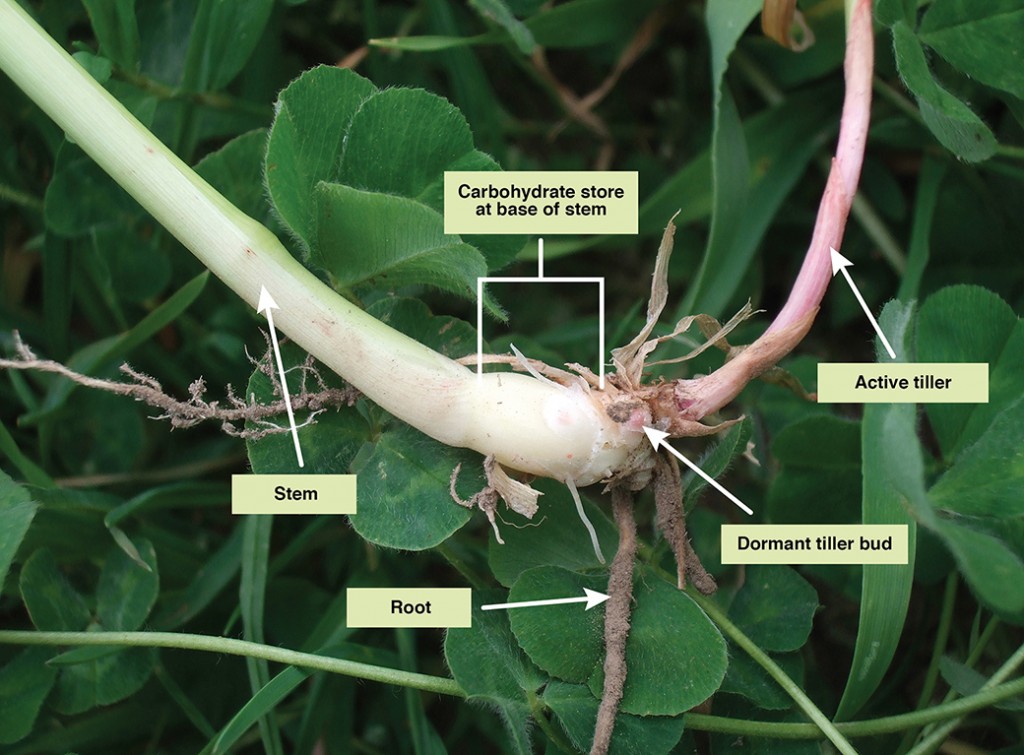 Like tall fescue, spring growth of phalaris needs to be managed and careful grazing management can delay flowering to extend the period of higher quality feed production. Phalaris toxicity in autumn can occasionally be an issue for livestock health, but in many respects is an uncommon yet predictable phenomenon that may be managed around. Having access to alternative pastures such as tall fescue can help producers avoid this risk. Phalaris stands will rarely thicken up from seed shed during the stand life so management practices need to ensure that persistence is favoured. Existing plants will spread vegetatively by tillering and stolons when conditions are favourable. See the Wagga Wagga and Holbrook Proof Sites, the Broadford Grazing Experiment and Supporting Sites at Creightons Creek, Mooneys Gap, Pastoria, Holbrook and Euroa for further information on the use of phalaris in the region.
| | |
| --- | --- |
| The six year old drought-affected phalaris stand at Wagga Wagga, which was managed to ground cover and herbage mass targets, was able to recover through vegetative spread in a good season (November 25th 2010). | Phalaris was grazed in combination with lucerne pastures at Mooneys Gap EverGraze Supporting Site |
Cocksfoot
Cocksfoot is the least productive of the temperate perennial grass species and has poor tolerance of waterlogging but it is very tolerant of aluminium and can be successfully established in areas where the other main perennial grasses cannot. A significant proportion of cocksfoot roots die off over summer and they are slower to regenerate in the autumn compared to phalaris. Grazing too early in autumn can often result in cocksfoot plants being pulled out by livestock and it is often for this reason that it is the first species to disappear during a drought. Careful grazing management during dry periods is crucial. A thinning stand of cocksfoot can often be improved by allowing seed to be set and shed and applying grazing management to encourage seedling establishment. Recent developments in fine-leaved cocksfoots, which are more summer dormant than traditional varieties, show promise for improved persistence under high grazing pressure, at lower rainfall and on shallow soils. See the Future Farm Industries CRC Improved Perennial Grasses project and case studies at Euroa, Ballan and Tasmania for further information.
Perennial legumes
Lucerne and white clover are two perennial legume species that are adapted to the region.
White clover will persist only in cooler areas with more than 700mm of rainfall. It does not tolerate high temperatures or extended dry conditions. White clover is highly nutritious but has a significant bloat risk and is usually grown as a companion species in a perennial grass pasture. When located in deep fertile soils in the upper catchments white clover may persist as a perennial plant, in drier locations or shallower soils it may only persist as an annual requiring annual seed set and recruitment. In these instances subterranean clover may be a more reliable companion legume.
Lucerne is a deep tap-rooted, summer active perennial legume. It is capable of responding well to summer rain and has a good level of drought tolerance if managed properly. It can be successfully sown in areas of suitable soil across the entire region down to as low as 375 mm rainfall. Lucerne is highly nutritious and is capable of providing significant feed when most other pastures in the region cannot. This makes it very valuable for several purposes including growing out lambs or weaner cattle in late spring, keeping weaner sheep or early weaned calves alive over summer, increasing or maintaining the condition of ewes in preparation for joining, and increasing lamb weaning percentages by enabling a 'flushing' effect at joining. The Achilles heel for lucerne is its inability to withstand poorly drained or acid soils. This severely limits its adoption on many properties in the upper parts of the region but makes it a key pasture species in the arable landscapes and on mixed farming properties. See Wagga Wagga Proof Site and the Mooneys Gap case study for further information on the use of lucerne in the region.
| | |
| --- | --- |
| Phalaris on the crest, tall fescue on the valley floor and lucerne on the slopes persisted for more than eight years at the Wagga Wagga Proof Site | Lucerne provided quality feed for finishing lambs at Mooneys Gap |
Alternative summer green feed options
Alternatives for providing summer green feed include chicory and summer fodder crops such as millet and rape. Chicory is a perennial herb, and while it does provide very high quality green feed, it generally doesn't persist past around three years (as was experienced at Wagga Wagga and Hamilton Proof Sites). The Euroa demonstration site successfully used chicory for early-weaned calves. Summer fodder crops can be a useful means of cleaning up a paddock as part of a pasture improvement program while also providing green feed. A more detailed comparison of options to fill the summer feed gap will be provided for the region soon.
| | |
| --- | --- |
| Chicory provided quality feed for early weaned calves at the Euroa demonstration site (April 2010) but is yet to prove its persistence. | Brassicas can be a good option for providing quality green feed in summer while cleaning up a paddock in preparation for sowing new pastures (Euroa, December 3 2009) |
Native pastures
Use of native pastures
The region contains large areas of steep, non-arable country, much of which does not warrant or enable conversion to a temperate introduced pasture. Consequently, a significant proportion of the remaining area of native pastures in southern NSW and Victoria exist in this region. Key native perennial grasses include wallaby grass, Microlaena and red grass. Native grasses, while not as productive as introduced grasses, have proven to be quite resilient during extended droughts and have gained a new level of interest with producers.
Native grasses vary widely in their response to acidity, waterlogging, grazing and soil fertility. Feed value for livestock can also be quite variable. Microlaena and wallaby grass are both year-long growers and are able to respond to summer rainfall events, particularly Microlaena. Both are highly tolerant of acid soils and respond well to improved soil fertility and grazing management. They are extremely valuable in steep acidic slopes where very few alternatives exist. Microlaena prefers the cooler south-facing slopes and valleys while wallaby grass is often the dominant perennial on north-facing slopes. Red grass is a summer growing species which can respond to summer rainfall and is also responsive to improved soil fertility and grazing management but it is not tolerant of acidic soils. Spear grasses and kangaroo grass are important for biodiversity and erosion control but have lower feed quality and production and do not respond to increased soil fertility. Spear grasses can also be a problem for wool contamination.
Results from the EverGraze research site at Holbrook demonstrated that the profitability of native systems could be improved by running a reproductive enterprise and rotationally grazing native pastures in combination with improved pastures on other parts of the farm.
Management of native pastures
Grazing management strategies to maintain or change composition of native pastures vary depending which species are targeted for increased or reduced dominance. The response of native pastures (in terms of composition and production) to increased soil fertility and seasonal conditions also depends on the species present. It's therefore important to first identify the species.
Research messages from Chiltern, Holbrook and Orange EverGraze Proof Sites, and observations from Supporting Sites at Warrak, Murmungee and Tallangatta Valley provide some insights into the response of native grass species (particularly Microlaena and wallaby grass) to grazing management, soil fertility and season. Further information is also provided in EverGraze Action – Managing native pastures in Victoria and the EverGraze review of native pasture management (Virgona).
| | |
| --- | --- |
| Fertilised Microlaena-based pastures at Murmungee Supporting Site carried on average 12 DSE/ha | Wallaby grass relies on seedling recruitment to increase cover and therefore requires spaces to germinate in autumn. |
When attempting to maintain or increase the proportion of native grasses in a pasture, it is important to utilise pastures in early spring to avoid annual legume and grass dominance which can shade out native species and prevent seedling recruitment and/or vegetative spread. Where legumes are present, phosphorus fertiliser application will increase production and potentially dominance of the nitrogen-loving annual species (eg. barley grass and capeweed), which can be beneficial to production, but make spring management more important. At Chiltern Proof Site, it was shown that where legumes and fertiliser-responsive annual grasses were absent, the economic benefit from fertiliser applications was marginal, and fertiliser had no effect on composition.
Wallaby grass can be increased by seedling recruitment if conditions are favourable (see Chiltern, Holbrook and Orange Proof Site results). To encourage seedling recruitment, pastures should be rested to allow seed-set in late spring and early summer, and then grazed in late summer and autumn to open up spaces for germination with rainfall. Microlaena has poor seedling recruitment but research at Chiltern showed that it can spread rapidly by rhizomes, stolons and tillering in years with high summer rainfall. This will occur with reduced grazing pressure, but results from the Proof and Supporting Sites showed that resting to allow seed-set is not necessary. In all native pastures, overgrazing in summer creating excessive areas of bare ground should be avoided.
Annual pasture species
While perennial pastures are characterised by the dominant perennial species, annual species make up a very important component of these pastures. This is particularly true of native grass based pastures where the annual legume and grass component is often the main driver of animal production. Annual pastures are also highly valuable in mixed farming systems where long term perennial pastures are not possible and they can allow for greater enterprise flexibility in crop/pasture systems.
With the exception of specialised dairy pastures, all perennial grass pastures are reliant on the nitrogen contribution from legumes for feed production and feed quality. Subterranean clover is the single most important annual species in temperate Australian pastures with a wide choice of varieties suitable for this region. There is also an emerging group of alternative legume species such as bladder clover and biserulla that are suitable for arable parts of the region that may prove valuable in mixed farming systems. Management of both annual and perennial pastures needs to ensure that the nutritional needs of the annual component is met along with the requirement to set seed for regeneration in subsequent years.
Cropping
Cropping is possible in many parts of the region where arable soils exist, mostly in the lower parts of the catchments. The area sown to dual purpose crops that allow for both grazing and grain recovery has increased significantly in recent years, driven partly by diversification of returns but also by the valuable contribution they can make to feed availability in autumn and winter, and for breaking the weed cycle prior to establishing perennial pastures. These crops are often grown in rotation with short term pastures such as subterranean clover or lucerne and can potentially add significant value to a whole farm livestock enterprise. The area available for cropping is not likely to expand far beyond the current limits imposed by soils and climate, but there is considerable scope for producers to improve the management of existing areas. See the Grain and Graze – Grazing winter cereals for high rainfall areas for further information.
| | |
| --- | --- |
| Triticale grazed by cattle and used to clean up a paddock prior to sowing perennials at the Euroa demonstration site, September 2009 | Ryecorn sown at Euroa demonstration site was ready to graze three weeks after emergence and received three grazings before being locked up for harvest, September 2009. The crop re-emerged in Autumn 2010, providing another year of autumn/winter feed prior to establishing perennials. |
Degraded pastures after Millennium Drought
Many regional pastures experienced significant damage during the prolonged Millennium Drought. The decision to replace a degraded pasture needs to be taken carefully as the costs can be high. All investment decisions need to consider alternative actions or investments. In some instances it may be better to keep a degraded pasture and increase productivity through improved management as either a short or long term option rather than replace it. Producers are advised to discuss these issues with a qualified adviser. Useful resources are the NSW DPI Pasture Rejuvenation Factsheet, the Agriculture Victoria Simple Guide to Pasture Establishment and the EverGraze Pasture Improvement Calculator. Economic case studies for sowing or rejuvenating pastures are provided for Creightons Creek, Euroa, Tallangatta Valley and Seymour and Pastoria demonstration sites.
| | |
| --- | --- |
| Phalaris-based pastures at Creightons Creek EverGraze Supporting Site were recovered by correcting soil fertility and grazing management rather than resowing. | Establishing new pastures at Tallangatta Valley |
Authors
Nigel Philips, Department of Primary Industries, Wagga Wagga, NSW
Kate Sargeant, Agriculture Victoria, Benalla