Tottington Caring For Our Country EverGraze Supporting Site (Tom and Jenny Small)
Fast facts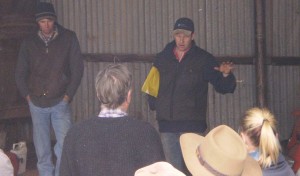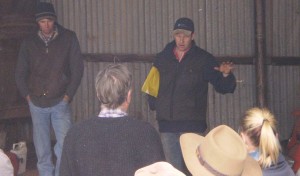 Site location: Tottington, 20 km south of St Arnaud, Vic
Host producers: Tom and Jenny Small
Producer group: Perennial Pasture Systems
Site Coordinator: Rob Shea, Perennial Pasture Systems
Duration: 2009 – 2012
Site Focus
The demonstration aims to test the "Triple Pack Pasture Program™" against the usual pasture establishment system of one year's weed control and sowing of a perennial pasture.
The Farm
Rainfall: 523mm
Enterprises: Merino sheep, limited cropping
Farm area: 2200 ha
Soils and landscape: The area consists of alluvial flats along the upper reaches of the Avon river, which support productive perennial pastures, rising to red sodosol based paddocks which have a shallow topsoil overlaying heavy clay.
The Site
The Supporting Site paddock has a shallow topsoil overlaying a heavy clay and a high quartz gravel content. The site is prone to drying out due to the poor water holding capacity of the heavy clay layer. Short periods of dry weather during the growing season reduce moisture available to plants, reducing perennial persistence.
Treatments
The treatment followed the "Triple Pack Pasture Program™", a system promoted in the central Victorian region for establishing perennial pastures as follows:
Year 1 is a cereal crop which allows the start of a weed control program as well as conducting soil tests to assess fertiliser requirements.
Year 2 is the sowing of a legume pasture to provide nitrogen for the subsequent perennial grass establishment as well as allowing for a wider range of weed control options.
Year 3 is the sowing of a perennial grass into the legume pasture.
Approximately one fifth (3ha) of the paddock was sown in a conventional way (to phalaris) and the rest of the paddock was sown with the "Triple Pack Pasture Program™". The two areas were separated by a drainage line and dam.
| | | |
| --- | --- | --- |
| Year 1 (2009) | Year 2 (2010) | Year 3 (2011) |
| Oat crop sown | Weed knockdown spray in April (Glyphosate)Treatment 1: Legume pasture sownTreatment 2: Conventional phalaris pasture sown with150 kg/ha single superLime spread at 2.5 tonnes/ha | Treatment 1: Main area sown to Holdfast GT phalaris,with smaller areas sown to different varieties (Uplands cocksfoot, Australia II phalaris , Fletcha fescue) to evaluate them in this environment. |
Triple Pack legume phase
Urana sub clover was sown with an Agrowplow seeder at 5 kg/ha over the entire Triple Pack treatment. Six other clovers were also sown into the Urana in strips across the paddock:
Mintaro sub – 5kg/ha,
Coolamon sub @ 5 kg/ha,
Riverina sub @ 5 kg/ha,
Border Balansa @ 5kg/ha,
Flash Persian @ 7kg/ha,
Arrowleaf @ 7 kg/ha.
All clover seed was inoculated with "Gaucho" & "Kickstart".
Conventional sowing
Holdfast GT phalaris was sown at 5 kg/ha with Urana, Mintaro & Coolamon sub clovers. A small area was also sown with Australian phalaris and Trikkala sub clover due to insufficient seed available. The pasture was direct drilled with an Agrowplow seeder.
Results
The comparison between the "Triple Pack Pasture Program™" sowing with a legume phase and the conventional sowing was compromised by the very wet summer of 2010/11. The timing of the grass establishment comparison meant that the conventional phalaris was sown in 2010 and had growing conditions that were probably in the top 90% decile for the area.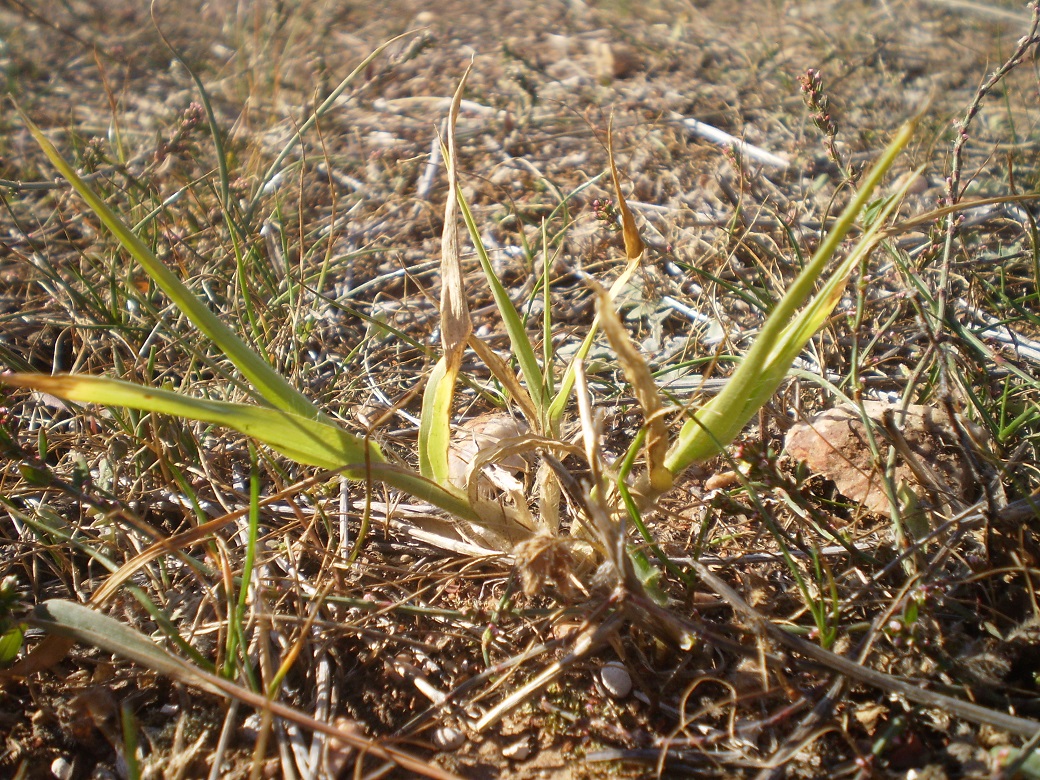 The Triple Pack grass sowing in 2011 experienced severe moisture stress from August 2011 onwards, preventing any valid comparison of the treatments. The Triple Pack grass pasture was further comprised by heavy infestation of summer weeds due to the unseasonal rains.
The growing seasons of 2012 and early 2013 were particularly dry which further compromised any meaningful results at the site but PPS are continuing to measure the persistence of the sown perennials and hope to add to these results.
Other sites
In a similar environment at Euroa, a site prepared with three years of cropping had significantly lower weed burden (silver grass) at establishment compared to sowing directly into a pasture site prepared with a knockdown herbicide. Full details of the Euroa site can be found here.
Acknowledgements
Thanks are extended to Tom and Jenny for hosting the site. This site was supported by Caring for Our Country, Perennial Pasture Systems, Central Highlands Agribusiness Forum, Agriculture Victoria and Future Farm Industries CRC through the National EverGraze Project .