Euroa MLA Producer Demonstration Site – Rainfall
Monthly rainfall was collected at both sites for the duration of the trial and is shown in Figure 1. A description of the major trends each year is provided below.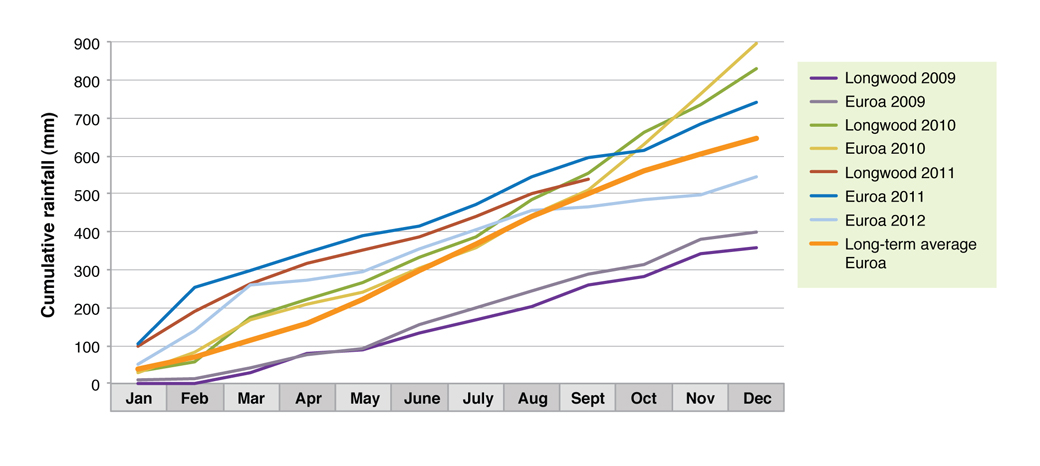 2009 – Low but timely rainfall in establishment year
Both sites received less than 400mm of rain in 2009, but rainfall events were frequent enough to provide a good establishment. High October temperatures (40+ degrees) caused an abrupt finish to the season, impacting clover seeding and senescence of the perennials.
2010 – Wet spring and summer
2010 was an extremely wet year, with above average rainfall for the first time in ten years and the Longwood site flooded twice in spring. This resulted in pugging on some of the plots during spring and early summer. The extremely wet summer of 2010-2011 created a few problems, such as summer weeds, however a positive outcome was the abundance of green feed available from all the species, in particular the cocksfoots.
2011 – Good moisture in the growing season
Soil moisture remained high throughout the 2011 growing season, providing enough for the sites to handle below average winter rainfall and a dry and warm start to the spring. The rainfall received in late September allowed the pastures to hold on and not dry off completely.  Follow-up rainfall enabled the phalaris and cocksfoots at Euroa site to respond and resulted in green feed going into 2012.
2012 – Excellent autumn break, but a harsh winter
Luckily in 2012, the site did not receive the heavy summer rainfall experienced in the previous year, but it was still a wet summer.  In March, the Euroa site received an excellent autumn break (123mm falling), the highest recorded since the trial began and well above the long term average. This resulted in the phalaris providing an abundance of green feed going into autumn.
Unfortunately for the rest of autumn and winter, the site experienced below average rainfall and there was a period in June where the site was destocked due to no rain and not enough feed. After a dry start to spring, the site managed to receive enough rain to finish off the season.
Acknowledgements
Thanks to the site hosts Andrew and Caroline Walta and John and Mary Kelly for hosting the sites, managing the cattle movements, recording weights, rainfall, grazing data and above all their commitment and passion to this project. Thanks also to the members of the Euroa Grazing Group – the project would not have been such a success without the drive and enthusiasm of the group.
This project was funded by Meat and Livestock Australia (MLA) and Agriculture Victoria as part of the MLA Producer Demonstration Site initiative. Significant linkages were made to the BESTWOOL-BESTLAMB and EverGraze projects to boost capacity for development and extension for the project.  Smyth Seeds and Stephens Pasture Seeds provided seed for the trial sites.