Adding 25% perennials will give the highest gross margin
Returns from perennial pasture systems on the south coast of WA are influenced by five factors; the area of perennial pasture in the system; stocking rate; time of lambing; weaning percentage and; the length of time that stock graze kikuyu in autumn.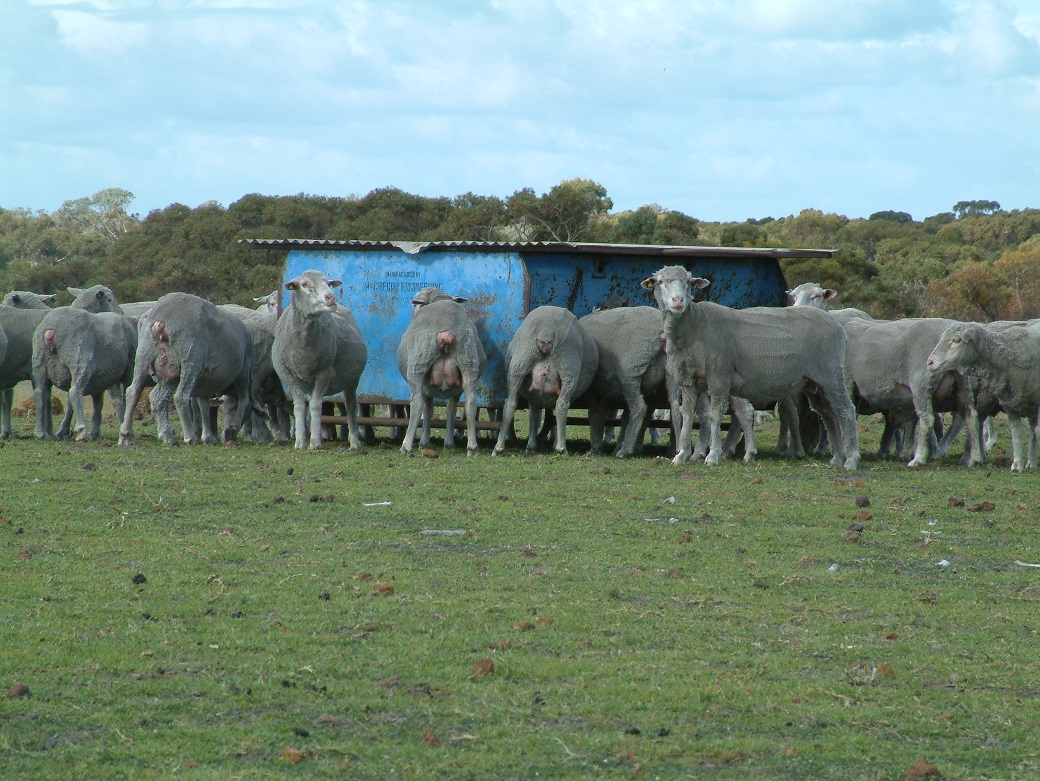 Main findings
Modelling showed a $100 per hectare or 44% increase in gross margin when 25% of the grazing system was based on perennials at Wellstead.
Lifting the stocking rate from 6.5 to 7.8 ewes became possible after introducing perennials and is an important driver of profit.
A longer growing season meant that the optimum lambing time for perennial pasture systems with >75% perennials was June or July rather than May.
A higher proportion of perennials in the system meant that ewes could be locked up for longer on kikuyu in Autumn.
Modelling showed a reduction in supplementary feeding with the adoption of perennials
Kikuyu pastures maintained more than 50% ground cover through summer and autumn, even in the driest years.
Modelling for a lower rainfall environment (367 mm) indicated a higher proportion of perennials (75%) in the pasture base was the most profitable. May lambing and 30 days locked on kikuyu increased gross margins by 66% compared to an annual only system.
At higher rainfall (656 mm) smaller increases in gross margin (5-10%) could be achieved by incorporating 25% perennials into the system.
Read more about this research
Perennial pastures – the opportunity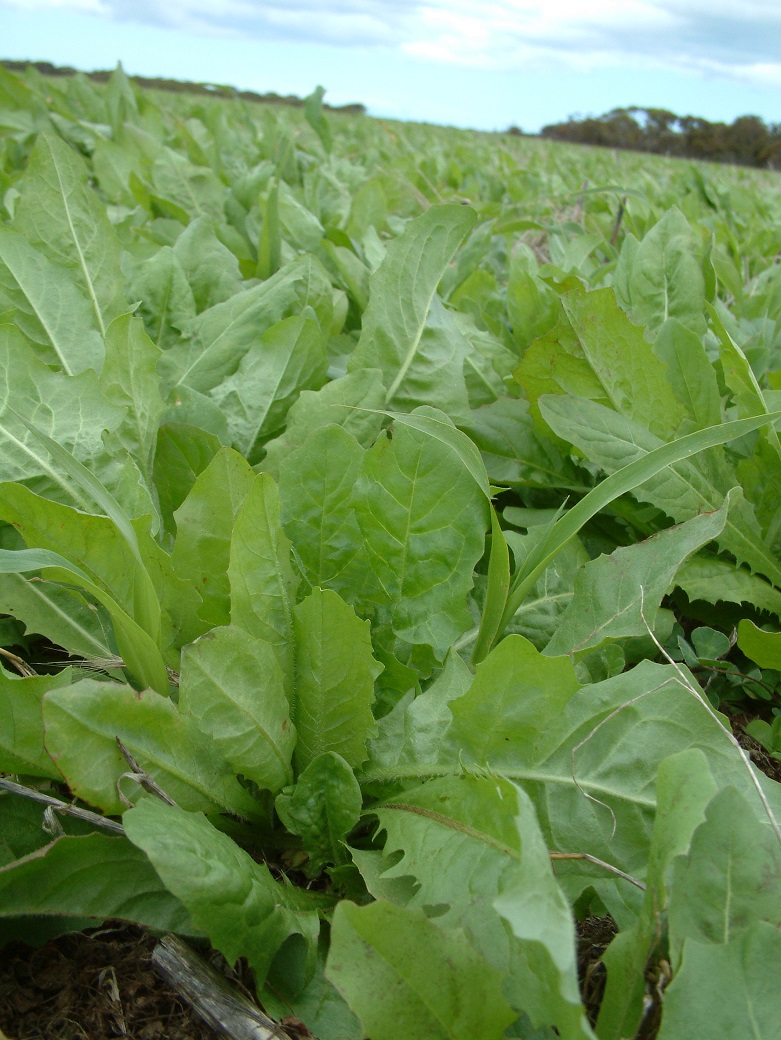 Pasture systems on the south coast of Western Australia are typically based on annual species, with subterranean clover and ryegrass being the most commonly sown.
There is an increasing awareness amongst producers that perennials can provide substantial benefits to the traditional annual system. Widely recognised summer-active species like kikuyu can supply green feed outside the growing season following summer rain and reduce the risk of soil erosion and salinisation. Other summer-active perennials include lucerne, chicory and panic.
EverGraze aims to demonstrate that these perennials can increase gross margins and reduce soil degradation. Examples of benefits include reduced supplementary feed, increased weaner survival and improved ewe condition pre-joining.
Producers who are considering the adoption of perennials or increasing the area they currently have sown are interested to know – how much of my farm do I need to sow to perennials to get the optimum economical benefit?  The Albany EverGraze Proof Site team tackled this question through a combination of farming systems research and modelling.
What was done – Albany EverGraze Proof Site
Pasture and livestock systems
Sheep are an important component of farming systems on the south coast of WA. Furthermore, analysis of various sheep enterprises has demonstrated that dual purpose Merinos are the most profitable in this region compared to meat or wool alone.  Given the EverGraze objective to increase profit and improve environmental outcomes, the project undertook some preliminary modelling to determine whether perennials could further increase the profitability of the dual purpose Merino enterprise. Encouragingly the results suggested farm profit could be raised from $32 to $104/ha/yr while deep drainage decreased, as the area of the farm under perennials increased from 0 to 70%. To test these findings a site on a commercial farm in Wellstead was chosen to test the hypothesis that summer-active perennials increase the profitability of dual purpose Merino enterprises for the soils and climate of the South Coast Sandplain.
The 60 ha EverGraze Proof Site (Figure 1) was planted to summer-active perennials to assess the economic and natural resource benefits of these pasture types. Species sown in the spring of 2005 included lucerne, kikuyu, tall fescue, chicory, panic and setaria.  Annuals were over-sown in the autumn of 2006 and subsequently 2007 due to poor establishment as a result of drought. Merino ewes mated to Poll Dorset sires ran on the site from 2006 to 2008 achieving an average 120% weaning.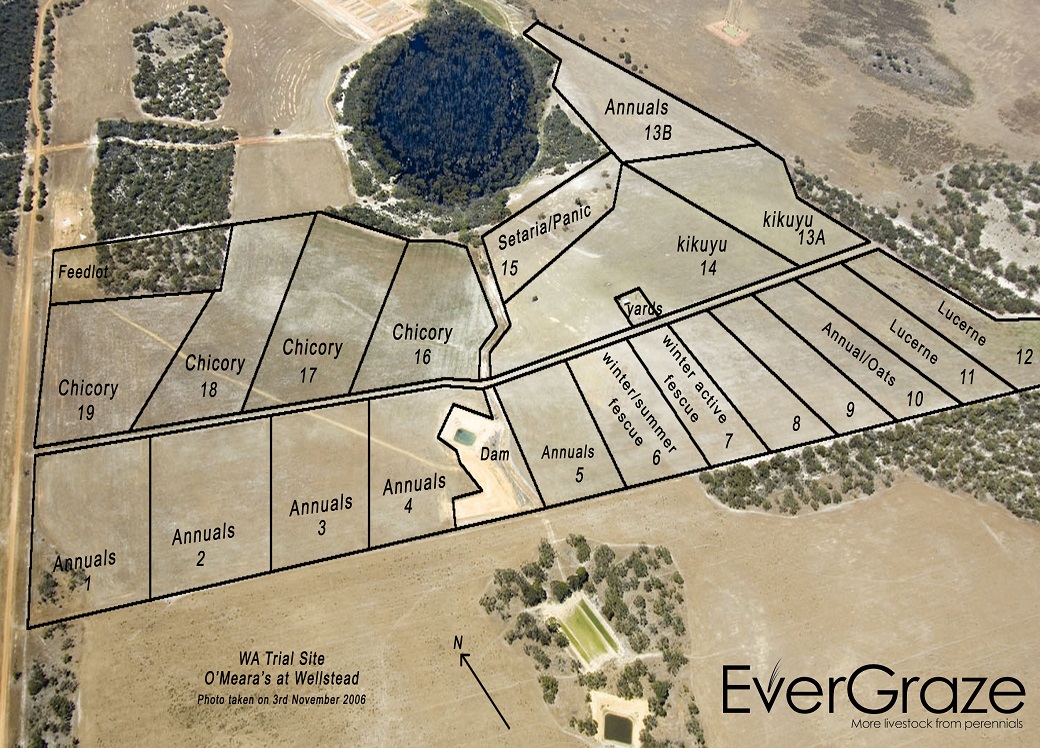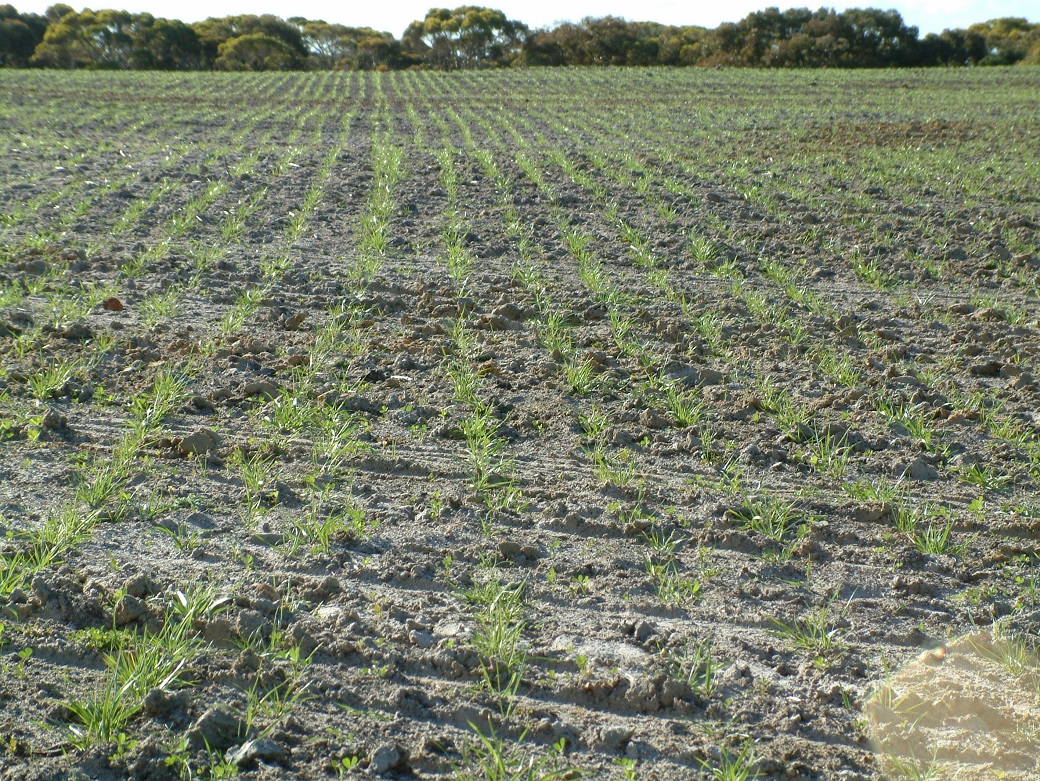 Modelling to find the system with the greatest potential returns
The Proof Site system was simulated with a model known as GrassGro which was validated using pasture and livestock measurements taken at the site. The model was run for 41 years to simulate a number of different aspects of potential EverGraze farming systems and answer the question: How much of my farm do I need to sow to perennials to get the maximum economic benefit?   A number of combinations were tested and are provided in Table 1.
Table 1.  Description of the pasture systems simulated
| | | | | |
| --- | --- | --- | --- | --- |
| System | Subclover, ryegrass & capeweed pasture | Kikuyu & subclover pasture | Lucerne, ryegrass and subclover pasture | Tall fescue & subclover pasture |
| Annual | 100% | Nil | Nil | Nil |
| 25% Perennial | 76% | 16% | 8% | Nil |
| 50% Perennial | 48% | 30% | 11% | 11% |
| 75% Perennial | 24% | 35% | 15% | 26% |
| 100% Perennial | Nil | 44% | 27% | 29% |
What was found
Results from the Proof Site monitoring and modelling indicated that gross margins were heavily influenced by five factors: The area of perennial pasture in the system; stocking rate; time of lambing; weaning percentage and; the length of time that stock grazed kikuyu in autumn.
Higher gross margins with perennials
Modelling results showed that by incorporating perennials into the system, gross margins increased from $229/ha to $329/ha, an increase of $100/ha or 44% relative to the annual only system (Figure 2). Interestingly, increasing the perennial content to 50% reduced gross margins by very little.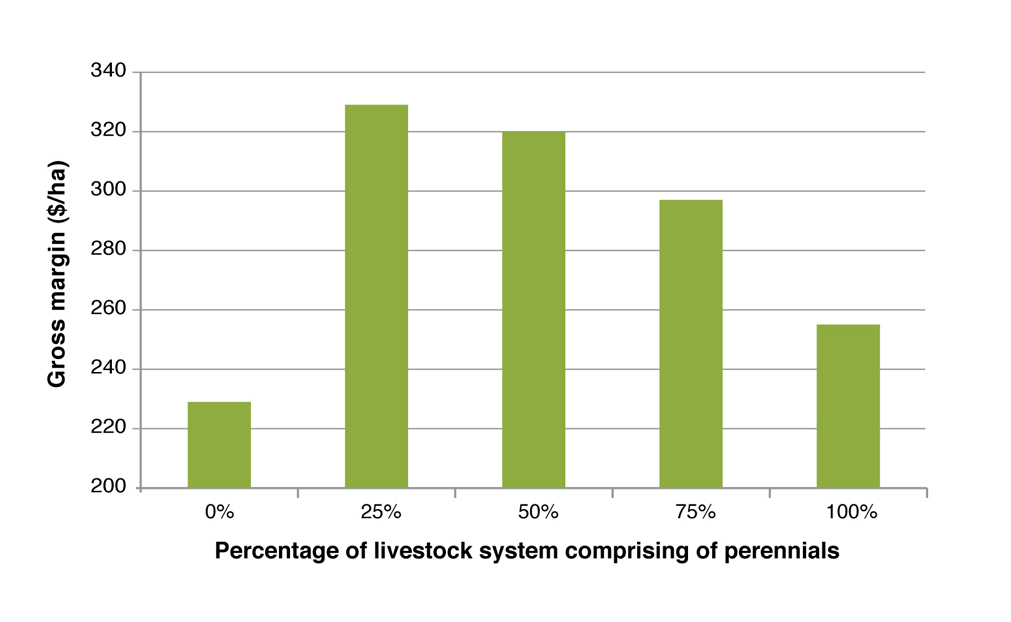 Note that a one-off perennial pasture establishment cost was included in the gross margin analysis at $150/ha annualised over 41 years ($4/ha/year). 
Stocking rate a key driver
In addition to the optimum area sown to perennials, stocking rate was also a key driver of gross margin returns.  Figure 3 presents the effect of stocking rate on gross margin for each of the systems modelled (refer to Table 1).  The highest gross margin achieved was $329 per ha for the 25% perennial system at 7.8 ewes/ha with a May lambing and stock locked up on kikuyu for 30 days in Autumn.  It must be noted however that moving from 6.5 to 7.8 ewes per hectare increased the risk of financial loss in some years and therefore it is recommended that risk adverse producers aim for 6.5 ewes per ha.
Higher perennial content (>75%) also resulted in a later optimum lambing time i.e. June and July rather than May and increased the number of days stock could benefit from being locked up on kikuyu in Autumn (i.e. 60 days) (Figure 3).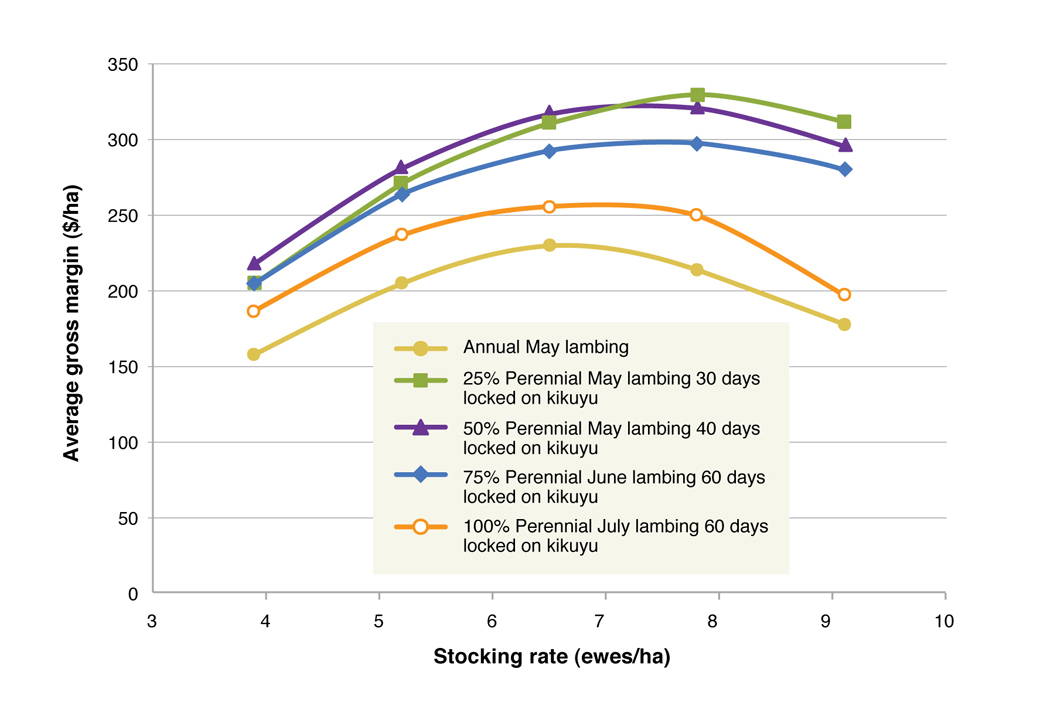 Reduced supplementary feeding costs
Perennial farming systems extended the growing season over annual only systems and therefore have the potential to reduce supplementary feeding for finishing and maintenance of livestock.  Supplementary feed is one of the major costs incurred in an annual only system particularity in late autumn and early winter when ewes are in the last trimester and lactating.  In a prime lamb finishing system, particularly if the season is cut short (failed spring), it becomes difficult to achieve slaughter weights. resulting in either sale as stores or the need to have intensive supplementary feeding.
The simulation results presented in Figure 4 highlight a reduction of supplementary feeding for systems containing between 25 and 75% perennials particularly at higher stocking rates.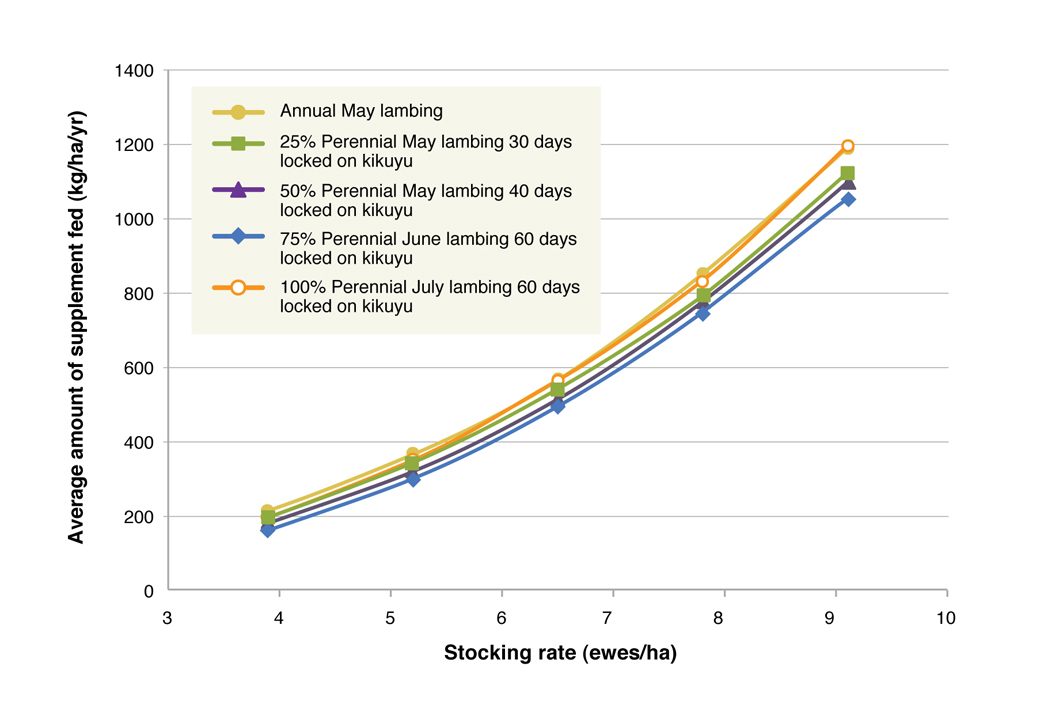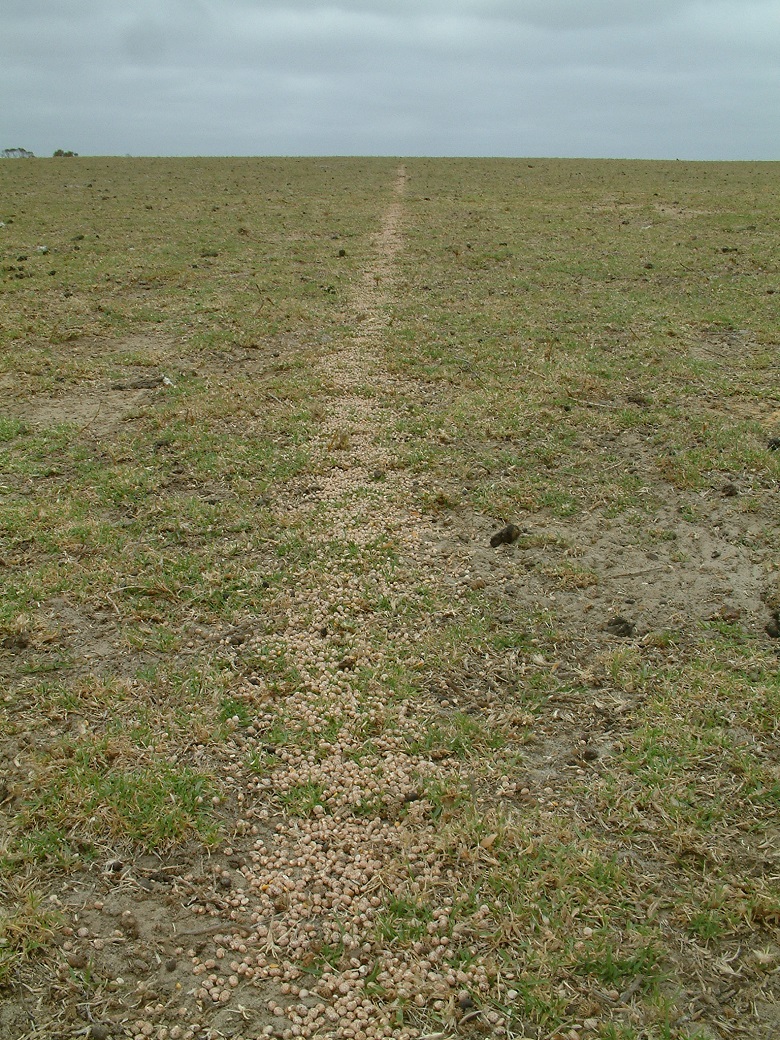 Ground cover maintained under kikuyu
The duplex, sand over gravel and clay soil types common to the south coast WA are prone to wind erosion risk in summer and autumn.  Kikuyu ground cover measurements taken at the Proof Site highlight the ability of this species to maintain the critical ground cover of 50% even in drought years during the high risk months (Table 2).
Table 2.  Percent ground Cover (GC) averages over 2006- 2008 at the Proof Site Wellstead.
| | | | | | |
| --- | --- | --- | --- | --- | --- |
| Kikuyu ground cover % | Jan | Feb | Mar | Apr | May |
| 2006 | | | 60 | | 84 |
| 2007 | 55 | 51 | 59 | 51 | 72 |
| 2008 | | 66 | 58 | 65 | 69 |
| 2009 | | | | | 75 |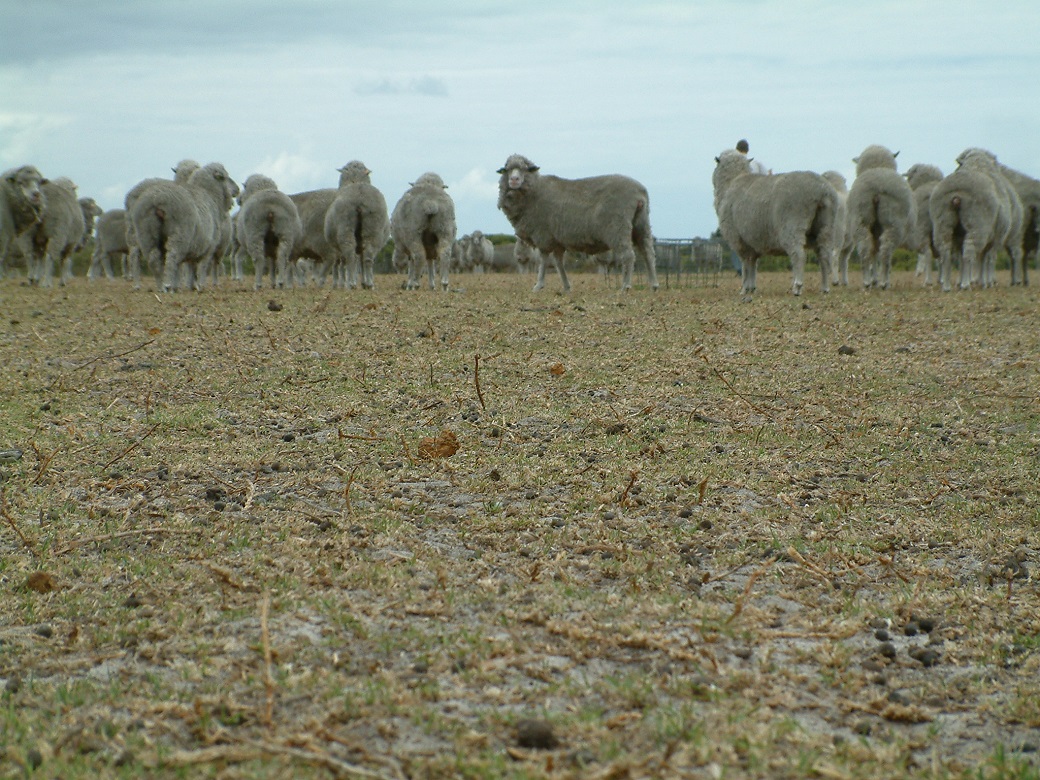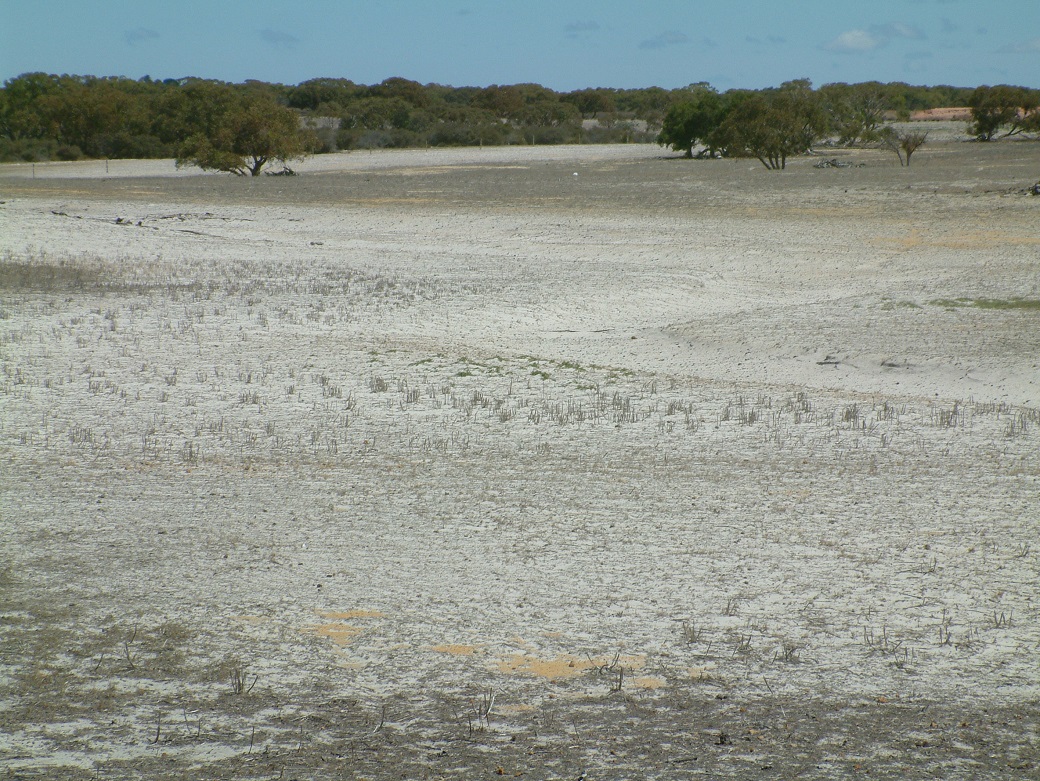 Reduced salinity
Although not demonstrated on the Proof Site (due to the dry seasons), it has previously been proven that established deep rooted summer-active perennials, such as kikuyu and lucerne, have the ability to draw water from deep in the soil profile (typically between 2 to 3 m).  This means that in rainfall environments receiving less than 600 mm very little water will escape past the roots therefore reducing the risk of dryland salinity.
Modelling for other  environments
Using the model to assess the performance of the different pasture systems in a lower rainfall environment at Ongerup (367 mm) proved interesting. Counter to expectations, a higher proportion of perennials in the pasture base proved to be the most profitable (Figure 5). A system with 75% perennials, May lambing and 30 days locked on kikuyu returned the maximum gross margin of $96 per ha, at a stocking rate of 3.9 ewes per ha. This was a 66% increase in gross margin compared to the highest gross margin annual system. It is likely that as a consequence of annuals having a shorter growing season, perennial species, while not yielding more, will lengthen the supply of feed to such an extent they provide substantial benefits to livestock performance and reduce supplementary feed requirements. In addition, there are likely to be more years in this environment in which annual pastures fail and perennials such as kikuyu provide some degree of drought proofing.
At higher rainfall (656 mm), the Mt Barker simulations prove that prime lamb production in a high rainfall environment is potentially highly profitable on annual pastures alone ($628 per ha per year). However, lifting the summer-active perennial component in the system to around 25 to 75% of the feed base can increase gross margins to between $659 to $688 per ha per annum, which equates to an increase of between 5 – 10%. The change is more modest at Mt Barker because the annual pasture system is already fairly productive, particularly in spring and into early summer. The out of season growing period for perennials is shorter which also lessens the magnitude of their impact. The optimum stocking rate at Mt Barker is around 11.7 ewes per ha.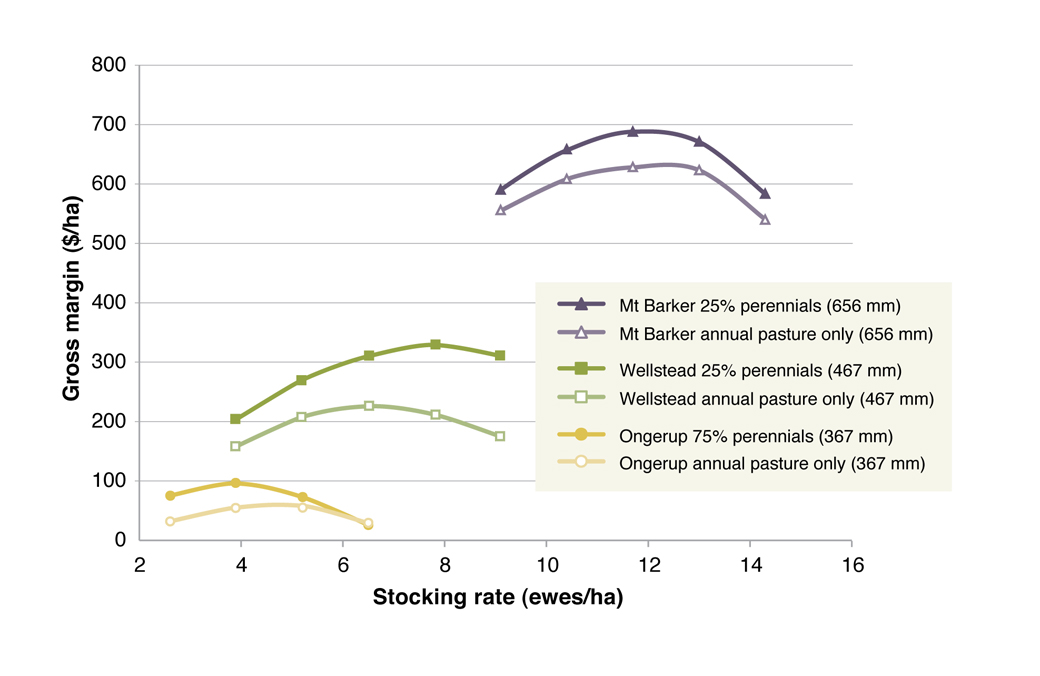 Putting the Research into Practice
Establishing perennials in a livestock grazing system does require significant investment and potential management change.   The following factors should be considered.
Establishment costs
Establishment costs have a big impact on profitability but vary considerably.
Cost of establishment is a key factor in the decision to try perennial pastures.  Cost will vary for different perennial species and economies of scale. It is estimated that the cost of establishing kikuyu sown at 1kg per ha for example is between $110 – $190 per ha based on the following assumptions:
Table 3. Cost of kikuyu establishment – WA assumptions.
| | |
| --- | --- |
| Cost type | Range |
| Chemicals: | 0-40 $/ha |
| Kikuyu seed | 40-60 $/kg |
| Contract seeding | 45-65 $/ha |
| Own gear | 28-90 $/ha |
It is important to note that establishment costs should be annualised over the life of the perennial sward.  For lucerne and chicory this could be five years, whilst kikuyu is a permanent sward and could be annualised over 30 years. Also note that lost grazing time to the paddock during establishment (usually around six months), and the cost of any additional fertiliser above normal maintenance requirements have not been considered in these costs.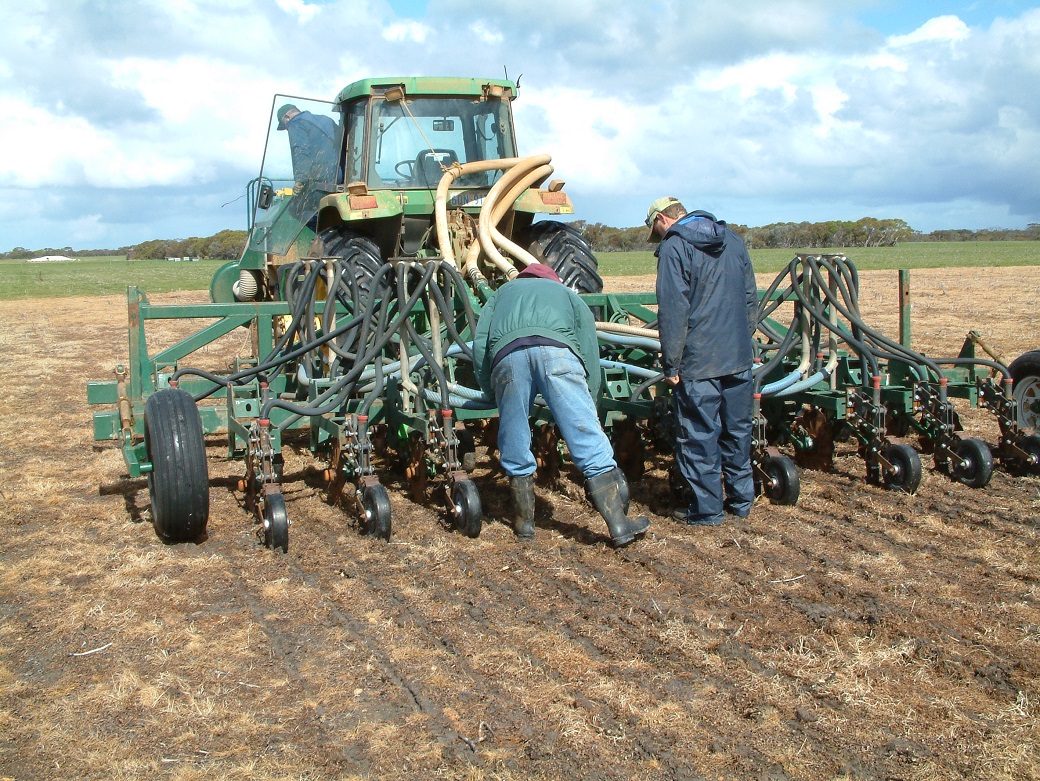 Improved livestock genetics and management to capitalise on perennial pastures
To maximise the economic value of perennial pastures, animal production potential should not be limited by poor genetics.  As a result industry recognised high fecundity Merino ewes were mated to EBV selected Poll Dorset rams at the Proof Site to increase the potential of prime lambs born particularly for high growth rate.  The effect of the drought conditions created a double edged sword in that although 120% lambs were weaned there was insufficient green feed to maintain high growth rates for extended periods.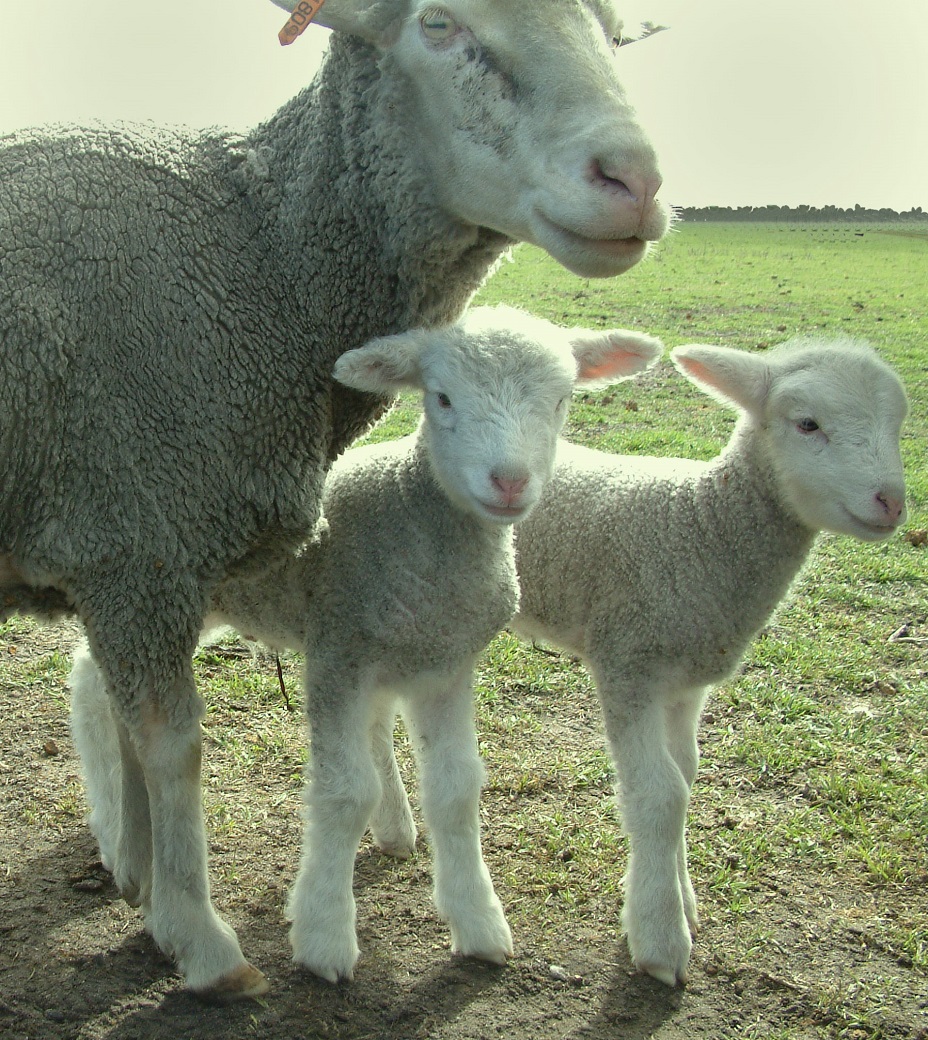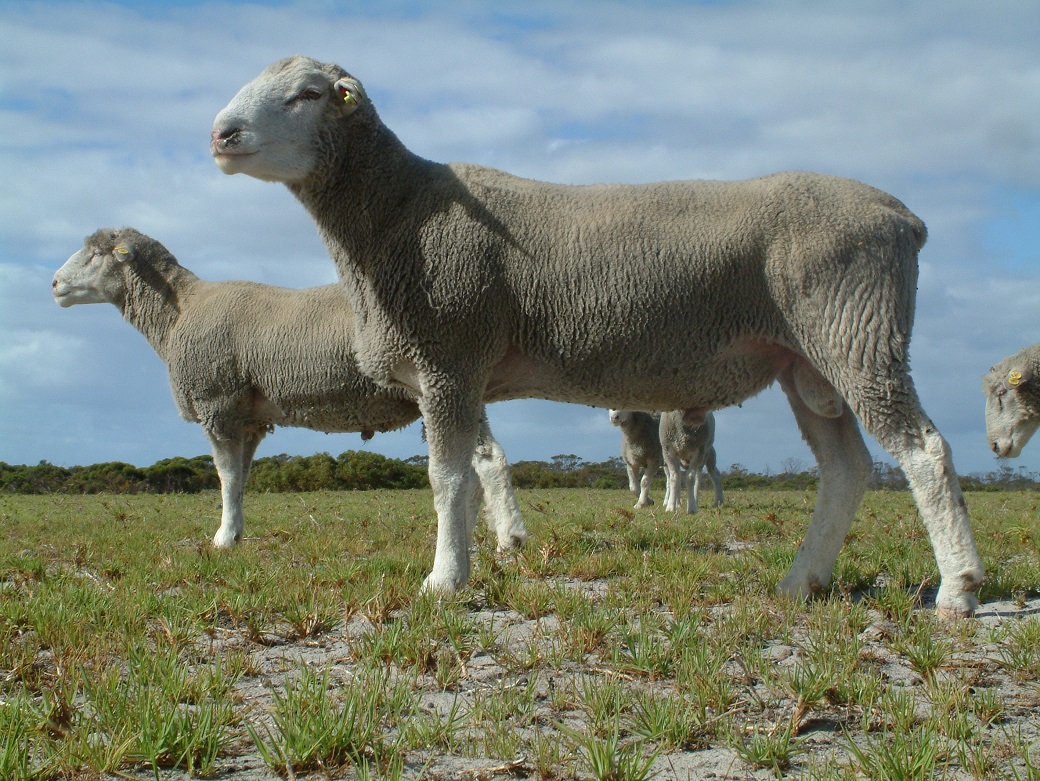 Consider the effect of dry seasons on the annual legume seed bank and winter production
Summer-active perennials such as kikuyu, chicory and panic can create a winter feed gap by drying soil profiles in autumn leading to poor establishment of annual species such as legumes. This is more likely in seasons with less than 500 mm annual rainfall or seasons with 'false breaks'.  Figure 5 shows the lower winter biomass production of perennial swards compared to the annual only paddock at the Proof Site for the years 2006 – 2008.  The chicory sward had particularly low annual composition resulting in the lowest dry matter production over winter.
If the seed-bank is depleted to below regeneration levels, the cost of re-sowing annual legumes, based on machinery, labour and seed would be around $50 – $70 per ha.  Further research into suitable legume companions and low establishment cost techniques are currently being undertaken.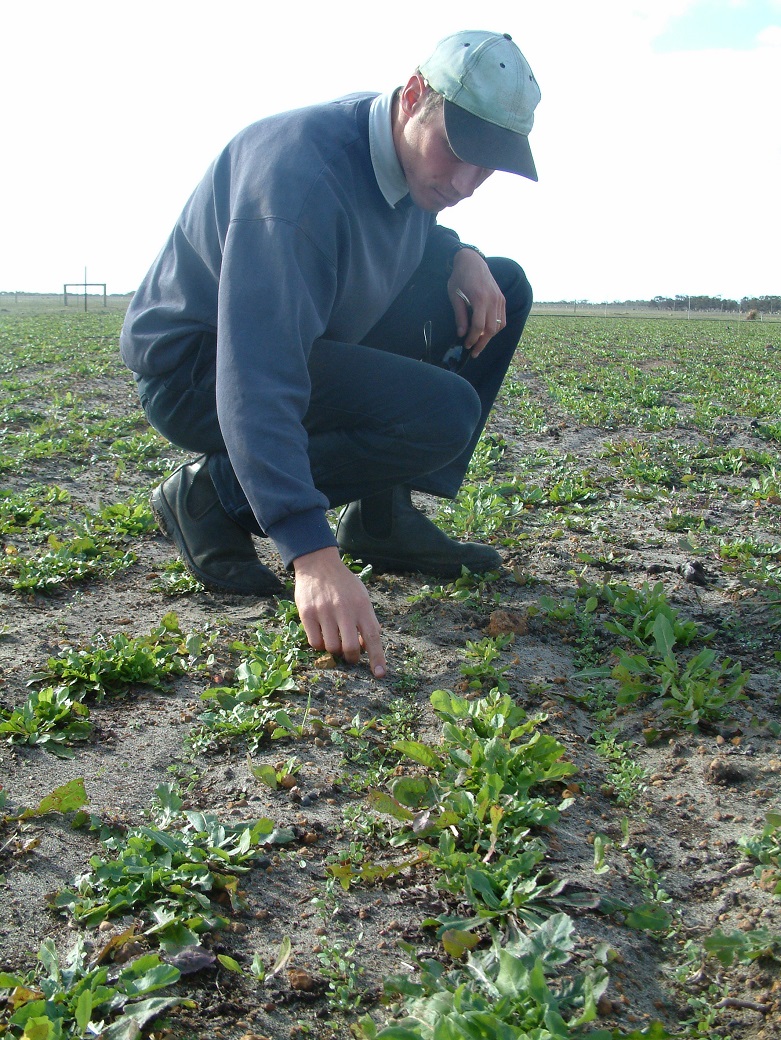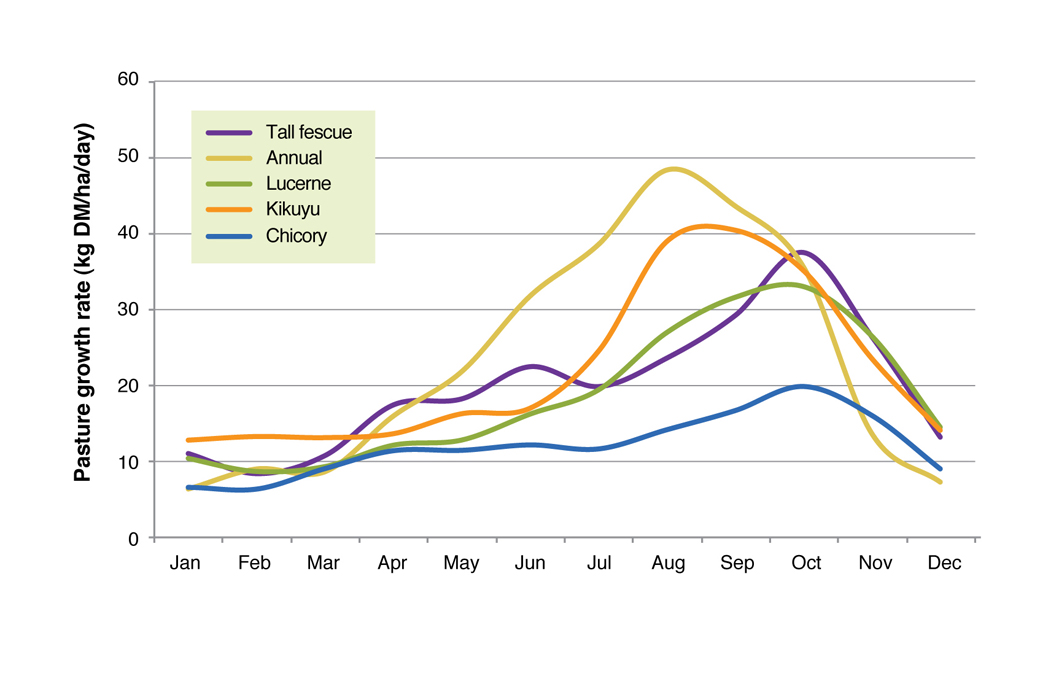 Grazing management, fencing and water infrastructure
With the exception of kikuyu, all of the other perennial pastures tested at the Proof Site require the implementation of rotational grazing to ensure persistence.  The infrastructure requirements associated with rotational grazing will vary depending on existing fencing and watering points, with mob size also being a factor.  The key to perennial plant survival is to remove stock once they have grazed down to a given food on offer level and rest the sward until there has been sufficient regrowth. See the Grazing Management On Farm Options for tools and information on target food on offer levels, grazing management and feed budgeting.
What it all means
Establishing perennials on 25% of the pasture component of the farm will give up to 44% increase in gross margin returns compared to an annual only system.
To achieve this increase more than one species is required. The farming systems in the model utilised combinations of kikuyu, lucerne and tall fescue. The contribution of each of these species individually has not yet been interrogated, however different perennials provide different quantities and qualities of feed at different times of the year. Producers need to consider the feed demand curves of their mix of stock and where the feed deficiencies may lie.
Modelling showed that it was possible to increase gross margins to $329 per ha at a maximum stocking rate of 7.8 ewes per ha. In reality however, in Wellstead this exposes the landholder to considerable risk. It may be wiser to run a slightly lower stocking rate, which would provide only a slightly lower gross margin with less risk.
This increase in gross margins also incorporated a change in lambing times across the different farming systems. Along with the increased stocking rate, this aims to maximise the potential utilisation and benefit of the feed provided by the perennial farming systems. For landholders considering perennials it would be wise to consider how changes to aspects of their breeding programs could be implemented to take advantage of the feed quality and supply curves that perennial farming systems provide.
The transition to perennial livestock systems requires considerable investment and changes to management of grazing practices.  It is advisable to start with small areas and work up to the desired amount of perennial pastures over several years.
Training
The Whole Farm Grazing Strategies program is designed to help farmers to apply the EverGraze principles for implementing perennial pasture systems.
Acknowledgements
EverGraze is a Future Farm Industries CRC research and delivery partnership. The Albany EverGraze Proof Site team was lead by Dr Paul Sanford and consisted of other scientists and technical staff at the Department of Agriculture and Food Western Australia. An enthusiastic Regional Advisory Group consisting of farmers, consultants, extension officers, Landmark and South Coast NRM staff provided significant input into the direction, management practices and interpretation of outcomes from the experiment and modelling to make them relevant to farmers.
Authors and Contributors
Eric Dobbe, Department of Agriculture and Food Western Australia, Albany
Paul Sanford, Department of Agriculture and Food Western Australia, Albany
Ronald Master, Department of Agriculture and Food Western Australia, Albany