North West Slopes NSW – Environmental Issues
The Northern NSW EverGraze region supports a diversity of landscapes, ranging from the Liverpool, Warrumbungle and Kaputar Ranges, through the rolling hills of the sedimentary slopes to the open floodplains of the Liverpool Plains and Darling Riverine Plains in the upper western part of the region. These landscapes have a wide variety of soils, geomorphology and topography, surface and groundwater, biodiversity and mineral resources, as well as landscape functions such as water, nutrient and energy cycling, and habitat functions.
Loss of plant species diversity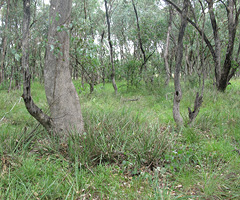 Loss or degradation of natural ecosystems is a major cause in the decline in diversity and condition of plant and animal communities. This is strongly linked with other environmental problems, such as poor land use practices, harmful water quality, invasive species and fragmentation of habitat, caused by the impacts from agricultural, mining, urbanisation and infrastructure activities. Climate change is potentially also a major threat to biodiversity. Native vegetation is considered to be the most essential component of the natural ecosystem, and is often used as a surrogate indicator for overall biodiversity health.
Much of the grazing land, particularly on the western Plains and Tablelands is still classed as native grasslands, but has been at least partially cleared of the over-storey. In many places it has been significantly over-cleared relative to land capability, and often only one component – either the over-storey or the grasses remain. The fertile black soils and grey clays of the plains retain only small native vegetation remnants. A reluctance in broad acre livestock production to de-stock during extended dry periods, and overgrazing by some operators and rural residential owners results in pastures with high levels of invasive weeds, low levels of ground cover and poor species diversity.
The Tamworth EverGraze Proof Site conducted research into the conservation of Box Gum Grassy Woodlands. Further information and recommendations can be found here.
Soils
Healthy soils are a fundamental element of vibrant landscapes. The relatively young volcanic geology of the region, and extensive alluvial floodplains derived from these materials, has resulted in much of the Namoi Valley with very productive heavy black and grey clays, sought after for farming and irrigation. However, the impact of agricultural systems on the soil resource has resulted in more than 10% of the Namoi Catchment being classed as moderately to severely eroded. More recently, the extent of erosion has declined in some farming areas due to reduced tillage farming practices.
Other soil issues that impact on catchment health and productive capacity include acidification due to fertiliser application, particularly in improved pastures and under intensive cropping, sub-soil sodicity (widespread to the west), and soil structure and fertility decline, particular in the lighter red soils under cropping.
Erosion and ground cover
Erosion involves the loss of soil material by the movement of wind and water, which is then transported and deposited in other locations, including off-site. Pastures grazed at a stocking rate that exceeds current pasture growth, can decrease ground cover, which make them susceptible to erosion. The loss of ground cover is also associated with a shift from perennial to annual pasture species. The appropriate level of ground cover to prevent erosion is associated with the steepness of slope and then soil type and likely rainfall events. Generally 70% ground cover is sufficient for flat or gently sloping land, but higher ground cover levels (80-90%) are needed for steeper classes of land (Lang and McDonald).
Further information on managing ground cover with grazing management can be found in the EverGraze Exchange – Nuts and Bolts of Grazing Management. The North West NSW Local Land Services website also provides further information on channel erosion and gully erosion in the region. EverGraze conducted research on lucerne/grass mixtures as an option for preventing runoff and erosion. Results and messages from this research can be found here.
Salinity
Dryland salinity has a relatively minor spatial extent because of the incised nature of the topography. Vertosol soils within the Liverpool Plains area of the Mooki Subcatchment currently dominate the distribution of soils with high watertables within 2 m of the soil surface. Deep drainage under annual crops and pastures can cause salt mobilisation. Salinity scalds are more common on the Liverpool Plains, and across the Maules, Goonoo Goonoo and Manilla Creek Subcatchments.
Although areas of dryland salinity are small at present, stream water quality is a major issue for the region. Total current mean annual salt load exported from the Namoi Catchment is estimated at 136,600 tonnes and exceeds the combined contributions of the Macquarie, Bogan, Castlereagh and Gwydir Rivers. However, the Namoi River has a mean annual stream flow of 503 GL with a mean electrical conductivity of 680 μS/cm, while the electrical conductivity of the Murrumbidgee River is approximately 250 μS/cm.
Groundwater recharge and salinity have not been a large focus for EverGraze in Northern NSW. See salinity pages for regional packages in North East Victoria/Southern Slopes NSW, South West Victoria and Western Australia for further information.