Manage wind erosion – South Coast Sandplain WA
The issue – wind erosion
Wind erosion has historically been a big issue across the region, especially on light sandy soils like those found in the sand plain soil groups around Esperance and Albany. According to soil landscape mapping (Figure 1) approximately 25% or 7,536,044 ha is at high to extreme risk of wind erosion (DAFWA technical report 330). It is important to note however that this is the soil risk and does not take into account adoption of strategies to reduce the potential risk.
The adoption of no-till technologies has greatly reduced the risk of wind erosion across WA. In high risk periods or dry conditions however the risk of erosion is still a reality. Some soil types have much greater risk, especially under cropping. These are usually highly leached infertile sands which struggle to grow a viable crop. In these circumstances other options may need to be considered.
The cause
Wind erosion is caused by the loss of ground cover, either through poor crops and pastures or the inappropriate management of stock on susceptible soils. Loose, dry soils with less than 50% of the surface covered with non erodible material (gravel, stubble, pasture residues) will be at risk. If this occurs, winds higher than approximately 28 km/hr will start to cause saltation – the movement of fine sand gains in a short jumping or bouncing motion which mobilises more sand grains in an avalanching style increase of soil movement.
Loss of ground cover can be caused by a number of factors including crop and stock management. However, paddocks that are regularly affected by wind erosion may also have other underlying issues such as non-wetting soils or soil acidity which affect the establishment and growth of pastures and crops. Producers should consider these factors and whether they can be ameliorated.
Options for managing wind erosion
No matter what the approach, the aim is to manage ground cover to minimise the exposure of the site to damaging winds. Strategies can include;
Adoption of no-till;
Planting of a hardy deep rooted perennial (eg kikuyu) to provide stable year round cover;
Management to ground cover (>50%) and herbage mass (>1000 kg/ha) benchmarks;
Use of tagastaste and/or tree belts;
Land-use change.
| | |
| --- | --- |
| Albany EverGraze Proof Site (Wellstead) prior to establishment of perennials | Albany EverGraze Proof Site sown to perennials |
No-till cropping and crop residues
Ripping up paddocks under conventional tillage made even those soils less susceptible to erosion much more vulnerable. The adoption of no-till by the majority of producers has greatly reduced the risk of wind erosion on these soils.
Crop residues can protect the soil from wind erosion. To be effective however at least one third must be anchored. The rest can be prostrate however this does not apply to fragile light residues like field pea straw. To provide protection there should be a minimum of 50% groundcover. This may include rocks, gravel and crop residues (Figure 2).
Perennial pastures
Although no-till cropping has greatly reduced the risk of wind erosion, it has not completely eliminated it, particularly on more vulnerable soils. Some species of perennials are particularly effective for maintaining ground cover and stabilising soil because of their growth habit, persistence and adaptability to light soils.
Local research and farmer experience
The Albany EverGraze Proof Site was situated within the Albany Sand Plain on gravelly sand and deep sand profiles. For three of the four years of the trial, the site had well below average rainfall. This put the productivity and persistence of the sown species to the test. The three clear winners were kikuyu, panic and chicory (Figure 3).
The kikuyu performed exceptionally well. It maintained a frequency of occurrence (roughly similar to % groundcover) of over 80% for three of the four years. This was despite very heavy stocking rates. This result has been replicated on many properties across the region. Examples include Daniel and Narelle Simpson at Kojunup, Erica and Phil Cleghorn in Esperence and Morgan and Debbie Sounness in Gnowellen.
| | |
| --- | --- |
| Kikuyu sown in the left/bottom paddock holds the soil together much more effectively than the annual pasture in the top/right paddock at Morgan and Debbie Sounness' property in Gnowellen | Kikuyu sown in the left/bottom paddock holds the soil together much more effectively than the annual pasture in the top/right paddock at Morgan and Debbie Sounness' property in Gnowellen |
The panic was also impressive given the very poor deep sand it was established on. Individual plants dramatically increased in size, despite the poor soil fertility and dry conditions. The chicory was also able to increase in size and density under difficult conditions.
Lucerne was established but contracted to an area of sandy duplex soil and the summer active tall fescue failed to persist in the dry conditions. See the key message Kikuyu, chicory and panic persist through dry seasons for further information.
Selecting pastures for place and purpose
Species selection, establishment method and on-going management are crucial in areas prone to wind erosion. Producers need to carefully consider the limitations of the site and what species will best match the conditions and the climate. Considerations include;
• Identifying limitations of the site (non-wetting, acid soils, waterlogging) and what this means to species selection;
Ameliorating the limitations at least the year before;
Using a soil wetting agent to improve water infiltration and plant germination in non-wetting soils (often found in areas prone to wind erosion);
Adequately controlling weeds and insect pests;
Time of planting – in sites highly prone to erosion, consider planting into a thin stubble to avoid long periods of bare earth;
Seeding depth – planting too deep is often an issue especially on light soils;
Grazing management for persistence.
See Selecting pastures for place and purpose; and Pasture establishment – how to get it right; for further information. Also see South Coast WA – Pastures.
Managing pastures to ground cover and pasture residue benchmarks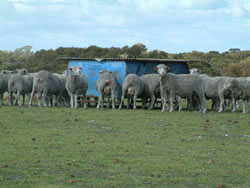 Annual and perennial pastures should be maintained at >50% ground cover and >1000 kg DM/ha to prevent soil loss from wind erosion. Stock should be removed from pastures and placed in containment areas when the benchmarks are reached. Late summer and autumn are the most critical times. Kikuyu pastures are particularly effective for maintaining ground cover and providing out of season green feed under heavy grazing during these times.
Tagasaste and trees
Tagasaste is a commonly planted fodder shrub usually established in blocks or alleys on deep sand. It will provide reasonable feed whilst protecting vulnerable areas from erosion and providing excellent stock shelter. There is a considerable amount of information on tagasaste available on the Department of Agriculture and Food WA website, however the general points are;
If planting tagasaste in blocks plant the rows 6-10m apart (rows up to 50m or more can be used if the paddock is to be cropped or have other perennial pastures established);
Plants should be spaced at around 2m within the row;
Inter-row establishment of perennial pastures can be considered, however evidence suggests that increased inter-row production results in decreased production from the tagasaste (this will be site specific and will depend on the availability of subsoil moisture and the width of the inter-row);
If possible keep the rows straight to allow easier monitoring of stock;
Leave a 10-20m gap across the centre of the rows to allow easier access to stock;
If possible centralise watering points.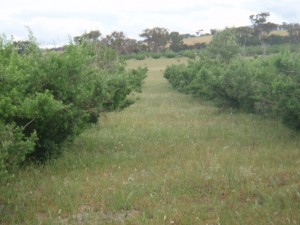 Using trees and shrubs for wind breaks has been a practice that has been adopted in fragile soils. The size, type and orientation however will play a key role in the effectiveness of this approach. There are many species that are potentially useful for wind breaks from native shrubs and trees, Acacia saligna through to pines and eucalypts. Whatever the species, generally for a wind break to be effective it must;
Target the area's most at risk;
Be at 90 degrees to the most damaging winds;
Be partially porous (to prevent turbulence behind the windbreak);
Be at least 20 times the height wide;
Each row should be at least three rows wide;
Have a spacing of about 30 times the height of the tree (if the tree is 10m then the spacing can be up to 300m);
If trees are used they must have understory or foliage down to the ground;
Avoid breaks in the wind break in fragile areas where jetting and subsequent erosion can occur.
Authors
Ronald Master, Department of Agriculture and Food, Western Australia.
Kate Sargeant, formerly Agriculture Victoria, Benalla