Mooney's Gap Caring for Our Country EverGraze Supporting Site (Rod and Bernadette Vearing)
Integrating lucerne into the system at Mooneys Gap
Also see the following case studies:
A final report for this project has also been prepared by Perennial Pasture Systems.
Fast Facts
Site Location: Mooney's Gap, near Ararat, South West Victoria
Host producers: Rod and Bernadette Vearing
Producer group: Perennial Pasture Systems producer group
Site Coordinator: Rob Shea
Duration: 2009-2011
| | |
| --- | --- |
| Rod Vearing with the EverGraze project team, February 2011 | Lambs graze the phalaris site at Mooney's Gap |
Site focus
Improving the sowing, fertiliser and grazing management of phalaris to improve production and persistence. To investigate the potential of lucerne to extend the growing season in hill country.
The Farm
Rainfall: 600 mm
Enterprises: Lambs and wool
Farm area: 1200 ha
Soils and landform: Poorly drained duplex soil. Ordovician foothills rising to steep hill country.
Key points
Establishing lucerne and phalaris in the Ararat region has increased production and provided more enterprise options
Consider the trade-off in winter production and persistence when selecting lucerne cultivars
Changes to an enterprise may be required to take full advantage of improved perennial pastures.
Background
The history
At Ararat in the upper south west of Victoria, the members of the local Perennial Pasture Systems (PPS) group had used phalaris widely as a pasture base and wanted to learn how to best manage it for persistence.
Those producers with Ordovician foothill country also wanted to see if lucerne could be grown successfully to extend the growing season on their properties. Others in the group had already been growing lucerne successfully in alluvial soils.
In 2009, Rod and Bernadette Vearing volunteered their property 'Mooneys Gap' to host a PPS/EverGraze Supporting Site, with the help of site coordinator, Rob Shea. The farm had a history of low fertiliser inputs and no significant pasture improvement due to the earlier run of drought years.
The farm
The Vearings run approximately 2000 self-replacing, 19 micron Merino ewes, 1000 wethers and 1500 weaners for wool production and 1000 first-cross ewes for prime lamb production.
"We lamb in June each year, with the crossbred lambs sold in late spring. They go to processors or into store sales depending on their weight, which typically averaged 20 kilograms carcass weight on the run-down pastures," Rod said.
"With an initial carrying capacity of about 7 DSE/ha when we bought it, the property did not have the capacity to carry lambs into summer.
"But we hoped pasture improvement could lift the carrying capacity to the district potential of about 12 DSE/ha, and maybe give us the option of finishing lambs later at higher weights."
The Site
Phalaris paddock
A 12 hectare Supporting Site paddock was sown to Holdfast GT and Atlas GT phalaris, together with a sub clover mix, during the autumn of 2009.
Lime was applied during sowing at a rate of 2.5 T/ha, gypsum at 0.5 T/ha and MAP at 100 kg/ha, following three spray applications.
Establishment costs for the phalaris paddock amounted to $447/ha, with ongoing annual maintenance costs for weed control and fertiliser of $72/ha.
Lucerne paddock
A second paddock of 14.5 ha was sown to Genesis 6 lucerne during autumn 2009. This is a semi-winter active lucerne. It was sown at a cost of $493/ha, which included a post-sowing weed control spray costing $64/ha.
In addition to the same pre-sowing sprays and fertiliser as the phalaris paddock, the lucerne received phosphorus and potash for the next two years to replace nutrients removed in hay. Total ongoing annual maintenance costs for the lucerne paddock were therefore $123/ha."
Results and discussion
The seasons during 2010 and 2011 were exceptionally wet, and the amount of grazing or fodder produced by the two Site paddocks was higher than expected.
Phalaris
The phalaris paddock has persisted well as a vigorous, productive pasture with a high clover content. It is expected that with correct management that it will persist for many years.
"We rotationally grazed the phalaris paddock, on a simple time-based system of one week on and three weeks off, with the focus on looking after the plant," Rod Vearing said.
"We estimate that the phalaris pasture carried at least 19 DSE/ha during the exceptional years of 2010 and 2011."
Overall, the carrying capacity of the paddock doubled since the improvement program commenced which allowed a continued rotation throughout summer. It is expected that the paddock will carry an average of 14 DSE/ha over an extended period, which would be a 75% increase in production as well as having positive environmental benefits through increased water use efficiency, increased ground cover and reduced nitrate leaching.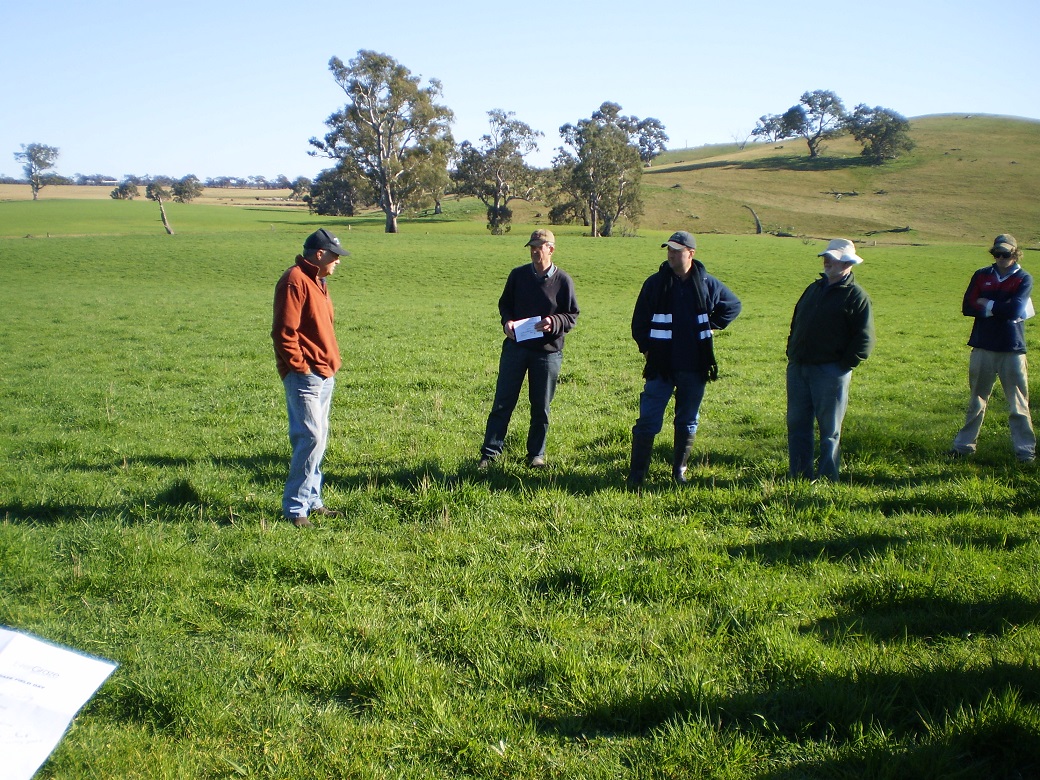 Lucerne
The lucerne pasture successfully established after issues with slow germination due to sowing depth problems caused by some unevenness in the paddock and the type of machine used for sowing. There were also weed issues in the first year which required extra spraying. The lucerne provided high quality feed for the lamb enterprise on the property as well as providing hay to replenish depleted reserves from the drought years. The pasture proved that it is viable to establish in land classes where it had previously been thought to be unsuitable for lucerne.
"Unfortunately we did not have the animal numbers to fully take advantage of the extra feed the lucerne produced, so we cut the paddock for hay in both 2010 and 2011. It yielded on average 3.1 T/ha each year," said Rod.
Converting this to grazing equivalent, the lucerne carried 13.4 DSE/ha and 17.3 DSE/ha for 2010 and 2011 respectively, through grazings and hay cuts.
"The initial production increase from the base stocking rate was therefore dramatic, but we realise we had two exceptional seasons".
"I have since sowed another paddock to lucerne in 2012, and another to phalaris in 2013. Further pastures establishments are planned for coming years," said Rod.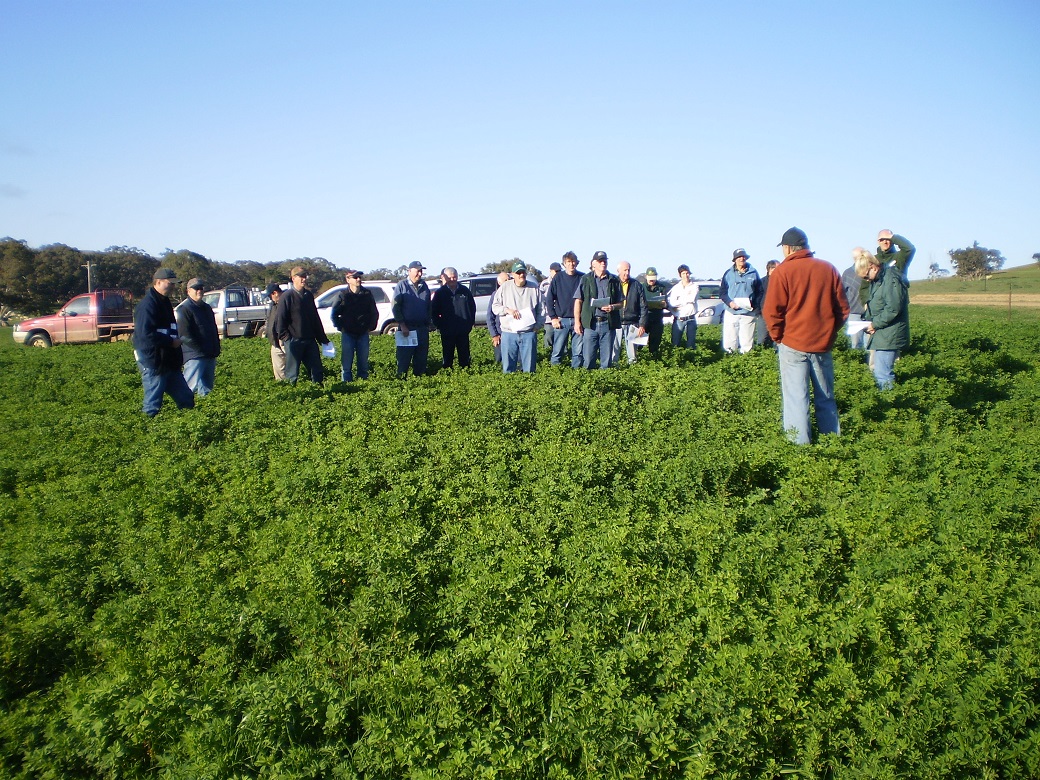 Learning from local experience – Producer views on growing lucerne in the area
Simon Brady, "Jallukar Park", Jallukar (20 km north-west of Ararat)
"We have a self-replacing Merino enterprise and use lucerne as a risk management or opportunity tool to finish Merino wethers or crossbred lambs, or increase the conception rates of ewes.
In 2011, we finished May/June drop Merino wethers to 20.8 kg carcass weight and second-cross lambs to 21.4 kg carcass weight on the lucerne.
We tend to wean onto lucerne and then move onto clover stubbles and back to lucerne if there is new growth, as there was in 2011.
If you had asked me ten years ago whether lucerne was of value in this environment I would have said 'no' as we don't traditionally get much summer rain and the autumn-winter growth of lucerne is so poor it would have reduced stocking rates. But I feel that we are getting shorter seasons and more summer rain so having about 8-10% of our pastures as lucerne does give us more flexibility and less risk. In 2012 we still had lucerne when the rest of the pastures had cut out."
Ben Green, "Millbanks", Elmhurst
"We run a self-replacing Merino flock and use lucerne to manage difficult Merino weaners over summer. We cut silage for the first cut and this is fed back to Merino weaners with grain. The silage provides a well-balanced feed – 11 ME and 24% CP and we get good production and survival of our lambs.
Lambs are weaned onto the lucerne and we also draft off the tail end weaners into a separate mob on lucerne. We find having about 8% lucerne in the system is optimal for us.
The downside of lucerne is the very poor winter production and some losses from redgut, but the extra value overall makes it worth-while.
Good management of less winter-active lucerne varieties (with a dormancy rating of 5 or less) will give us 10-15 years before they need re-sowing, whereas the winter actives (dormancy rating 6 or higher) only last about five years. This year (2012) we are having a terrible season which cut out in October, so any late rains now will be of value to us with lucerne growth."
Paul and Dennis Harrington, "Tirranna", Mt Cole Creek (15 km north east of Ararat)
"We run a prime lamb enterprise, buying in Merino ewes and joining them to terminal sires. The lambs are sold over the hooks to Woolworths at 23 kg carcass weight.
We grow a range of winter-active lucerne varieties, from GT 6 to SARDI 10, which make up 25–30% of our feedbase. Our other pastures are Holdfast phalaris and sub clover, as well as two plantain pastures. We feel that we can keep winter- active lucerne for five to seven years and are looking at drilling in plantain to all our lucerne pastures to fill in the gaps and assist with redgut problems."
Ken Hall, South Glengowan, Joel Joel (20 km west of Stawell)
"Lucerne and lambs go hand in hand in this environment, and it also fits well with our cropping enterprise as we have found the most successful way to establish lucerne is under a crop sown in May. Lucerne now makes up about 25% of our pasture area.
We breed first-cross lambs (from Merino ewes and White Suffolk rams) and we also buy in store lambs at the end of the season to grow out on our Stamina 5 lucerne. We always put hay in paddocks to reduce redgut problems."
Science behind the story: Fitting lucerne into the system – what the models show
By Rob Shea and Jane Court
Why model?
The lucerne sown at Mooney's Gap was very productive in the years of the trial, but its long-term value and best management system is yet to be established.
To predict how well lucerne will produce in the long term, including in drier seasons, Rod's paddocks were modelled in the grazing decision support tool GrassGro, using the Ararat weather data from the past 40 years (1970-2011). Figure 1 (shown in 'seasonal impact') shows the estimated long-term average growth rates of lucerne, and phalaris as modelled by GrassGro.
Seasonal impact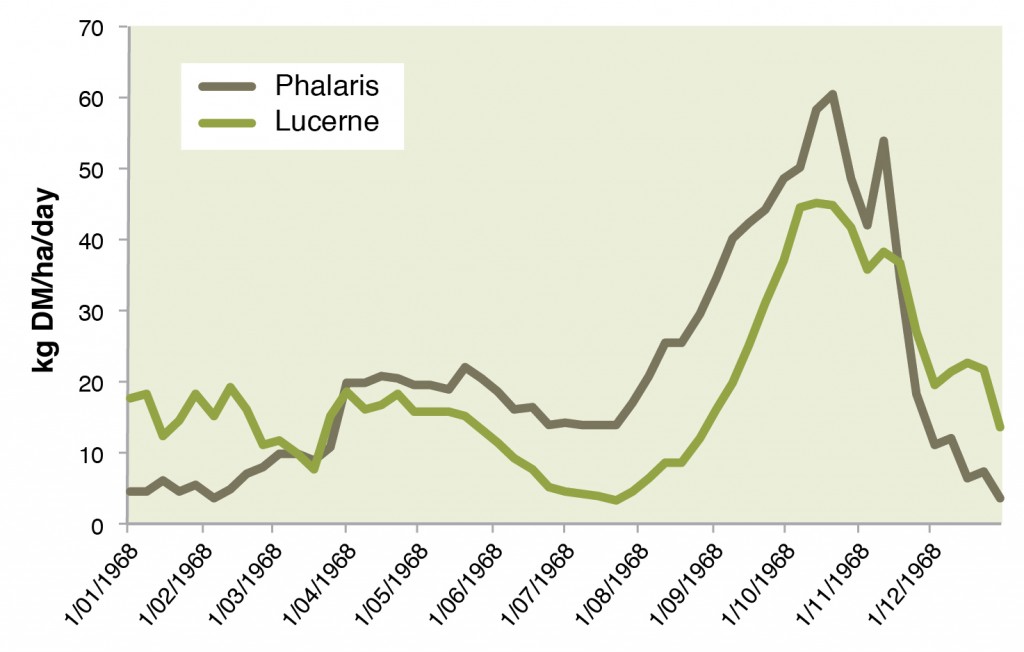 Figure 1 shows the long term (40 year) average and not the year to year variation of the phalaris and lucerne pastures. In some years with late spring and summer rains, the lucerne added to the total pasture supply. In other years, total pasture production was reduced due to the lower winter production.
The modelling also indicated that if lucerne was included in the pasture system, it was necessary to carry lambs to heavier weights to maximise the returns because of the better feed quality in the late spring and summer months
Research at other sites
Lucerne was included as part of the perennial pasture systems at both the Hamilton and Wagga Wagga Proof Sites. The aim at both sites was to increase livestock production from perennials while reducing groundwater recharge, thereby preventing salinity.
Compared to Ararat, the climate at Hamilton has the same long term summer rainfall (107mm) but overall higher annual average rainfall (683mm) and cooler summer temperatures, making the growing season longer.
Climate at the Wagga Wagga site (located between Wagga Wagga and Tarcutta) has an annual average rainfall is similar to Ararat, but with slightly higher summer rainfall (around 130 mm).
Both sites achieved significant reductions in ground water recharge by including lucerne in the system, compared to perennial ryegrass (Hamilton) or phalaris (Wagga Wagga). Lucerne also persisted for more than eight years at both sites.
At Wagga Wagga, two lucerne systems were compared – including lucerne at a rate of 20% and 40% of farmlets with the remainder of the area sown to phalaris and tall fescue.
The results showed that including a higher proportion of lucerne in the system reduced supplementary feeding costs in drought years and increased lamb production (by 168 kg) and gross margins (by $264/ha) in years with a wet spring/summer.
In wet springs, phalaris and tall fescue were utilised early, while lucerne was saved for finishing lambs later in the season. There was no disadvantage to winter production and stocking rates from including more lucerne in the system.
The results also showed that the greatest advantage of having lucerne was realised in systems where more ewes per hectare could be run by lambing later (September) and joining half of the Merinos to terminal sires, rather than running a traditional self-replacing Merino system lambing in July. Maximising profits from lucerne in these systems required a flexible marketing strategy, where in good seasons lambs could be retained and finished while in dry years they were sold as stores.
Wagga Wagga site results also showed that a "flushing" effect could be achieved by grazing ewes on lucerne for two weeks before and two weeks during joining, resulting in approximately 10% additional lambs marked and returning an additional $48/ha compared to joining on dry pasture or stubble. Note a flushing effect can also be achieved on grass-based pastures when they are green.
| | |
| --- | --- |
| Systems with 40% and 20% lucerne were compared at the Wagga Wagga Proof Site | Lucerne, planted on red chromosol mid-slopes at Wagga Wagga persisted for more than eight years. |
At Hamilton, lucerne was planted on the well-drained crests as part of the 'Triple' system, with perennial ryegrass on the slopes and summer active tall fescue on the valley floor. This was compared to a Best Practice Perennial Ryegrass system where early flowering ryegrass was planted on the crests, mid-season flowering ryegrass on the slopes and late-season flowering ryegrass on the valley floors.
While both systems had similar profitability, for an August lambing Merino-cross terminal enterprise selling store lambs in December, the inclusion of lucerne in the Triple system resulted in less variability in gross margins and, in particular, reduced supplementary feeding costs in dry years.
The benefits of lucerne for finishing lambs and flushing ewes were not included in this analysis. However, modelling showed that lambs could be kept on lucerne until January in 60% of years and February in 30% of years while still having enough lucerne to flush ewes, and that this would provide further opportunities to improve profits in those years with wet summers. Like the Wagga Wagga Site, at Hamilton, there was no disadvantage to winter production and stocking rates by having lucerne in the system. This was in part due to the contribution of annual grass weeds to winter production.
| | |
| --- | --- |
| In a dry year, including lucerne in the system saved on supplementary feeding costs at the Hamilton Proof Site by $350/ha | The lucerne-based pasture at Hamilton also included annual grass and broadleaf weeds which were important for increasing winter growth. |
Consider costs
A perennial pasture including lucerne can provide options for increased profitability of the farm with the right enterprise choice. The higher establishment and re-sowing costs of lucerne must also be considered.
With an estimated payback period of four to seven years, lucerne varieties that require re-sowing every seven to ten years need to add a lot of value to production to be a worthwhile investment.
The higher winter active varieties may increase total production without losing winter feed, but will also increase the cost due to more frequent re-sowing.
A cost analysis of the Mooney's Gap Supporting Site is provided in the case study – Integrating lucerne into the system at Mooneys Gap.
Acknowledgements
Thanks are extended to Rod and Bernadette Vearing for hosting the site. This site was supported by Perennial Pasture Systems, Meat and Livestock Australia, Caring for Our Country, Agriculture Victoria and Future Farm Industries CRC through the National EverGraze Project.