Increase my flock marking percentage – East Gippsland
The issue
The Livestock Farm Monitor Project (LFMP) has recorded reproduction data from across Victoria since 2005. This data is reported under Livestock systems and benchmarks. Reproduction rates, normally referred to as marking percentages, for Gippsland were lower for wool enterprises than for prime lamb enterprises. In 2012/13, the lamb marking percentage for wool enterprise was 81%, with the top 20% of producers averaging 88%. In 2012/13 prime lamb businesses achieved an average marking percentage of 109%, with the top 20% of producers averaging 113%.
What is also evident from the LFMP is that more profitable businesses, regardless of whether they are lamb or wool focused, consistently;
ran a higher stocking rate than average
achieved higher prices per kg wool or meat sold (10-20%) than average;
spent more per ha on pastures than average farms;
had labour efficiency and phosphorus application similar to the average (although the 2001-2011 average had lower labour efficiency and higher phosphorus inputs than the top 20%).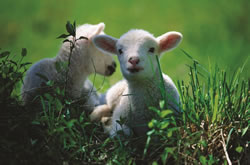 In prime lamb production systems, crossbred ewes, on average, appear to return an increase in marking percentage of 40% over ewes joined to terminal sires, with average marking percentages of 121% and 82% respectively for 2010-11. At the Hamilton EverGraze Proof Site, it was shown that similar profitability was achieved with Merino ewes joined to terminal sires with marking percentages of 92% compared to Coopworth ewes at 141%.
Lamb marking percentages will have a significant impact on overall farm stocking rate and labour efficiency and should be considered when reviewing the performance of farm businesses. Producers should be aiming for at least region average marking rates, given that the top 20% of farms in the south-west region achieve this whilst also running increased stocking rates.
What are the options?
Factors driving marking percentages can broadly be categorised as increasing conception rates, or increasing lamb survival from birth to marking (and subsequently weaning).
Management strategies to increase conception rates include;
managing ewes to be in optimal condition score (condition score 3) at joining;
changes to flock genetics;
managing rams to ensure they are up to the job;
flushing ewes at joining.
Management strategies to increase the survival rate of lambs from birth to marking include;
managing ewe nutrition and condition in the lead up to and at lambing (condition score 2.8-3 for single bearing ewes 3-3.3 for twin bearing ewes) to ensure adequate birth weight, milk supply (colostrum production), lamb growth after birth and reduce ewe mortality;
ensuring adequate pasture (1200 kg/ha for single bearing ewes and 1800 kg/ha for twin bearing ewes) is available at lambing to meet nutritional needs (above) and enable the process of ewe/lamb bonding (prevent the ewe from leaving the birth site);
provision of shelter to lambing ewes (especially twin bearers) when lambing in adverse weather conditions;
managing the mob size and set stocking at lambing;
pregnancy scanning to enable separate management of twin bearing ewes to achieve the above objectives; and
control of predators.
Altering the time of lambing (to lamb in milder conditions and/or when more high quality paddock feed is available) is another option available to farmers and will impact on conception rate and lamb survival.
What is your potential to improve?
The first step is identifying where the opportunities exist. Is the greatest opportunity in lifting conception rates, or is increasing lamb survival the largest opportunity for an increased marking percentage? Without any pregnancy scanning data, this will be a difficult question to answer. Pregnancy scanning data can be compared to lamb marking data to determine the number of lambs that are lost between scanning and lamb marking. If the flock marking percentage is well below the district average then there is likely to be gain from tackling both key areas of conception and survival. If the flock is closer to the target marking percentage, gaining a better understanding of how it is performing at different phases of reproduction will be useful in determining whether attention is needed.
Table 1 (adapted from the worksheet provided in the EverGraze Exchange – Improving the survival of lambs) provides a template for comparing conception, survival and overall marking percentage of your flock to a set of targets. Best practice targets (as proposed by Lifetimewool) for survival of single (90%) and twin (70%) lambing Merino ewes are used in the example. Target conception rates (124%) are then based on what is required to achieve 100% overall marking. The actual figures used are purely an example, and show that in this particular case, potential gains could be made, particularly from improving lamb survival.
To use the template, enter your ultrasound scanning data, work out the potential number of lambs you should have at marking based on the best practice survival targets and then compare that to the number of lambs you actually have at marking. This will give you an estimate of how your flock compares to what could be achieved. To help establish whether problems with survival are associated with large single lambs (eg due to dystocia) or small twin lambs, it may be useful to collect dead lambs for a few days and determine causes of death. Notes on lamb autopsy can be found here, or enlist the help of your district veterinarian.
Table 1. Example template for comparing scanning and marking results to targets.
| | | | | | | |
| --- | --- | --- | --- | --- | --- | --- |
| | Target scanning | Target potential lambs | Actual scanning | Potential lambs at marking | Target survival | Actual lambs marked |
| Dry | 10 | | 10 | | | |
| Single | 140 A | x 1 = 140 | 100 E | x 1 = 100 | x 90% = 90 | |
| Twin | 60 B | x 2 = 120 | 100 F | x 2 = 200 | x 70% = 140 | |
| Total | 210 C | 260 D | 210 G | 300 H | 230 I | 200 J |
| Percentages | (A+B)/C = 95% | D/C = 124% | (E+F)/G = 95% | H/G = 143% | E/H = 77% | Survival: J/H x 100 = 67%Overall: J/C x 100 = 95% |
Options in more detail
Increasing conception rate
Meeting ewe condition targets at joining
Improving the genetic base of the ewe flock
Ram health and management
Flushing
Options for increasing survival from birth to lamb marking
Managing ewe nutrition and condition score during gestation and at lambing
Paddock selection and mob size
Shelter
Time of lambing
Strategies and management to meet condition score targets