Manage wet soils – East Gippsland
The issue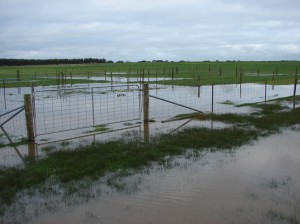 Managing saturated soils in winter and spring can be a major issue for farmers in the high rainfall regions of southern Australia. Pasture productivity can be decreased to the point at which it needs to be completely re-sown in severe cases. Management to prevent serious damage to pastures is essential to maintain productive pastures during wet seasons. There are a number of different options that can be explored to assist in the prevention of pugging in wet paddocks.
What are the options?
There are several options for managing wet soils to reduce pugging. Different grazing techniques to minimise damage can be less costly than designing drainage to cope with the issue. However if soils are extremely wet, any kind of grazing will result in some level of damage. Preventative methods such as surface and sub surface drainage can be used to prevent further water logging in future years and stand off areas for cattle can be used if there is adequate feed available and a suitable area to hold cattle until soils are dry enough to allow grazing.
Selecting the right plant for wet areas
Grazing Techniques
Improving drainage
Recovering pastures after pugging
Training
The training packages; Whole Farm Grazing Strategies, Nuts and Bolts of grazing strategies, Farm Plan 21 and Prograze, contain information on managing wet soils. View the Training and events area to see what training is available and coming to your area.
Further Information