Manage wind erosion – South Coast Sandplain WA
The issue – wind erosion
Wind erosion has historically been a big issue across the region, especially on light sandy soils like those found in the sand plain soil groups around Esperance and Albany. According to soil landscape mapping (Figure 1) approximately 25% or 7,536,044 ha is at high to extreme risk of wind erosion (DAFWA technical report 330). It is important to note however that this is the soil risk and does not take into account adoption of strategies to reduce the potential risk.
The adoption of no-till technologies has greatly reduced the risk of wind erosion across WA. In high risk periods or dry conditions however the risk of erosion is still a reality. Some soil types have much greater risk, especially under cropping. These are usually highly leached infertile sands which struggle to grow a viable crop. In these circumstances other options may need to be considered.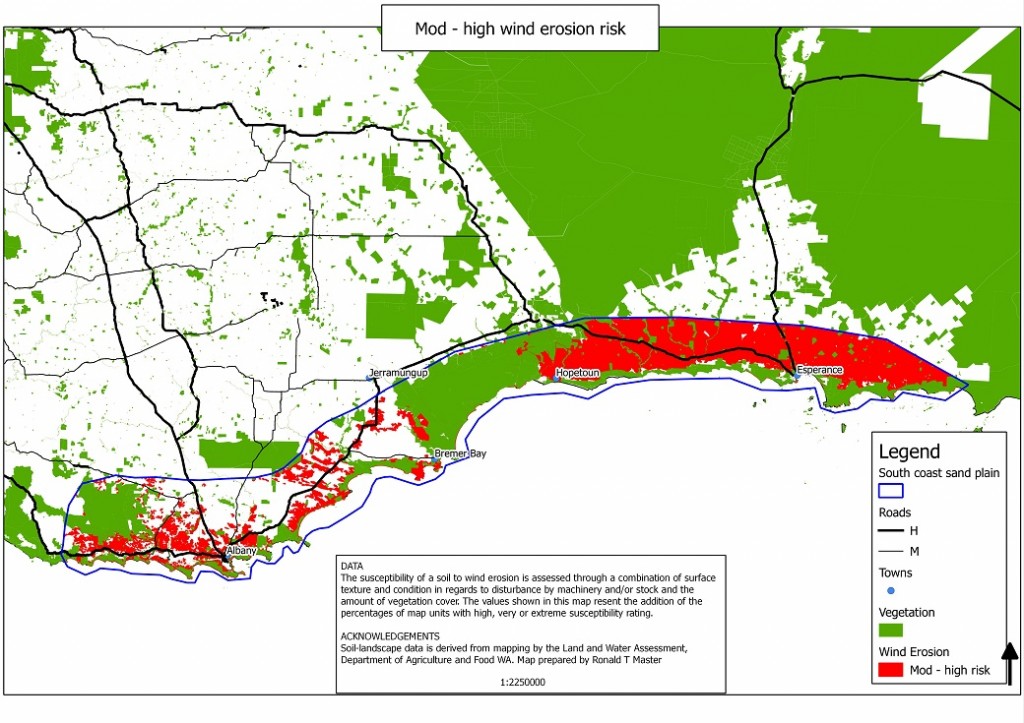 The cause
Wind erosion is caused by the loss of ground cover, either through poor crops and pastures or the inappropriate management of stock on susceptible soils. Loose, dry soils with less than 50% of the surface covered with non erodible material (gravel, stubble, pasture residues) will be at risk. If this occurs, winds higher than approximately 28 km/hr will start to cause saltation – the movement of fine sand gains in a short jumping or bouncing motion which mobilises more sand grains in an avalanching style increase of soil movement.
Loss of ground cover can be caused by a number of factors including crop and stock management. However, paddocks that are regularly affected by wind erosion may also have other underlying issues such as non-wetting soils or soil acidity which affect the establishment and growth of pastures and crops. Producers should consider these factors and whether they can be ameliorated.
Options for managing wind erosion
No matter what the approach, the aim is to manage ground cover to minimise the exposure of the site to damaging winds. Strategies can include;
Adoption of no-till;
Planting of a hardy deep rooted perennial (eg kikuyu) to provide stable year round cover;
Management to ground cover (>50%) and herbage mass (>1000 kg/ha) benchmarks;
Use of tagastaste and/or tree belts;
Land-use change.
| | |
| --- | --- |
| Albany EverGraze Proof Site (Wellstead) prior to establishment of perennials | Albany EverGraze Proof Site sown to perennials |
No-till cropping and crop residues
Perennial pastures
Managing pastures to ground cover and pasture residue benchmarks
Tagasaste and trees
Authors
Ronald Master, Department of Agriculture and Food, Western Australia.
Kate Sargeant, formerly Agriculture Victoria, Benalla