About EverGraze Demonstration
Demonstration sites, known as EverGraze Supporting Sites, have played an integral role in the EverGraze capability and adoption strategy, supporting groups of producers to try new grazing practices and perennial systems to increase profitability and improve environmental outcomes.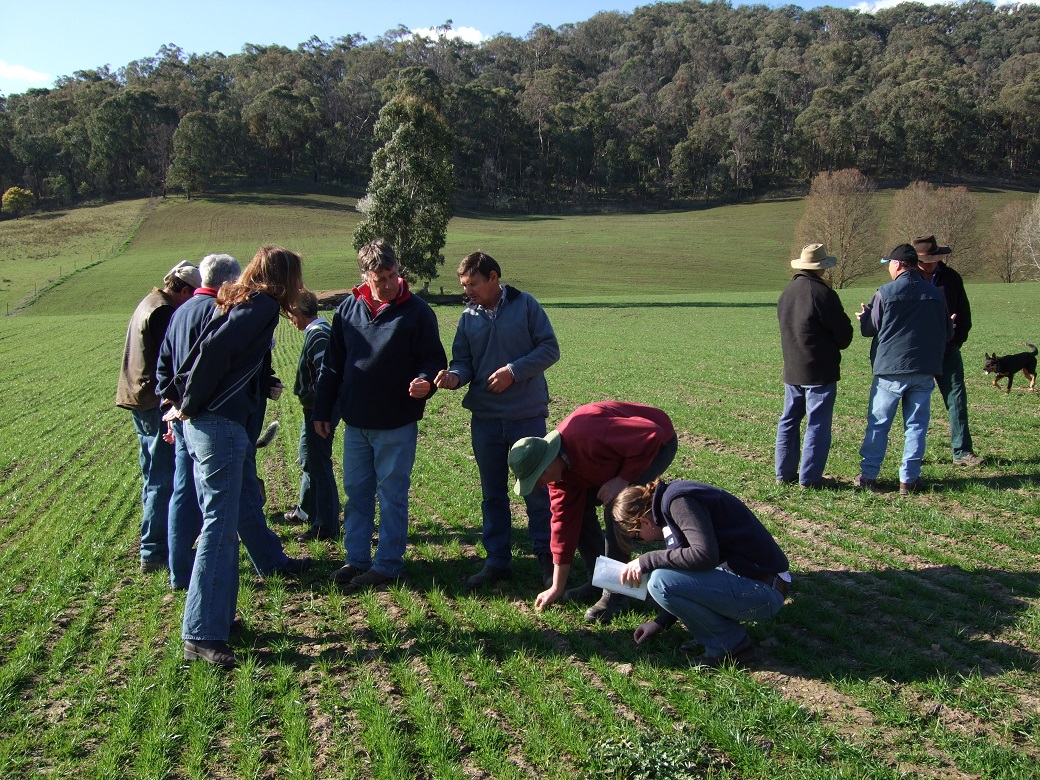 Supporting Site phases
Established in 2007, the Supporting Site network was funded as part of EverGraze for three years by Australian Wool Innovation (AWI), Catchment Management Authorities and other natural resource management boards.  In this phase, over 50 sites were established across Victoria, South Australia, Western Australia, New South Wales and Tasmania.  A second phase (2009-2012) was funded by Caring for Our Country and administered by Central Highlands Agribusiness Forum. Leadership and linkages to EverGraze were provided by the Agriculture Victoria.  In this phase, a selection of the strongest eight existing Victorian sites and two sites in South Australia were continued, and sixteen new sites were also established, 13 in Victoria and three in NSW.  In addition to the EverGraze Supporting Sites, a number of collaborating demonstration site projects including the Meat and Livestock Australia Producer Demonstration Sites and Yarram Yarram Landcare Group Healthy Soils project also joined the network.
See the EverGraze Partners page for the contributors to the EverGraze Supporting Sites.
Activities
Supporting Sites were managed by a host farm and at least one coordinator. Activities were held both at a group level and with the wider community.  The range of group activities included paddock walks, formal and informal training, discussion sessions with research or other professionals and bus trips to see research and on-farm implementation in other regions across the project.  Case studies were also developed highlighting the learning's from each Supporting Site. Further information on activities can be found in the Supporting Site Impact Report.
Practices implemented
Key innovations implemented included sub-divisional fencing; implementation of grazing strategies on native and improved pastures; use and management of summer active perennials; use and management of temperate perennial grasses; and use of perennials for providing shelter for lamb survival.  A number of sites also made significant changes to soil and livestock management.
Monitoring
The EverGraze Quickchecks Guide was used for collecting basic data on the condition of pastures including ground cover, feed quality (percentage green versus dead), clover percentage, feed on offer (FOO) and perennial grass persistence (quadrant frequency counts).  Sites monitored the DSE grazing days per hectare as the key measurement of productivity.  Several sites also measured pasture growth and quality using a PROGRAZE stick, feed quality using feed tests, livestock weight gains and plant counts in newly established pastures. Wind speed and lamb survival rate was monitored at two sites which focussed on hedge-rows for lamb survival, based on methods used in the Hamilton and Wagga Wagga EverGraze Proof Site experiments. Details on some of the learnings on monitoring can be found under Reflections from the EverGraze team.
Key results
Webpage

North East Victoria, East Gippsland Vic, South West Vic (Upper), South West Vic (Lower), North West Vic, South West Slopes NSW, Central Tablelands NSW, North West Slopes NSW, South West Medium-High Rainfall WA, South West Coast Medium Rainfall WA, South Coast WA, Tasmania, South East SA