Holbrook Caring For Our Country EverGraze Supporting Site (John and Anne Keogh)
Implementing whole farm grazing strategies in southern NSW
Also see Implementing whole farm grazing strategies at Holbrook case study and the final report for the Holbrook Supporting Site.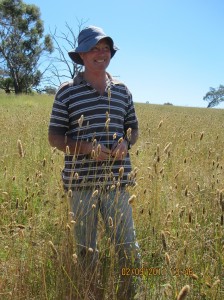 Fast Facts
Site Location: Holbrook, southern NSW
Host producers: John and Anne Keogh
Producer group: Holbrook Landcare Group
Site Coordinators: Tim Ekberg, Jeff Hirth
Duration: 2010-2012
Site focus: Landclass fencing and rotational grazing to improve pasture quality, persistence and utilisation of phalaris and native pastures, including management of silver grass.
The Farm
Rainfall: 850 mm
Enterprises: Merino ewes, trade cattle
Farm area: 463 ha
Soils and topography on the farm: Undulating foothill country backing on to granitic outcrops.
The Site and Treatments
Measurements
Results
Land classes, pasture types and maintenance phosphorus requirements
Livestock management in rotational grazing
Using the EverGraze Pasture Improvement Calculator to determine the value of land class fencing
Silver grass management
Acknowledgements
Thanks are extended to John and Anne Keogh for hosting the site. This site was supported by Caring for Our Country, Central Highlands Agribusiness Forum, Meat and Livestock Australia, and Future Farm Industries CRC through the National EverGraze Project.
Authors and contributors
Jeff Hirth, Private Consultant, Rutherglen, Victoria
Kate Sargeant, formerly Agriculture Victoria Benalla
Tim Ekberg, Farming Answers, Milawa, Victoria
Bindi Hunter, Agriculture Victoria Warnambool