Lucerne reduces risk, provides options for livestock and prevents salinity
Incorporating lucerne into pasture systems on well-drained soils in southwest Victoria extends the growing season, reduces the need for supplementary feed in summer/autumn, provides opportunities for finishing lambs and flushing ewes, and reduces leakage of water below the root zone, compared to a perennial ryegrass dominant system.
Main Findings
Lucerne persisted on the crests
Lucerne persisted well for at least seven years (2005-11) after a spring sowing, lime application and rotational grazing on a well-drained soil.
Chicory provided a good short term alternative to lucerne but only persisted for three years.
Quality summer/autumn feed at no expense to winter feed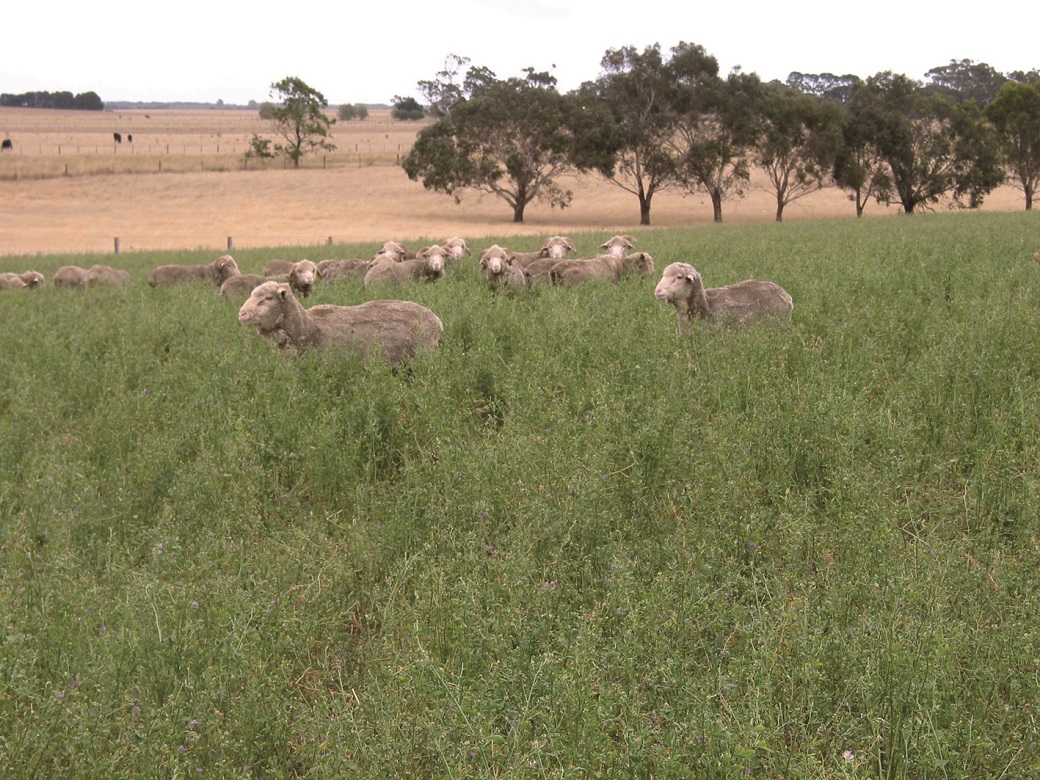 Lucerne provided high quality feed over the summer, growing up to 34 kg DM/ha/day after summer rains compared to early season flowering perennial ryegrass (Fitzroy) which grew less than 2 kg DM/ha/day on the same part of the landscape.
There was no penalty from having lucerne in the system due to low winter growth. The system with one third lucerne had similar gross margins to the ryegrass system in the most years.  This resulted from higher than expected winter growth rates from pastures based on semi-winter active lucerne, which achieved similar winter growth rates to early flowering perennial ryegrass sown in the same part of the landscape.
Lower costs in drought years
Having lucerne in the system resulted in reduced supplementary feeding costs (by $20/hd) in the summer of a drought year (2006-2007), equating to a saving of nearly $300/ha.
More opportunity to finish lambs and flush ewes
Modelling indicated that adding lucerne increased the number of years when lambs could be carried over, to reach higher sale weights.  With one third of a farm in lucerne, there would be an opportunity to hold onto lambs to sell at the end of January in 60% of years and until the end of February in 30% of years, while still having enough lucerne to flush ewes for increased ovulation.  On the perennial ryegrass system, there is little opportunity to keep lambs into February and in only 30% of years could they be kept through to January.
Lucerne reduced salinity risk
Established lucerne rooted to a depth of three to four metres drawing water from five metres, fully controlled leakage below the root zone, reducing the risk of salinity.  Chicory controlled leakage until its density declined after three years due to lack of plant persistence.
Catchment and streamflow modelling showed that use of lucerne can control recharge and if sown to suitable land classes.  However as the area of this suitable land type is limited and varies across catchments the impact will be much less than what can be achieved on a local basis.
Read more about this research
The challenges
Low summer pasture growth and feed quality
Leakage below the root zone
Summer active perennials as a potential solution
What was done
Selecting plant combinations – Right Plant, Right Place, Right Purpose, Right Management
Clovers
Establishing lucerne and chicory
Right soil management
Right grazing management
Optimising enterprise and livestock management
What was found
Lucerne persistence up to eight years
Quality summer/autumn feed
More even feed availability
Summer activity at no cost to winter production
Lower growth with winter cleaning
Lucerne reduced salinity risk
Benefits to the Wannon catchment
Crunching the numbers
Hamilton economic analysis
Lower costs in drought years
Lower seasonal risk in the long term
More opportunity to finish lambs and flush ewes
Putting the research into practice
How much summer active pasture is needed?
Which stock gets the green feed?
Cultivar selection is important
Lucerne limits and management challenges
Summer active alternatives
OnFarm examples
What it all means
Acknowledgements
EverGraze is a Future Farm Industries CRC research and delivery partnership. The Hamilton EverGraze Proof Site team was led by Dr Ralph Behrendt and consisted of scientists and technical staff within Agriculture Victoria. An enthusiastic Regional Advisory Group consisting of farmers, consultants, extension officers and CMA staff provided significant input into the direction, management practices and interpretation of outcomes from the experiment and modelling to make them relevant to farmers.